Daily Horoscope 23rd Dec 2020: Check Astrological Prediction For All Zodiac Signs
Check out today's Horoscope for all the zodiac signs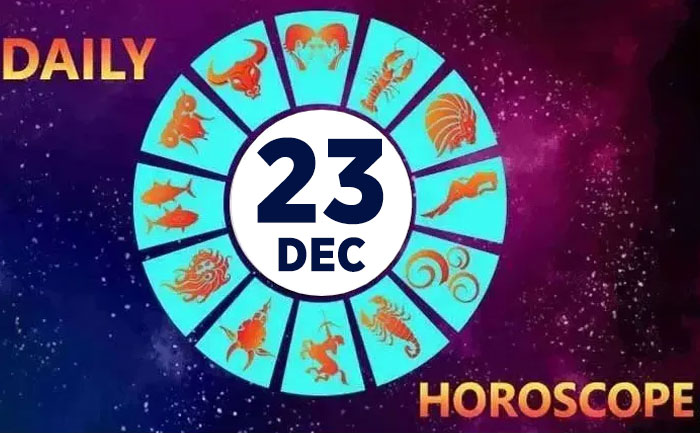 Horoscope Today, December 23 2020: IF TODAY IS YOUR  BIRTHDAY: Your lucky number is 5.  As the December 23 zodiac sign is Capricorn, you are emotionally stable and mature. You have a great attitude and you make others feel good as well. This makes you a great addition to any family personal or professional. Your lucky colour is Orange. Lucky numbers are  1, 7, 14, 24, and 26.
In this article, we have brought you today's astrological predictions for all the sun signs like Gemini, Scorpio, Leo, Taurus, Cancer, and others. Check out the astrological prediction for all zodiac signs.
 HoroscopeToday, December 23, 2020: Check today's astrological prediction from all sun signs
Daily Aries Horoscope:
Your skills and talent will be acknowledged, and short-term goals will see fulfilment. Newfound awareness provides the opportunity to make a positive change. This is a day to relax with a good book or company. Lucky colour for Aries today is Pink.
Daily Taurus Horoscope:
You are in no mood for a conflict today. So you take as many precautions possible to avoid one. Also, you are in a good mood and it will be contagious. Do not depend on others to complete your work. A person who makes you feel complete is all set to enter your life. Wear red for luck.
Daily GEMINI Horoscope:
Try to refrain from overthinking about a particular situation which may be a source of worry for you. Red will be your lucky colour. If you have been wondering what decision to make related to a work problem, take the advice of your spouse today. Your current relationship is solid and requires your effort to become vibrant again.
 Daily CANCER Horoscope:
A hectic day lies ahead of you and you will be busy involved in planning for and activities related to travel.  If you feel slighted today, Cancer, don't shut yourself off from the situation. Learn to control your emotions. Avoid Green to channel the positive cosmic energies in your life.
Daily Horoscope LEO:
You may have to spend quality time just with yourself. You will need to work on your flexibility in the workplace today. Today, take some time out to nurture yourself with something extracurricular. Getting emotional in matters concerning work is certainly not warranted. The lucky colour today is Black.
Daily VIRGO Horoscope:
This is a positive day especially for people who are on the lookout for better opportunities on the professional front. You may come up with a great new idea today that will pave the way for your financial future. Academic achievements are particularly highlighted today. Your lucky colour for the day is white.
Daily LIBRA Horoscope:
Focus on improving your flexibility and adaptability to fight adverse circumstances in your life. A good day awaits you at your workplace. Decisions you take in the workplace today will show quick results, so be decisive and act wisely. Wearing Blue will attract positive energy today. Build on all the positive rapport today that you have built to meet your targets.
Daily SCORPIO Horoscope:
You may feel like you are entering a period of slowdown and anxiety and you are slightly frustrated at your lack of progress on various fronts.  The idea of self-employment might be attractive to you but is not feasible just at the moment. Wearing green will bring you good luck.
Daily SAGITTARIUS Horoscope:
You may look forward to taking some time off from your daily routine, to spend some time with your new-found love. This will be a very promising day for your love life to move in a positive direction. Healthwise you may be feeling a bit sluggish thanks to some tension. The lucky colour today is royal blue.
Daily CAPRICORN Horoscope:
Family responsibilities are on the agenda, give more space to children and younger relations.  Your ability to understand human nature will help you take charge when needed.  Being productive will take your mind off any tensions which are floating around you. Wear Lavender today for luck.
Daily AQUARIUS Horoscope:
Today you need to ensure that sitting back is not an option for a great future. You need to try so that you can taste success. You can start with writing and that can be a good beginning to the day. Explore your varied interests and think about how you could merge your favourite hobby with your work. Pink is your colour.
Daily Horoscope PISCES
It is likely that you may remain in a cranky mood with so much going around. However, you need to do your best to control your emotions. Thanks to your expertise in your field of work, some good news in the workplace is sure to bring you some monetary gains. Lucky colour for the day is grey.
Also Read:  Capricorn Love Horoscope 2020: Personality, Traits, Compatibility & Celebs Born Under This Zodiac Sign