Daily Horoscope 23rdJuly 2021: Check Astrological Prediction For All Zodiac Signs
Check out today's Horoscope for all the zodiac signs.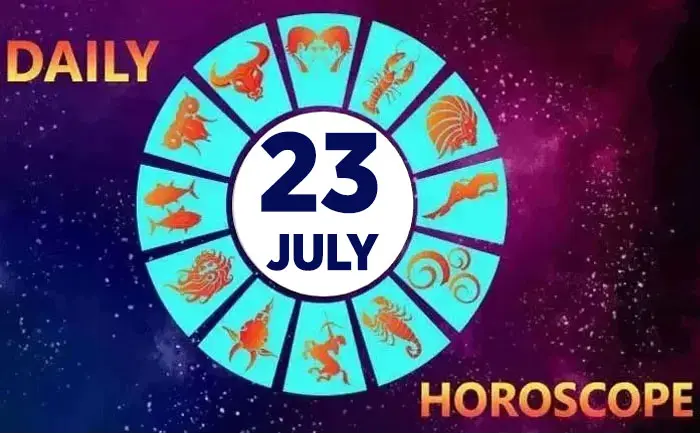 Horoscope Today, July 23, 2021: IF TODAY IS YOUR  BIRTHDAY:  Your lucky number is 5. As a Leo born on 23rd July you have excellent speaking skills and are a people's person. Also, you are quite inventive and can adapt to most situations. Making new friends come naturally to you as you are a very warm and big-hearted person. Your lucky numbers are 93, 35, 21, 44, and 82 and the lucky colour for you is orchid.
Horoscope for July 23: Check today's astrological prediction
Daily ARIES Horoscope:
Aries, today you will be in a healthy state of mind and everything in your life will be in sync with your harmonious thought process. Today you may be more in a mood to spend some time by yourself.  Positive energy will remain with you all day long. Overall, this will be a wonderful day for you.  Today you will find yourself wanting to spend time alone with your partner. Wearing the colour golden will help you attract good vibes.
Daily TAURUS Horoscope:
Taurus, you possess exceptional organizational abilities that come to the fore today. Right now you are full of positive, creative energy and can easily find solutions to problems.  You will definitely benefit from all the deep thinking and thorough prioritizing of important matters. Purple is your lucky colour for the day. Beware of unnecessary squabbles with your partner today, as there is an indication that tensions may be created.
Daily GEMINI Horoscope:
A family member or someone close may cause disappointment and create some frustrations for you today.  You may feel the urge to really scold and punish them. But corrective action that leads to a change in behaviour will lie in explanations, not in punishment. Attract positive energy by wearing Yellow today.  Today you may find that you feel some extra concern for the health of your partner.
Daily CANCER Horoscope:
Today you may find yourself feeling a little disappointed with those around you. You feeling disappointed or miserable maybe due to the reason that you are expecting too much from others. Lower your expectations. Try to be realistic and forgive others for their mistakes. Wearing Royal Blue will keep you energetic throughout the day. Today you will go all out to please your partner in the world of romance.
Daily LEO Horoscope:
The past few days may not have been very productive for you. But do not worry as soon everything will fall into place and it will bring you clarity and peace of mind. This is a very good time to sort out personal issues and maintain peace at home. Bright Orange will be your lucky colour for today.  You need space in your relationship and will need to discuss this with your partner.
Daily VIRGO Horoscope:
After some turbulence, your life is slowly getting back on an even keel. Your loved ones will be very helpful and will keep you in good spirits. All your efforts towards engaging in open communication and affection have borne fruit! This is a great day to recharge, rejoice and rejuvenate.  Dark grey will be your lucky colour for the day. Today you are likely to be tired of the routine and boredom in your romantic life. Spice up your life.
Daily LIBRA Horoscope:
Today you could be driven by a strong desire to be efficient.  While you may remain in a perfectly content mood with the way things are working in your life, you should also feel thankful for the wonderful people around you and their extended support. Brown is your lucky colour for the day. A separation may have taken place for you in your love life recently and your heart is aching to be reunited with your loved one. The meeting will come soon.
Daily SCORPIO Horoscope:
A good day lies ahead of you, working professionals will be on a roller coaster ride.  Double the benefit if you are in the field of marketing. Lady luck seems to smile over you. You will come across a lot of opportunities.  Your hard work will pay off.  Wearing Maroon will keep you calm and focused on your goals.  Today is a day to create peace in your home and build a loving bond with your partner.
Daily SAGITTARIUS Horoscope:
A challenging day awaits, as you will be in a confused and depressed state of mind due to the ongoing problems with money. Have some patience and remain positive, things will take a good turn. Wear Golden Yellow to attract good luck and positive energy. You will spend lavishly on things that are fun for you and your partner to bring a spark back into your romantic relationship.
Daily CAPRICORN Horoscope:
Today, some of you experience mental and physical highs. With the chain of positive events happening in your life, most of the plans you made are coming to fruition. Your personality may charm everyone around you.  Wear a dark shade of green to attract positive energy throughout the day.  Today you should look very closely and honestly at your relationship if your feelings are waning.
 Daily AQUARIUS Horoscope:
A busy day may be ahead of you, but you will be in the mood for some serious work and enjoy your hectic schedule. You will be focused and motivated to perform any tasks meticulously.  So just relax, take it one at a time.  Wearing white will keep you in good spirits and attract positive vibes. Learn to trust your partner even when you are out of touch.  Your relationship can still be strong if you remain present in the relationship even if you and your partner cannot be present in the same place.
Daily PISCES Horoscope:
A general feeling of dissatisfaction may linger through the day. You need to learn to be a little patient and not panic. Calm down and peacefully think about the reason behind your dissatisfaction. This overall period of gloom and lethargy is just a transitory phase and will soon get over.  Orange is your lucky colour for the day.   You want your love life to be more than just physical. If a superficial relationship is not what you are looking for, make sure you are not in one.
ALSO READ: Leo Love Horoscope 2020: Personality, Traits, Compatibility & Celebs Born Under This Zodiac Sign