Daily Horoscope 26th Nov 2020: Check Astrological Prediction For All Zodiac Signs
Check out today's Horoscope for all the zodiac signs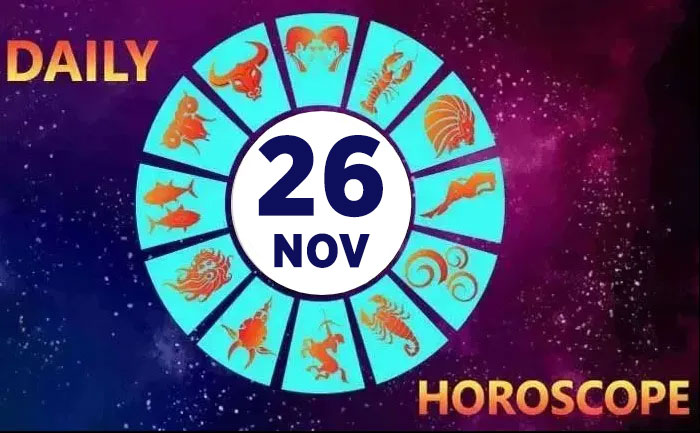 Horoscope Today, November 26 2020: IF TODAY IS YOUR  BIRTHDAY: Your lucky number is 8.  As a Sagittarius born on November 26, you enjoy offering your advice to other people. You are also a very innovative and kind person who normally, look for the best in everyone you meet and in most situations. You have a big heart. Lucky day: Thursday.  Lucky numbers: 2, 8, 13, 19, 27.
In this article, we have brought you today's astrological predictions for all the sun signs like Gemini, Scorpio, Leo, Taurus, Cancer, and others. Check out the astrological prediction for all zodiac signs.
 HoroscopeToday, November 26, 2020: Check today's astrological prediction from all sun signs
Daily Aries Horoscope:
You will be in high spirits today and satisfied use this time to make things work according to your advantage. You will be in total control of your work. Stay away from alcohol today. Exciting day as you receive a call from your beloved. Do listen to the advice given by others. The lucky colour today is amber.
Daily Taurus Horoscope:
Today, you will be quite satisfied with your children's progress. Your relations with your partner will also be satisfying. Your work will go well at this time, this will keep your spirits high today. Yellow will attract good luck for you. Those of you who are married may experience some trouble that will arise due to unnecessary arguing.
Daily GEMINI Horoscope:
After some turbulence, your life is slowly getting back on an even keel. Your dynamic attitude would draw significant advantages in the office over your competitors. Today you will be thinking very hard about whether to take your relationship to the next level of commitment. Indigo will be your lucky colour for today.
 Daily CANCER Horoscope:
You may seek moral support from someone close to bringing a problem to a conclusion. Today your love life may be suffering but you should not antagonize your partner. Stay away from fire and sharp-edged objects as you are accident-prone today. The lucky colour today is lime green.
Daily Horoscope LEO:
Today is a good time for singles to find their partner. You will find that there is a spark of romance and sensuality in the air. High energy levels and high motivation will enable you to complete your work on time. You might benefit from a close relative today. Wear purple for luck.
Daily VIRGO Horoscope:
You will opt to take on the jobs allocated to others in a bid to help them. Today you will consider a business proposal from someone in your family. Check-in with your loved ones today about their health, as one of them may be feeling slightly unwell. Unnecessary arguments and some small hurdles in the area of romance are indicated.
Daily LIBRA Horoscope:
You may feel like you are entering a period of slowdown and anxiety and you are slightly frustrated at your lack of progress on various fronts.  The idea of self-employment might be attractive to you but is not feasible just at the moment. Wearing green will bring you good luck. Situations for an extramarital affair will present themselves today.
Daily SCORPIO Horoscope:
You are a hard-working individual and on most days the mental stress exerted from the pressures of life takes a toll on you. Don`t get frustrated even if no one is noticing you. In the long run, your bosses will see you as dedicated. Couples can feel the calm of their relationship today. Wearing pink will be lucky.
Daily SAGITTARIUS Horoscope:
You could be waiting for some result of a test that will decide your career or some health checkup result. Your opponents may give you a hard time today. But on the money front, there will be a boost. Today you are likely to be worrying about the health of your partner. The lucky colour today is yellow
Daily CAPRICORN Horoscope:
Today you will be feeling lucky and optimistic about your work and relationship.  Wearing the colour Violet will prove lucky. Today you are likely to hear some good news from abroad or be offered an opportunity to travel abroad for work. You may find yourself in an extramarital relationship stay away from temptation it is not worth it.
Daily AQUARIUS Horoscope:
It's a great day ahead for you and will find that all the nice things you do for others today will pay you back in more than one way. Lucky colour for you today is light green. if you want to increase your turnover and your public name recognition, you need to advertise. Remind yourself that the grass is not always greener on the other side.
Daily PISCES Horoscope:
Today will make you feel invincible and in high spirits. You will feel a positive vibe in the air, things will go smoothly.A stomach ache due to some unwise eating habits you engaged in recently is indicated. Today you will find yourself wondering how to expand your career horizons. The lucky colour today is magenta.
Also Read: Scorpio Love Horoscope: Personality,Traits, Compatibility And Celebs Born Under This