Daily Horoscope 28th Oct 2021: Check Astrological Prediction For All Zodiac Signs
Daily horoscope 28th October. Check out today's Horoscope for all the zodiac signs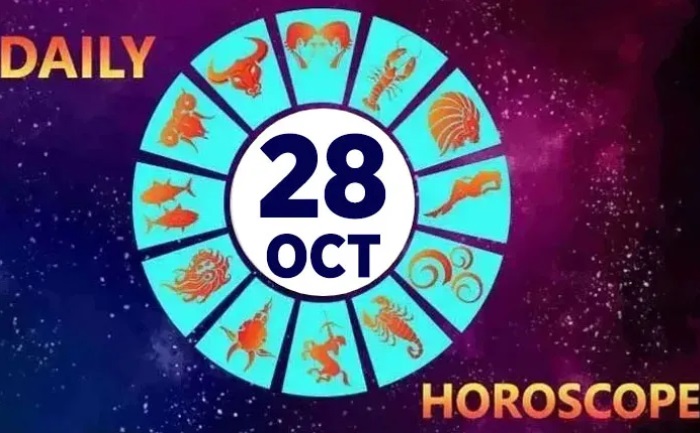 Daily Horoscope 28th October. 2021: IF TODAY IS YOUR  BIRTHDAY: Your lucky number is1.  Being a Scorpio born on October 28th, you seem to find different connections with people and information and will use your intuition to get to the best outcomes. You may appear to be a quiet individual but truth be told, you are highly passionate. You are quite well-known for being a meticulous, exacting, and loyal person. Your lucky colour is black. The luckiest numbers for those born on the 28th of October are – 4, 14, 29, 37, and 44.
This article has brought you today's astrological predictions for all the sun signs like Gemini, Scorpio, Leo, Taurus, Cancer, and others. Check out the astrological prediction for all zodiac signs.
Horoscope for October 28: Check today's astrological prediction
Daily ARIES Horoscope:
Today an influential person will help you gain your long term goals. If you are concentrating on professional affairs,  push forward with confidence in your future. Today will be a day for you to focus on prioritizing the things that matter to you most. The lucky colour is blue.
Daily TAURUS Horoscope:
You are in a celebratory mood today and up for new beginnings. But be careful. Don't buy stuff because they look pretty but buy only because you need it. Getting into financial trouble will dampen the happy mood. A kindhearted person will enter your life and will bring joy. Avoid wearing anything in red today.
Daily GEMINI Horoscope:
You love challenges and will accept them without thinking of the consequences. Maybe a little break from your regular routine will curb any impulsive decision that you may take today and regret later.  Your partner supports you in all your endeavours at this time. Something in green will attract good luck.
Daily CANCER Horoscope:
You will be in high spirits today and satisfied use this time to make things work according to your advantage. You will be in total control of your work. Stay away from alcohol today. Exciting day as you receive a call from your beloved. Do listen to the advice given by others. The lucky colour today is amber.
Daily LEO Horoscope:
Today you and your life should seem sorted. Your friends and you are on the same page. You are in a mood to make up for the follies you have made before. Love is in the air for you today. The chances of meeting a long-separated partner are high. Wearing Green will bring you luck today.
Daily VIRGO Horoscope:
There can be a social gathering at home which could have you meeting an unexpected guest who will be a useful contact in the long run. The day is filled with a mystery of sorts – though you might not be sure exactly what! This will be a good way to bond with your family members.  Wear something in White for luck
Daily LIBRA Horoscope:
Today may find you heading out on a religious pilgrimage as you are interested in such adventures. If you are working in the IT sector you may find that the work pressures are quite high. Today will be a good day for your skin as it will be blemish-free. you will feel like making a big announcement about your romantic life but wait for a little while. The lucky colour today is mauve.
Daily SCORPIO Horoscope:
You are in no mood for a conflict today. So you take as many precautions as possible to avoid one. Also, you are in a good mood and it will be contagious. Do not depend on others to complete your work. A person who makes you feel complete is all set to enter your life. Wear red for luck.
Daily SAGITTARIUS Horoscope:
You are a caring and compassionate individual, Taurus, a complete family person. Some of you could be burdened with your own studies or with the children's.  Couples will find that today that they feel much peace and are satisfied with the current state of their relationship. Pink is your lucky colour for today.
Daily CAPRICORN Horoscope:
You may seek moral support from someone close to bringing a problem to a conclusion. Today your love life may be suffering but you should not antagonize your partner. Stay away from fire and sharp-edged objects as you are accident-prone today. The lucky colour today is lime green.
Daily AQUARIUS Horoscope:
Today isn't the best day of your life as you will experience uncontrollability. You need to calm down and slow down a bit and focus on one commitment at a time. You need to stand aside from the flow for some time. Spend time with your soulmate. Pink is your lucky colour.
Daily PISCES Horoscope:
You are an excellent friend to have as you are very friendly and can really be empathetic. You can be really generous while helping others. Any task left incomplete bothers you as you are a very sincere worker. Your relationship with your partner is warm and you receive loving support in whatever you do. Wear lavender for luck.
ALSO READ: Scorpio Love Horoscope: Personality,Traits, Compatibility And Celebs Born Under This Zodiac Sign