Daily Horoscope 3rd Dec 2020: Check Astrological Prediction For All Zodiac Signs
Check out today's Horoscope for all the zodiac signs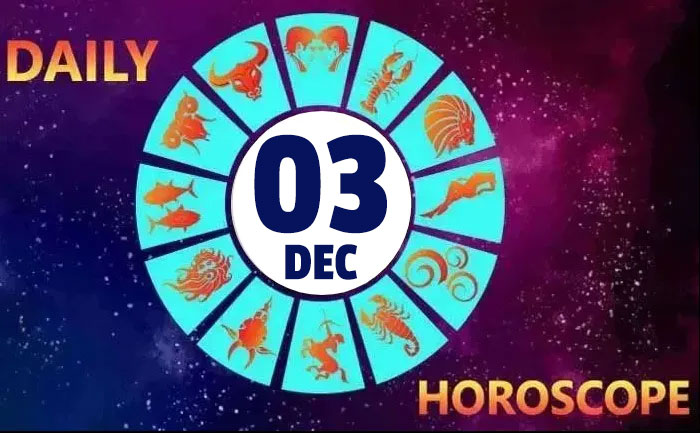 Horoscope Today, December 03 2020: IF TODAY IS YOUR  BIRTHDAY: Your lucky number is 3.  As a 3rd December born you could be a fiery Sagittarius. Those of you with a birthday today can be open, flexible and enthusiastic.   People born on this day are also known to have a strong determination.  People born on this day value their commitments and responsibilities at work. The lucky colour for those born on December 3rd is Red. The luckiest numbers for those born on the 3rd of December are – 7, 11, 13, 22, and 29.
In this article, we have brought you today's astrological predictions for all the sun signs like Gemini, Scorpio, Leo, Taurus, Cancer, and others. Check out the astrological prediction for all zodiac signs.
 HoroscopeToday, December 03, 2020: Check today's astrological prediction from all sun signs
Daily Aries Horoscope:
This is the perfect time to realize all your hopes and achieve everything you had planned in your life. You will find that today a willingness to confront problems head-on will allow you to make a good impression on others. Make sure your physical desires don`t get the better of you today and force you into a  regrettable situation.  Red is your lucky color
Daily Taurus Horoscope:
Today making money and furthering your career will be your topmost priority. Your strong drive for achievement will propel you to take calculated risks as you confront small hurdles.  Physical relationships bring no joy during this period. You need something for your heart and soul. Wearing something in light blue will prove lucky.
Daily GEMINI Horoscope:
Some of you may be in an adventurous mood as you finally get a long-awaited break from your busy schedule. Careful planning and preparation for when the right opportunities come along would enable you to realise your professional aspirations. Wear the colour green to attract positive cosmic energy.
 Daily CANCER Horoscope:
A hectic day lies ahead as you will be busy involved in planning for and activities related to travelling.  Excellent organizational skills will only make you more valuable to your employer. If a superficial relationship is not what you are looking for, make sure you are not in one. Avoid Green.
Daily Horoscope LEO:
This is a good time for you to come up with fresh ideas with a little more imagination. Your communication skills, self-confidence and pleasing personality will come to your aid. You are likely to learn an important lesson in your romantic life today if you have been taking all your relationships casually. Wearing purple will prove to be lucky.
Daily VIRGO Horoscope:
There may be a little celebration happening as someone close to you is likely to achieve something significant today. our positive thinking coupled with your dedication will give you the deserved success. Today your relationship turns a corner and starts heading directly towards long-term commitment! Wearing a dark shade of Red will prove lucky.
Daily LIBRA Horoscope:
It is likely that you may feel like you are being pushed from everywhere. You may be struggling to make up your mind and this may have a negative impact on your mood. To enable yourself to achieve your targets try to increase your ability to handle pressurized situations. Brown is your lucky colour for the day.
Daily SCORPIO Horoscope:
A special honour may come your way today it may be as small as a piece of praise from your superior at work or as a promotion or even an award. Your inexhaustible energy will enable you to withstand a lot of work pressure today. Today you are in an impetuous and passionate mood. Wear a light shade of green.
Daily SAGITTARIUS Horoscope:
You are a hard-working individual and on most days the mental stress exerted from the pressures of life takes a toll on you. Don`t get frustrated even if no one is noticing you. In the long run, your bosses will see you as dedicated. Couples can feel the calm of their relationship today. Wearing pink will be lucky.
Daily CAPRICORN Horoscope:
Things may not go right for you today. It is best not to loosen the purse strings until you become financially stable. Your experiment with a home remedy will prove successful. Looks and charm may draw you towards someone on the romantic front. Lucky Colour: Light Red
Daily AQUARIUS Horoscope:
You feel a strong need to know where you are going internally. Your good communication skills, pleasing personality and ability to handle every type of situation easily is likely to bring rewards at work. You will find that today there is quite a bit of harmony in your romantic and domestic life.
Daily PISCES Horoscope:
After some turbulence, your life is slowly getting back on an even keel. Your dynamic attitude would draw significant advantages in the office over your competitors. Today you will be thinking very hard about whether to take your relationship to the next level of commitment. Indigo will be your lucky colour for today.
Also Read: Sagittarius Love Horoscope 2019: Personality, Traits, Compatibility & Celebs Born Under This Zodiac Sign