Daily Horoscope 5 January 2020: Check Astrological Prediction For All Zodiac Signs
Today's Horoscope for all the zodiac signs.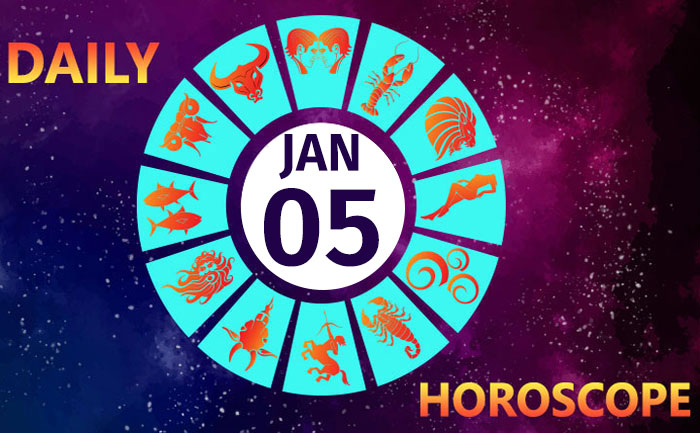 Horoscope Today, January 5, 2020: IF TODAY IS YOUR BIRTHDAY: Your radical number is 5. The number is impacted by Mercury. You are a person who is always busy with work. You are known for your talent and communication skills. You are hard-working, intelligent and smart. Your lucky gemstones are Emerald and Diamond. Your lucky colors are white, green and red. Lucky days are Wednesday and Friday.
In this article, we have brought you today's astrological predictions for all the sun signs like Gemini, Scorpio, Leo, Taurus, Cancer, and others. Check out the astrological prediction for all zodiac signs.
Horoscope Today, January 5, 2020: Check today's astrological prediction from all sun signs
Daily Horoscope ARIES:
Opening yourself up to a new romantic chance also means that you're opening yourself up to emotional strength and disturbance, so be careful. Don't do anything for a new your love that could get you in trouble with authorities. There is probably nothing to worry about, but you need to be careful of anything too over the top. People are drawn to your energy right now, and before you decide to fall for them, figure out what really makes them tick. Wear something in brown for good luck
Daily Horoscope TAURUS:
There's a nice, warm place in your heart where you keep special reminders and sentimental ideas, but it's not an infinite space, and right now you need to make some room. There are a few old loves, forgotten dreams, and out of date philosophies that need to get cleaned out. Many of these things feel necessary from an emotional point of view, but from a realistic point of view, they could be holding you back. Don't hold on to things that are too stale. Bright Blue is the lucky color of the day.
Daily GEMINI Horoscope:
You are living proof that a person doesn't have to be an Olympic gymnast to be extremely skilled at balance! Rest easy knowing that there's nothing in this day you can't handle with grace, no matter how random a curveball it maybe that's coming at you. Socially, you are also ready to balance your career connections with your personal life, which could result in some very exciting opportunities. It looks like you might be able to increase your earnings a lot earlier than you thought and wearing white will turn out to be lucky for you
Daily CANCER Horoscope:
When you come across a person from your past today, rely on your good memory to help you come up with a great conversation starter. In just a few moments, you'll know exactly what subject to bring up and which memories to elicit in order to inspire one heck of a conversation! Sure, you might get a few details wrong, but your memory has a funny way of playing tricks on you. This will be a lovely walk down memory lane, where you'll come upon some sweet revelations. Wearing your lucky color Blue is indicated to bring you peace.
Daily LEO Horoscope:
If you are contemplating going for some retail therapy today, think again. Buying things to make yourself feel better may provide temporary relief, but in a couple of days, whatever has been bothering you will still be bothering you. An impulse buys you make today could drain your bank account of much-needed funds. Save your money for another day and don't take any financial risks, especially with new technology gadgets that you haven' researched. Wearing grey brings you good luck
Daily VIRGO Horoscope:
After months or even years of going back and forth in a relationship, you could reach a major turning point today, thanks to a reveal. Sometimes things come to a sudden ending, while at other times they just slowly fade away. Certain truths are starting to become too obvious to ignore, so you'll have to stop ignoring them. Until you see things as they truly are, you can't move forward and give your full attention to someone who is much more deserving of your time.  Wear something in green for good luck
Daily LIBRA Horoscope:
The influences in your life today are decidedly manly in nature. This could mean that men are going to be the primary actors in today's dramas, or it could merely mean that the people around you will be displaying stereotypically masculine traits like aggressiveness and competitiveness. For greater harmony in your day, don't try to match that type of energy. Balance it with more stereotypically female characteristics like compromise and empathy. Wear Turquoise to bring about a sense of calmness
Daily SCORPIO Horoscope:
There's a lot to be said for being direct, but today the more rewarding type of communication for you to explore will be much more subtle: eavesdropping. Without disrespecting anyone's privacy or personal space, you can put yourself in the right place at the right time and hear some amazing things. We're talking about insider info, flattering comments, and even a juicy secret or two. Sharpen your ears and get ready to be entertained and surprised. Wearing green will bring you luck and positive energy.
Daily SAGITTARIUS Horoscope:
Things could be on the quiet side today, and you are in the right mind frame to enjoy it. Put your feet up and relax for a while. It won't be as boring as you think, and you will learn how to prevent more stress and pressure in your life. Your mind is still very active, so don't worry about losing your edge or falling under the spell of your couch. Just because you're not running around like a chicken with its head cut off doesn't mean that you aren't getting things done. Wearing white is recommended today.
Daily CAPRICORN Horoscope:
Beautiful words will turn anyone's head today, so if you've been working up the courage to make your move on a certain someone, today is the day to do it! Get creative and think outside the box with how you approach the situation. Writing a love letter, or better yet, a love song, will get you noticed and show them that you aren't like everyone else. Your extra effort and refreshing creativity are more flattering than any trite come-on or hollow gesture. Wearing white will boost your confidence and help you remain positive.
Daily AQUARIUS Horoscope:
Today, the devil will be not only in the details but also in the fine print. Keep that in mind when you're looking over any sort of contract. This includes credit card receipts and application forms. One transposed number could cause big problems down the line for you. Luckily, your attention to detail is very keen right now. One review should reveal all the errors that are there to be found. Just take a little extra time to make sure things are right and wear silver to attract success in all your endeavors.
Daily PISCES Horoscope:
Itchy fabrics, spicy foods, and loud music. Any of these off is out of order experiences will be just the ticket for you today. What you need most is stimulation! Seek out things that rub you the wrong way and challenge your tolerance. These will help reinforce what you're tuned in to and help you expand your horizons. In your free time, sit still and watch the world go by. The people you see will bring entertainment, confusion, and more of that stimulation you need. Rose Pink will prove lucky today.
ALSO READ: Daily Horoscope 4 January 2020: Check Astrological Prediction For All Zodiac Signs