Daily Horoscope 8th September 2019: Check Astrological Prediction For Aries, Capricorn & Pisces
Today's Horoscope for zodiac sign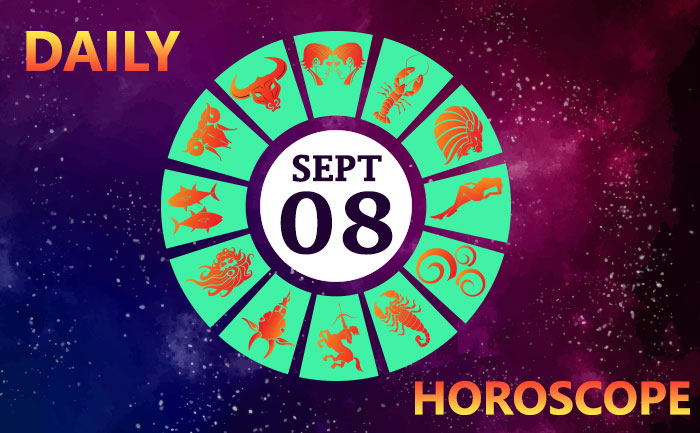 Today 8th September 2019: IF TODAY IS YOUR BIRTHDAY:  Your radical number is 8 and lucky colours are Red, Black and Blue. Lucky days for you are Saturday and Sunday. You are a firm and disciplined person and will be good as an authorized person. you will earn a lot of money in your middle age. Career-best for you will be in the field of property, computers and metals
Daily Horoscope ARIES
Today may find you heading out on a religious pilgrimage as you are interested in such adventures. If you are working in the IT sector you may find that the work pressures are quite high. If you are concentrating on professional affairs,  push forward with confidence in your future. The lucky colour today is mauve.
Daily Horoscope TAURUS
Today you will be in a jolly mood and charm everyone with your impeccable mannerism. However, some loss of valuable possession is indicated today. Just keep your wits about you when it comes to possessions that are very valuable to you.  Enjoy a relaxing evening together with your loved one. Pink is your lucky colour for the day.
Daily Horoscope GEMINI
Blessed with a good constitution, you basically have to be careful of your bones and muscles. Prioritize your health today and you will see the benefits for a long time to come.  Today you may find that a recent transfer has left you feeling disappointed. The lucky colour today is silver.
Daily Horoscope CANCER
You may find a renewed thrust of dynamism and energy engulfing you. You will easily be the social butterfly of the evening and will charm everyone. This is a day to indulge in the love of your partner. You can feel free to allow them to pamper you as you deserve it and they will enjoy doing it for you.Colour olive green is lucky for you.
Daily Horoscope LEO
You may look forward to taking some time off from your daily routine, to spend some time with your new-found love. This will be a very promising day for your love life to move in a positive direction. Healthwise you may be feeling a bit sluggish thanks to some tension. The lucky colour today is royal blue.
Daily Horoscope VIRGO
You are intuitively intelligent and can read and perceive situations and people alike in no time. This is the best way to grow yourself. You will find that on the health front you`re feeling a bit under the weather.  It is a good day for romance. The lucky colour today is orange.
Daily Horoscope LIBRA
Your mind may be buzzing with new ideas, helping you to move forward in your life. You are likely to feel happy and cheerful today; nothing will hold you back.  Make the most of this feeling of being on top of things and relax with your friends.Wear white to stay in a cheerful frame of mind throughout the day.
Daily Horoscope SCORPIO
You may feel certain things in life are holding you back. It is likely that you may be in need of some recreation in order to feel refreshed and rejuvenated. Overall, just stop worrying about little problems in life and relax.  Blue is your lucky color for the day. Single people may find a partner over the internet today.
Daily Horoscope SAGITTARIUS
Today, you may want or even plan to possess some expensive thing to add to your material comforts. Contacts you make today will bring you benefits in many ways. There has likely been some confusion and fog in your relationship as of late it will end today. The lucky colour today is violet.
Daily Horoscope CAPRICORN
This seems like an ideal day for future planning as you may remain in a good mood. Sagittarius, things seem to be going in the right direction for you at least for now. If facing any difficulties, use the right opportunity to make the necessary changes. Today you may receive an unexpected gift from your beloved. Wearing anything in brown will help you attract positive vibrations
Daily Horoscope AQUARIUS
You find that a new position of authority brings challenges as well as rewards. You will revel in the admiration of your peers today due to their high opinion of your work ethic. Yoga is great for the mind and body, and today you feel inclined to strengthen this link. The lucky colour today is grey.
Daily Horoscope PISCES
Today you may be prone to getting a little impulsive or act on your emotions.  Emotions may be quite unsettling for most of the day. You should just take a deep breath and take some time off from everything else to bring a sense of balance. Off white is your lucky colour for the day.  Today a feeling of tremendous good will be there between you and your beloved.
Also Read: Virgo Love Horoscope: Personality,Traits, Compatibility And Celebs Born under this sign