Daily Horoscope 9th Nov 2020: Check Astrological Prediction For All Zodiac Signs
Check out today's Horoscope for all the zodiac signs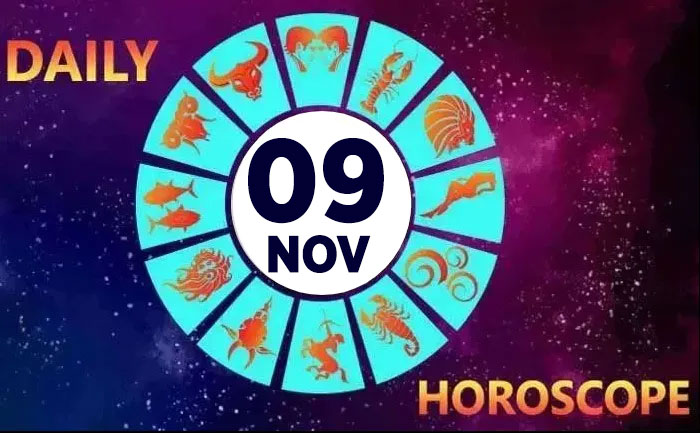 Horoscope Today, November 09 2020: IF TODAY IS YOUR  BIRTHDAY: Your lucky number is 9.  You are courageous, energetic, trustworthy, dashing, independent and quick in taking decisions. You always welcome new ideas and are fond of increasing your knowledge and learn new things. The lucky colour for people born on this day is aqua. This colour emanates protection and emotional sustenance. Your luckiest numbers are – 2, 4, 17, 23, and 27.
In this article, we have brought you today's astrological predictions for all the sun signs like Gemini, Scorpio, Leo, Taurus, Cancer, and others. Check out the astrological prediction for all zodiac signs.
 HoroscopeToday, November 09, 2020: Check today's astrological prediction from all sun signs
Daily Aries Horoscope:
Normally, you see the world in a very positive light. Today you will curb your impatience and will consider viewpoint of others too.  A good day awaits you at your workplace. You have been choosing all the wrong people lately,  look for that person who makes you happy. Wearing a shade of grey will prove lucky for you today.
Daily Taurus Horoscope:
You will be in high spirits today and satisfied use this time to make things work according to your advantage. You will be in total control of your work. Stay away from alcohol today. Exciting day as you receive a call from your beloved. Do listen to the advice given by others. The lucky colour today is amber.
Daily GEMINI Horoscope:
Some of you may be feeling a little frustrated and upset with people who are close to you. Lower your expectations from others. You are likely to be feeling quite confident in your job today.  Today is looking good for your prospects of meeting someone new. This person may even be of foreign origin. Wear Sea Green for luck.
 Daily CANCER Horoscope:
Being left by yourself can make you apprehensive as communication is your lifeline to sanity. Today you will look for some new kind of excitement with your friends or loved ones. Avoid wearing anything blue in colour.  Find innovative ways to motivate your staff and co-workers. Beware of potential relationships today that is not sustainable.
Daily Horoscope LEO:
You could be waiting for some result of a test that will decide your career or some health checkup result. Your opponents may give you a hard time today. But on the money front, there will be a boost. Today you are likely to be worrying about the health of your partner. The lucky colour today is yellow
Daily VIRGO Horoscope:
Control your temper and try to do things which make you relaxed. For the sake of your own mental peace try to remain calm. Today try to keep a cool head in the office, even if you feel at odds with your boss. Today watch out for a romantic opportunity that comes your way very briefly. Pink is your lucky colour.
Daily LIBRA Horoscope:
Do not be afraid to dream big since you are persistent and you believe in hard work. All the sweat and toil that you have put into your work finally pays off bringing you rich dividends. Your family is expressing some opposition to your choice of partner. Wear Green for luck today.
Daily SCORPIO Horoscope:
Today will make you feel invincible and in high spirits. You will feel a positive vibe in the air, things will go smoothly.A stomach ache due to some unwise eating habits you engaged in recently is indicated. Today you will find yourself wondering how to expand your career horizons. The lucky colour today is magenta.
Daily SAGITTARIUS Horoscope:
Today, you are likely to spend a little time in pursuing what you like best. This will make you feel relaxed; both physically and mentally. Blue will prove lucky. If you are single you may find exactly what it is you are looking for in a partner. You might encounter some influential people who are experts in your field.
Daily CAPRICORN Horoscope:
Today may find you heading out on a religious pilgrimage as you are interested in such adventures. If you are working in the IT sector you may find that the work pressures are quite high.  Today is the best day to study trends and behaviours of the investments and commitments you wished to make. The lucky colour today is mauve.
Daily AQUARIUS Horoscope:
Today will keep you energised, attentive and diligent enough to go ahead with the ambitious project.  You are fortunate enough to have people around you who are as effective as you in organising and detailing. You may be feeling slightly lonely. You might hear from an old friend about a job opportunity that would be just right for you. Grey is lucky.
Daily PISCES Horoscope:
Avoid getting into any kind of quarrel today, especially with your loved ones, no matter what the provocation suggests. Be diplomatic with your rivals. Just keep your eyes on your overall career goals. Your heightened physical charm attracts someone to you. White is for luck today.
Also Read: Scorpio Love Horoscope: Personality,Traits, Compatibility And Celebs Born Under This Zodiac Sign