How to know if someone blocked your handle on Instagram
Here are interesting ways of finding out if somebody has blocked you on Instagram. Check out simple and easy steps to be confirmed that somebody (you may know and may not) has blocked your handle from their Instagram account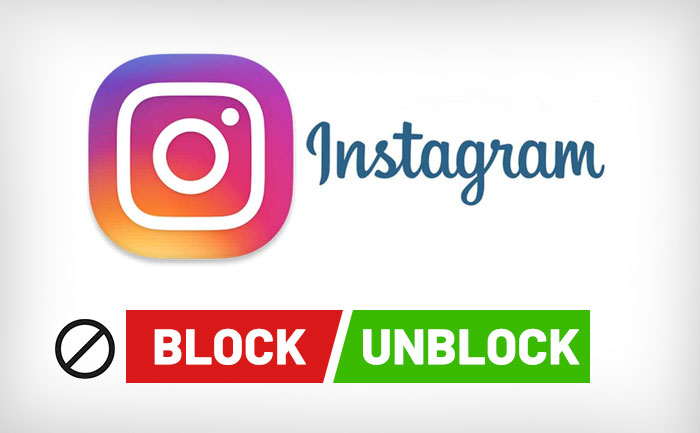 Social media is the place for finding answers to many questions in life. Someone can learn about somebody or can actually enhance their knowledge in any given field. Facebook owned Instagram has paved its way in becoming one of the highest used photo sharing (now video and reels sharing) application that is known for connecting people beyond race and boundaries. Instagram communities are known to be most active among communities from other social media platforms. One of the best things about Instagram is that users have tons of different tools available for free use to enhance their experience of being on the app. However, having all the million different things that satisfies the user, people always wonder for those things that remain missing. Ever wonder how social media platforms would be like, if the apps notified all the users about being blocked by someone on the platform? Undoubtedly this would have been a thrilled experience for some. If you have been struggling to know if somebody has blocked you on Instagram, then chill! Here are few interesting ways of confirming that you've got blocked on Instagram.
Find out if your Instagram handle is blocked by someone:
Search the handle on Instagram:
Whenever you have doubts if someone you known has blocked your handle on Instagram, then first thing you need to do is search their name from the search bar on Instagram. You can type their complete name or handle name to search. If search results on the Instagram page doesn't show up the user you are looking for, then there are chances that the user might have already blocked you. However, there could be other reasons as well for not seeing feed from that particular user in your timeline. In cases if his/her Instagram account is deleted the search result won't show up the user.
Search the handle on browser:
Type user name or user's Instagram handle URL in the web browser on your computer/laptop to search. Click onto the search result you feel is of the person you have been looking for. If the page opens up to show- Sorry, this page isn't available, then there are chances of you being blocked by the user. If you've not logged into your Instagram handle on the browser, then the page might show up a few posts by that particular user(only in case the user's account is not deleted). When you can see his/her posts from browser and when it shows -Sorry, this page isn't available from your account, then know that you have been blocked by that person.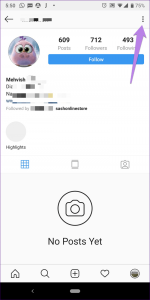 Check your own Instagram profile:
Instagram usually doesn't delete the comments or tags made by the user, who you feel has blocked you. If you know those posts, comments or tags, then simply click onto them and click onto the user's name. If you see nothing opening up on that name tag, then there are chances of your handle being blocked by that user. One of the quick ways to identify if someone has blocked you on Instagram is by paying attention to their friends Instagram story posts. If the user is mostly active and if the user's friends re-share their posts on stories, then you can see their posts on stories of their friends handle. However, when you click onto handle username, the page can't be seen.
Check messages on Instagram:
Go to your DM section and see the chats that you have shared with the user. In many cases, Instagram hides the message threads that you previously shared with that person( who you feel is blocked you). Check out direct messages nicely. If you still see the chats, then know that you're not blocked. If you can't see the chats, then there's a possibility you being blocked by that user.
Use another Instagram handle or friends handle to search:
If you have common friends or if your family members allow you have an access to their Instagram account, then you can search for that user, who you feel is blocked you. Ask for the permission before accessing anyone's Instagram account and search the user name in the search bar. If you can see the user on others handle and that name can't be opened from your handle, then be 100 per cent sure that you have been blocked by them.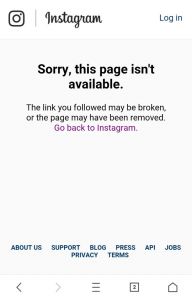 How to block unwanted users on Instagram from Android or iOS:
1. First log in your Instagram handle from Android or iOS
2. Go to the profile of the person you want to block (Either search the handle on your follower list, DM list or search bar)
3. Once you make your mind to block that user, click on the three dots at the top-right corner of the user's profile page
4. From the given options click onto the Block option and the person will be blocked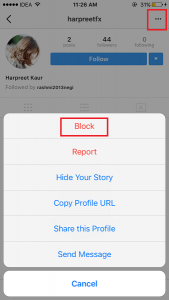 How to unblock users on Instagram?
1. Start by logging into your account -Android or iPhone
2. From home page go to your profile by clicking onto your profile picture
3. On the top-right corner, you will see three lines. Click onto the three lines to access the profile menu
4. Next click on the Settings option
5. Click on the Privacy option
6. Under the privacy section, you will see Blocked Account list
7. Select the user you want to unblock and click on the unblock popup notification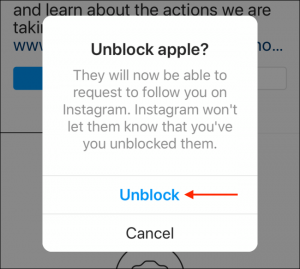 Frequently asked questions about blocking / unblocking users on Instagram: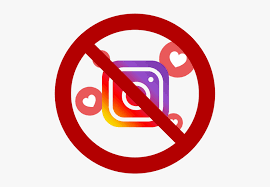 1. What happens when a user blocks someone from their Instagram handle?
When somebody blocks a user on Instagram, the blocked user can't be connected through DM's or can't even see the Instagram feed of blocker. People who have blocked you on Instagram can still see your likes and comments on posts that were shared by public accounts or accounts they follow before blocking.
2. How to quickly know if someone has blocked you on Instagram?
Search the user handle from web browser or friends Instagram handle and check if you can see the users profile. If the same user profile you can't see from your Insta account, then know he/she has blocked you for some reason.
3. Does user not found mean blocked on Instagram?
The display term on Instagram page- User not found could also mean an error. This mostly happens when the users name is wrongly typed, the user named is changed or deleted. There are also chances of you seeing this notification, when the user has blocked your handle.
4. How to know if someone has deleted their Instagram account or blocked you?
In order to see if any user Instagram account is deleted/ deactivated their account, go to the check group messages that you both have in common. If you see them being a part of the group, then be sure that the person has blocked you on Instagram. If you can't their name on the group, that could mean their handle is being temporarily or permanently deactivated.
If you found the above information helpful, then do let us know. For more such updates, stay hooked on to The Live Mirror.
Also Read: How To Use Instagram Creator Studio: Complete Guide