Daily Horoscope 24th June 2020: Check Astrological Prediction For All Zodiac Signs
Check out today's Horoscope for all the zodiac signs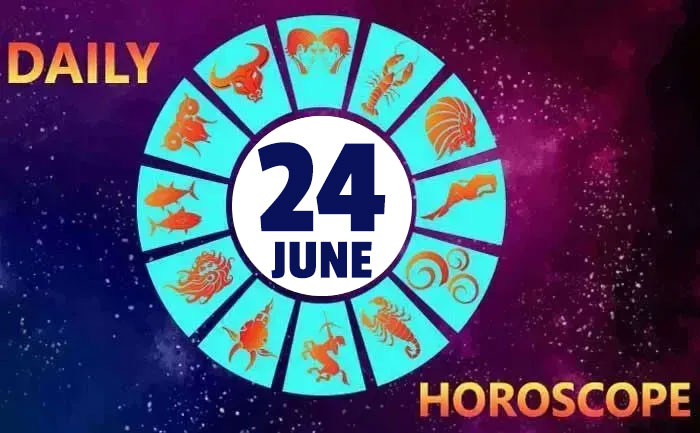 Horoscope Today, June 24rd, 2020: IF TODAY IS YOUR  BIRTHDAY: Your radical number is 6. Being a Cancer born on June 24th, you have a positive and quirky approach to many of life's matters. Enduring and generous, you tend to leave an important mark in the lives of those around you. Your love life is often laced with drama.  The lucky color for those born on the 24th of June is represented by dark green. The lucky numbers for those born on the 24th of June are – 35, 32, 15, 57, and 3.
In this article, we have brought you today's astrological predictions for all the sun signs like Gemini, Scorpio, Leo, Taurus, Cancer, and others. Check out the astrological prediction for all zodiac signs.
 Horoscope Today, June 24, 2020: Check today's astrological prediction from all sun signs
Daily Aries Horoscope:
You are wise and know the importance of exercising self-control. You have a practical mind and are generous while giving suggestions to others. But you always hesitate before you ask for help for yourself. Today,  you should seek out some advice from an expert for financing some projects.  Wearing a dark shade of Red will prove lucky for you today. Make some serious efforts to keep your love life fresh.
Daily Taurus Horoscope:
Daily GEMINI Horoscope:
Today may give you a heaven-sent opportunity to spend the entire day doing something that you love; which is, spending time with your family. You may have some health issues you need to check on and you need the support of your loved ones around you. Just an outing with them may help you de-stress. Wear something in blue for good luck today.  Today may be a challenging day on the romance front but things will change for the better soon.
Daily CANCER Horoscope:
You are so focused on your work that many times you fail to see the beginnings of life becoming monotonous. Although you like to remain positive, 'All work and no play" will soon make you dull and boring. Today try to break this monotony and do something different.  Wearing something in white will bring you peace,  You are likely to receive some positive signals from the person you have wanted to marry. You can try your luck by proposing.
Daily LEO Horoscope:
Not one to feel stressed about situations easily, today, a wave of disappointment may take over you. But though you have it in you to deal with problems, this may seem to be a little overwhelming. Give some deep thought to it and you will come up with some solution. Wearing indigo will prove lucky for you. Marriage prospects are highly indicated today, so if you are single or engaged, watch out!
Daily VIRGO Horoscope:
You hate to get into conflicts of any kind with people and would rather give an unbiased opinion if asked. Wanting to escape from a controversial situation, you will prefer spending time in the kitchen. This will help you relax, so go ahead and enjoy it. The colour magenta will prove lucky for you. Thoughts of your loved one are likely to make your romantic.  It is time for a life-long commitment.
Daily LIBRA Horoscope:
The day will make you aware of your self-worth. Learn to ignore people to whom you always have to prove yourself. Maintain your dignity. You have always been so considerate and kind. Your family, friends, and coworkers love you for being empathetic. You must learn to not get hurt by mean people.  Wearing anything Golden in colour will prove to be lucky for you today. If recently you received a surprising proposal, take time to consider this proposal.
Daily SCORPIO Horoscope:
Although you have abundant energy in you; you are after all a human. A human who is caught up in the intricacies of life. Like everyone else, you too get tired and need to recharge your batteries every once in a while. Today, it is important to lighten up and laugh more. Wear something in white for peace. Today in the world of romance you may feel somewhat confused but listen to your intuition in the end.
Daily SAGITTARIUS Horoscope:
You are disciplined and patient with your work. You will motivate people and inspire them to do better. You will feel energetic enough to practice patience with your family and co-workers too.  Sometimes, people whom you least expect to, give the best innovative ideas. Wearing anything orange in colour will prove lucky for you today. Try to use some innovative methods to express your love to your partner.   It will infuse a new spirit of fun in your affair.
Daily CAPRICORN Horoscope:
Pleasant and charming, you like to keep your opinions unbiased regarding most of the situations around you. But once in a while, you can get impatient with people's attitudes.  Remember, it is not your responsibility to make sure the others are happy all the time. You can only act as a support to them. Avoid wearing the colour Sky Blue today. Today you can convince your parents of the suitability of a potential marriage partner, as they are likely to agree.
Daily AQUARIUS Horoscope:
One of your strengths is your enhanced intuitiveness which allows you to take correct decisions at the right time. Today, it will accentuate your capabilities even more; making you feel very capable as you take an important resolution at your workplace. This will get you feeling about being right on top of the world.  Grey is the colour of luck today. If you are in a position of wanting to marry for the second time, then today will be a fruitful day for you.
Daily PISCES Horoscope:
The day will urge you to bring a change in your daily routine or in your approach towards work. If you think that you are unable to reach a decision about some project, just change your approach towards it. Do not get overwhelmed by some opponents or enemies. Wearing white will prove lucky for you. Today you will feel like making a big announcement to your friends and family about a new development in your romantic life.
Also Read:  Gemini Love Horoscope 2020: Personality, Traits, Compatibility & Celebs Born Under This Zodiac