Daily Horoscope May 10, 2019: Check Astrology Prediction For Libra, Capricorn & Virgo
Today's Horoscope for zodiac sign Libra, Capricorn, Aries, Leo, Cancer and others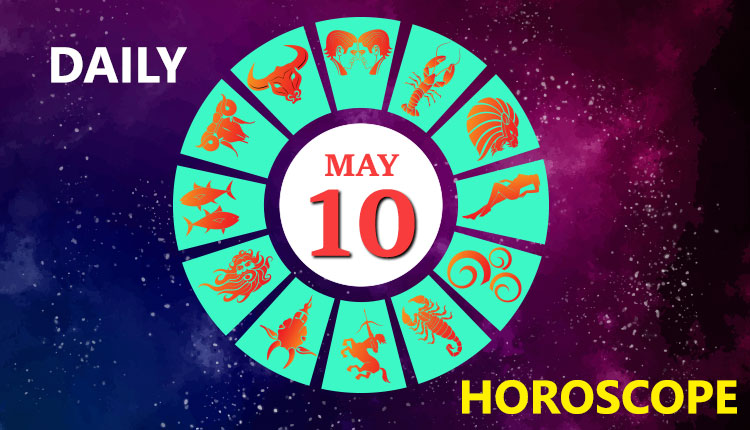 Horoscope Today, May 10, 2019: IF TODAY IS YOUR BIRTHDAY:  If you are born today your lucky number is 1 that is ruled by Sun. You are an active and confident person who attracts people with their charismatic presence. Your lucky stones are Ruby, Topaz and Amber. Lucky colours are Red, Orange, Gold, and Yellow. Lucky days for you are Sunday and Monday.
Here's your daily horoscope as per your sun sign:
With the Moon is present in Cancer a lot of workload or pressure may be coming your way. But you will come out with flying colors and your work will be appreciated. Other opportunities are going knock. For the single,  there are strong indications that you will be successful in turning a friendship into a loving, committed relationship. Wear Orange for luck.
Daily Horoscope TAURUS
A mixed day may lie ahead of you owing to the transit of Moon in Cancer. You are at the height of your popularity at this time. You are communicative and these qualities will definitely take you further. Just carry on the way you are. You will find that today there is quite a bit of harmony in your romantic and domestic life. Lucky colour is pink for you.
Daily Horoscope GEMINI
A mixed day is ahead for you both in personal and professional matters. However, as Moon moves in Cancer strong indications of a lost friendship cannot be ignored. Today, take extra care of your expenses. Avoid getting into any kind of conflict or argument. Dark green will prove to be your luck color today.
Daily Horoscope CANCER
As Moon moves into Cancer, everything seems to be in your favour if you are looking to initiate a new project or start a new business. There may be a chance to start some entirely new projects on the side.  Couples who have been arguing recently will find that harmony is creeping back into the relationship. Wearing pale Yellow will prove lucky.
Daily Horoscope LEO
A long-standing legal battle, will finally conclude in your favour, indicates the Moon in Cancer.  It is time to move on in life, especially mentally and emotionally. A family trip would be a good idea. Today you will notice the way you feel now that you are in love. Wear Purple colour for good fortune and prosperity.
Daily Horoscope VIRGO
As Moon positions itself in Cancer, today you may feel like you are exceptionally busy. This is a period of change and may leave you a bit confused. But the good that will come out of this are the new opportunities that will broaden your horizons. You might come into an inheritance or get monetary gains. Avoid wearing the color, Black.
Daily Horoscope LIBRA
As Moon enters Cancer you could be motivated to push forward your ambitions. Since the energies around you are so strong, you will be able to multi-task through things with a lot of ease. Avoid worrying too much, just give in your best.  Romance seems to be everywhere you look today. Turquoise is your lucky color for the day.
Daily Horoscope SCORPIO
As Moon is stationed in Cancer you are in a position of strength and wield considerable power at this time. But remember that with more and more power comes added responsibility.  If you are single then today you find you are flooded with requests for dates. Wear something in the colour maroon to stay in a positive frame of mind.
Daily Horoscope SAGITTARIUS
A day of peace and tranquility awaits you despite all the hustle and bustle from your day to day life. Take your time and try to push a project or some other work for some other day. On the other hand, you can expect to play an important role within your family. Today you may receive an unexpected gift from your beloved. Wear sky Blue for luck.
Daily Horoscope CAPRICORN
As Moon is in Cancer it causes you to feel restless and eager to explore the unknown avenues. This is a good time to head out on a get-together with your family and loved ones.  It may not be very often that you get an opportunity where you spent time with your loved ones. Yellow is your lucky color for the day.
Daily Horoscope AQUARIUS
Some of you may be at the height of your popularity at this time owing to the presence of Moon in Cancer.  Just carry on the way you are doing things without vanity or ego coming in your way. This will ensure continued popularity and respect for you. Your lucky color for the day is red.
Daily Horoscope PISCES
As Moon is in Cancer you could be in search of a spiritual answer to life. Soul searching will lead you to understand exactly where things are going wrong and how you can make them better.  An honest and frank discussion with someone who is close might clear your thoughts.  Red is your lucky color for the day.
Also Read: Daily Horoscope May 8, 2019: Check Astrology Prediction For Libra, Capricorn & Virgo