Daily Horoscope May 21, 2019: Check Today's Prediction For Sagittarius, Capricorn & Pisces
Today's Horoscope for zodiac sign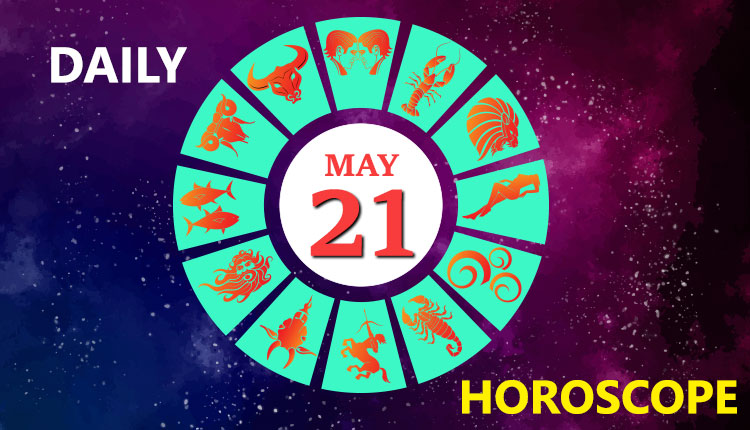 Horoscope Today, May 21, 2019: IF TODAY IS YOUR BIRTHDAY:  Your lucky number is 3 and lucky colours for you are a charming and cheerful person.   Lucky days for you as per your date are Thursday and Friday. Wear violet, blue, purple and best career options for you are  banker or broker
Here's your daily horoscope as per your sun sign:
Daily Horoscope ARIES
new beginnings and possibilities of a bright future for you. Good things will come your way. You may even feel somewhat swept off your feet! You will seek out the advice of a financial professional advisor today in order to sort out your financial situation. Do rely on your own instincts as well.
Daily Horoscope TAURUS
Today you may feel a little laid back and you may find yourself wanting to spend time with your family, leaving work and worries behind. The money will come in from various sources today. This is quite a welcome change from the financial rut you had been stuck in. Singles, you are likely to meet someone online today.
Daily Horoscope GEMINI
After some turbulence, your life may be slowly getting back on an even keel. close friends will be helpful today and will keep you in good spirits. The trouble with the tax authorities is indicated today. If you have nothing to hide, then you will be able to steer clear of problems. Today will be a very romantic day for you
Daily Horoscope CANCER
Now is the time to set your priorities in life and think about ways to achieve your goals. With hard work and passion, you can excel in any field. You may find yourself deprived of the financial security you depend on. Try to avoid confrontation. Today has some romantic opportunities in store for you.
Daily Horoscope LEO
It is likely that you may remain in a cranky mood with so much going around. However, you need to do your best to control your emotions. Thanks to your expertise in your field of work, some good news in the workplace is sure to bring you some monetary gains. Try to avoid jealousy in your relationship today
Daily Horoscope VIRGO
You may also get an opportunity to make an investment in some new project or a new venture altogether. You are likely to gain a highly profitable project that will satisfy your career and monetary goals. Today you may find yourself thinking all day long about one particular person whom you just met.
Daily Horoscope LIBRA
Today you might get into minor arguments with your family members at home over trivial issues. It is important for you not to get too carried away. A recent decision made about your finances is causing you some stress. You may also be having trouble overcoming some challenges. There are chances of you giving your heart to someone.
Daily Horoscope SCORPIO
You may feel pressure coming from many sides, including work and home. Many people may be coming to you looking for answers. You may benefit from the purchase of land, property or commercial premises. There are strong chances of sudden profits. Today you may finally find a partner who finally seems suitable for your child.
Daily Horoscope SAGITTARIUS
On the professional front, maybe you will be honored with recognition and will garner a lot of appreciation from your peers. Today in the world of finance you must keep track of your expenditures, as you are prone to being a little absent-minded. Some small difficulties can be expected on the romantic front.
Daily Horoscope CAPRICORN
You may be feeling a little confused and worried regarding your financial condition. Today you will need to be careful with your money, as financial losses are indicated. Do not spend money on items that you really don`t need. You will spend lavishly on things that are fun for you and your partner.
Daily Horoscope AQUARIUS
There is a good chance that you may meet people from various walks of life from where you can learn a new thing. Completely stay out of conflicts.  You will spend lavishly on public relations and will succeed in attracting the right kind of attention. Today your romantic life seems to blossoming.
Daily Horoscope PISCES
A family member may bring you good news today.  In turn, you can expect the general atmosphere around you to be positive. This is a good time to investigate some properties as you are likely to find some suitable options today. Today you should not let your partner and yourself stay at home,  break the monotony.
Also Read: Best 2019 Summer Accessories based on your Zodiac Sign