Vivek Oberoi defends Salman-Aishwarya meme, later apologises
Vivek Oberoi not sorry for Salman-Aishwarya meme, says Sonam Kapoor is overreacting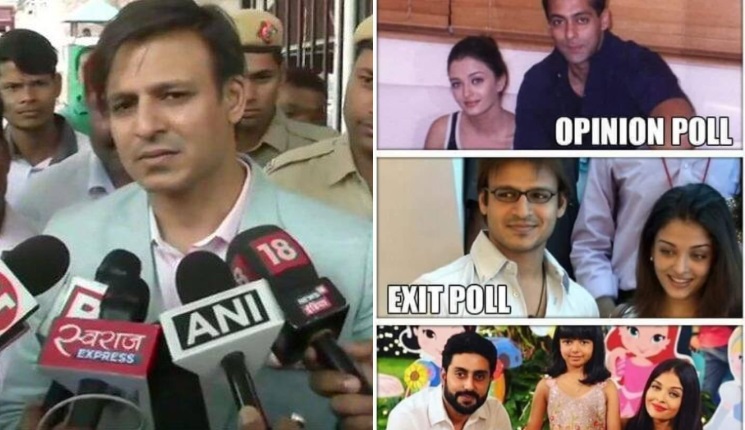 Actor Vivek Oberoi stirred controversy when he tweeted a meme that is a collage of Aishwarya, Salman, himself and Abhishek. The meme states Salman and Aishwarya's relationship as the 'opinion poll', Vivek and Aishwarya's affair as the 'exit poll' and Abhishek-Aishwarya and Aaradhya's happy family as the 'final result'. Vivek was soon slammed by actress Sonam Kapoor and others for sharing it. Netizens demanded that he should apologize but the actor is not sorry for it and has defended himself.
Haha! ? creative! No politics here….just life ??

Credits : @pavansingh1985 pic.twitter.com/1rPbbXZU8T

— Vivek Anand Oberoi (@vivekoberoi) May 20, 2019
Vivek Oberoi on Monday said he doesn't see anything offensive in his tweet.
Vivek Oberoi told ANI, "Those who are in the meme have no objection, while politicians are trying to politicise the issue. They don't work on issues but start their politics on non-issues. There is a 'Didi' in West Bengal who puts people behind jail for a meme. Now, these people are demanding to put Vivek Oberoi behind bars."
He further added, "People are asking me to apologise. I have no problem in apologising, but tell me what wrong have I done. If I have done something wrong, I will apologise. I don't think I have done anything wrong. What's wrong in it? Somebody tweeted a meme and I laughed at it."
He also added that Sonam Kapoor is overreacting to the tweet. He further asked Sonam to overact less in films and on social media too.
Check out his interview here:
Vivek Oberoi speaks on Sonam Kapoor's reaction to his tweet (on exit polls), "…Aap apni filmon mein thoda kam overact karein aur social media pe thoda kam overreact karein. I've been working in women empowerment for 10 yrs now. I don't think this is hurting anyone's sentiments" pic.twitter.com/pOWAwO29N6

— ANI (@ANI) May 20, 2019
The National Commission for Women (NCW) has issued a notice to actor Oberoi demanding explanation over his tweet on the exit polls.
Finally the actor has issued his apology on Twitter,
Even if one woman is offended by my reply to the meme, it calls for remedial action. Apologies?? tweet deleted.

— Vivek Anand Oberoi (@vivekoberoi) May 21, 2019
Also Read: Sonam Kapoor Slammed Vivek Oberoi For Sharing 'Exit Poll' Meme On Aishwarya Rai