De De Pyaar De Movie Review: A Confused Comedy With Great Role Play Worth A Single Watch
The film is good yet is a bit messed up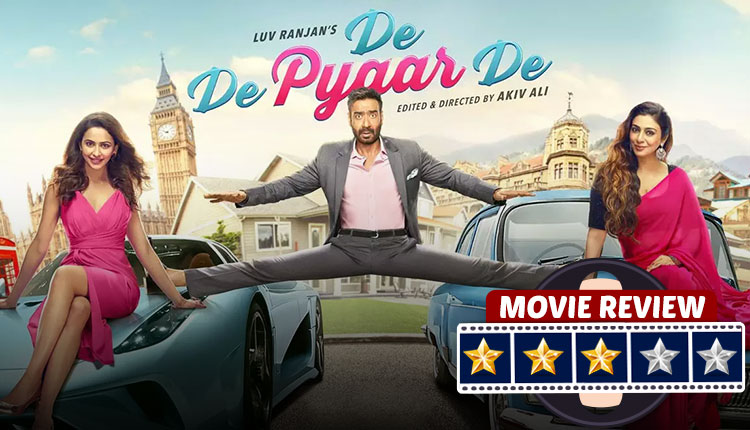 De De Pyaar De Director: Akiv Ali
De De Pyaar De Producer: Luv Ranjan
De De Pyaar De Duration: 2 hours 25 minutes
De De Pyaar De Cast: Ajay Devgn, Tabu and Rakul Preet Singh
The film 'De De Pyaar De' released today. As we watch the film, gradually the perception changes from comedy to confused comedy. The actors have done their best in every form possible.
The story of 'De De Pyaar De' is about a 50-year-old man Ashish (Ajay Devgn) residing in London being in a romantic relationship with a 26-year-old woman Ayesha Khurana (Rakul Preet Singh). While the concept of an aged falling for a bubbly young person may work for the lonely elite males, but certainly, it may not cater to the realities of the middle-class families.
The story begins with Ashish, a divorcee going to his friend's wedding. But now Ayesha is there too but as a stripper. The young Ayesha tries all means to make it evident and noticed that she is interested in some umm person who happens to be Ashish. And he does notice that too. While we were under the impression that Ashish falls for the young Ayesha, it is the other way round.
As the two enter into a relationship, Ashish tells her about his previous marriage, his ex-wife Manju and his children who are approximately Ayesha's age. But Ayesha steps out of Ashish's frame of life abruptly and now Ashish is like a lost puppy trying to find his way back to his new love of life. But Ayesha marches into Ashish's life as abruptly she had left it. She also nudges him to introduce her to his family which constitutes his ex-wife Manju (Tabu), his father (Alok Nath), his 25-year-old daughter Ishita.
As soon as this 'odd' couple makes an entry in India, the story starts getting all the more confusing. With a motive to introduce his new girlfriend with the family, Ashish ends up sleeping with Manju. But there we have the bubbly Ayesha with some sarcasm handling coldness and insults very well.
The roles have been very well played by all the characters. But the only problem is the confusing screenplay after the interval. It is definitely worth one watch with your close friends and family and a giant popcorn bucket.
Here is the trailer of the film.