Delhi Election Results 2020: Arvind Kejriwal all set for third term as CM
Delhi Assembly Poll: Aam Aadmi Party all set for third term as congratulations pour in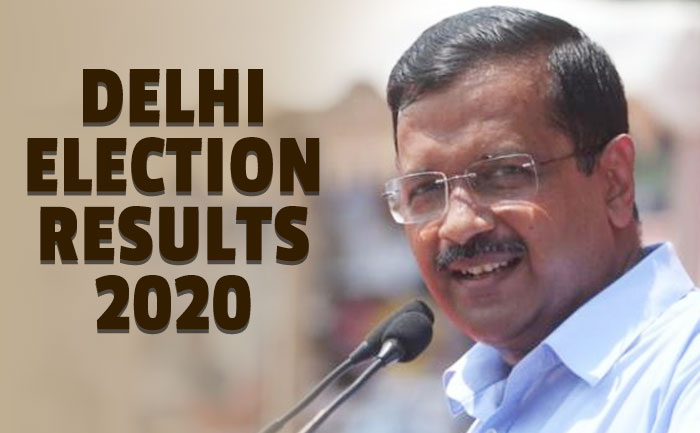 Delhi voted for the assembly polls on Saturday, with 62.59 percent of the city's voters coming out to exercise their democratic right. The counting of the votes has progressed on the assembly poll. It looks like Arvind Kejriwal is all set for the third term as the Cheif Minister of Delhi. Yes, Riding high on their development agenda, the Arvind Kejriwal-led Aam Aadmi Party is on its way to retain power for a third term. The BJP, on the other hand, has emerged as a distant second, as per current trends.
Delhi Chief Minister Arvind Kejriwal and Political Strategist Prashant Kishor at AAP party office pic.twitter.com/Lxx4fbdMM7

— ANI (@ANI) February 11, 2020
The campaign for Delhi was riddled with hate speeches and bitterness. But where the Bhartiya Janata Party was banking on the anti CAA protest at Shaheen Baugh. Kejriwal led AAP was hoping on winning its third term all due to their performances in health, free power and education sectors. In the 70 seats, according to the Election Commission, 62.59% of the electorate exercised its franchise to elect the new government.
Looks like Delhiites have chosen their next Cheif Minister and it is none other than Arvind Kejriwal.
Rajat Sharma has tweeted his congrats to AAP in his tweet. Check it out here:
Congratulation @ArvindKejriwal on @AamAadmiParty scoring a hat trick in #Delhi assembly elections. People of Delhi look forward to another five years of good governance. #DelhiResults #DelhiElectionResults

— Rajat Sharma (@RajatSharmaLive) February 11, 2020
Congratulations @ArvindKejriwal @AamAadmiParty and the people of Delhi who have given a befitting reply to BJP's politics of hate and violence.

— Sitaram Yechury (@SitaramYechury) February 11, 2020
West Bengal Chief Minister Mamata Banerjee on #DelhiElectionResults: I have congratulated Arvind Kejriwal. People have rejected BJP. Only development will work, CAA, NRC and NPR will be rejected pic.twitter.com/VgpX9TmoLs

— ANI (@ANI) February 11, 2020
Aam Aadmi Party leaders Sanjay Singh, ND Gupta and Sushil Gupta celebrate at party office as the party takes big lead according to official EC trends. Sanjay Singh says 'Aaj Hindustan jeet gaya' #DelhiElectionResults pic.twitter.com/AtxpRl7yXe

— ANI (@ANI) February 11, 2020
Kejriwal has ordered no firecrackers at AAP headquarters as party celebrates its poll performance. AAP volunteers grooved to party anthem "Lage Raho Kejriwal" and hugged each other in joy.
Also Read: Delhi Election 2020: Delhi Voting Times, Schedule & Result Date