COVID-19: Delhi government announces curfew from tonight 10 pm
On Monday, Delhi government has announced a curfew from tonight onward amid a record rise in coronavirus cases.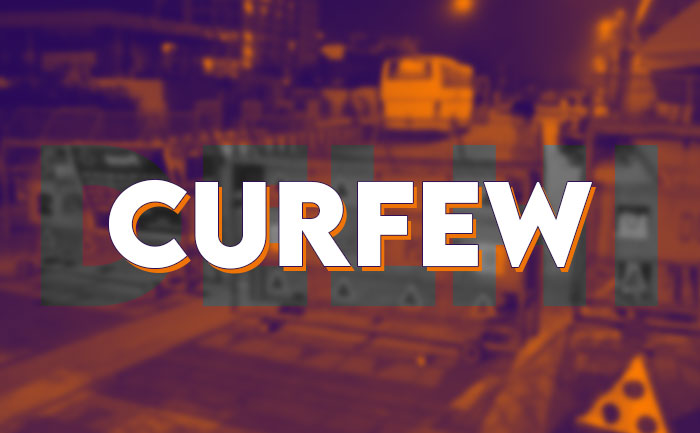 Delhi has recorded around 23,500 Covid-19 cases in the last 24 hours. In order to control the rise in the cases, Chief Minister of Delhi Arvind Kejriwal has announced that a completed lockdown in the city which will be effective from tonight i.e. April 19 till 5am on Monday i.e April 26.
In a press briefing, Arvind Kejriwal said: "Don't leave Delhi. I am there, trust me. The Delhi government will take full care of you. There is a small lockdown, I am sure if we all fight together we will get out of this disaster soon."
प्रवासी मज़दूरों से CM @ArvindKejriwal की हाथ जोड़कर विनती🙏🏼

"दिल्ली छोड़ कर ना जाए। मैं हूँ ना, मुझ पर भरोसा रखिए। दिल्ली सरकार आपका पूरा ख्याल रखेगी।

छोटा सा Lockdown है, मुझे यकीन है कि हम सब मिलकर लड़ेंगे तो इस आपदा से जल्दी निकल जाएंगे।" #DelhiLockdown pic.twitter.com/yd8klvZufM

— AAP (@AamAadmiParty) April 19, 2021
"Delhi's health system has reached its limits. I don't say that the system has collapsed but it has reached its limits, I won't say that the health system has collapsed but it has reached its limits," CM Arvind said.
CM Kejriwal met Lieutenant Governor Anil Baijal and other top officials on Monday and hold discussions over the COVID-19 situation in Delhi. Last week, the city government had announced a curfew on weekend to arrest the spread of the virus.
Stay tuned to The Live Mirror for more updates.
ALSO READ: Delhi Weekend Curfew: How To Apply For E-Pass, All You Need To Know