Delhi: At 'Signature Bridge' opening, Manoj Tiwari manhandles cops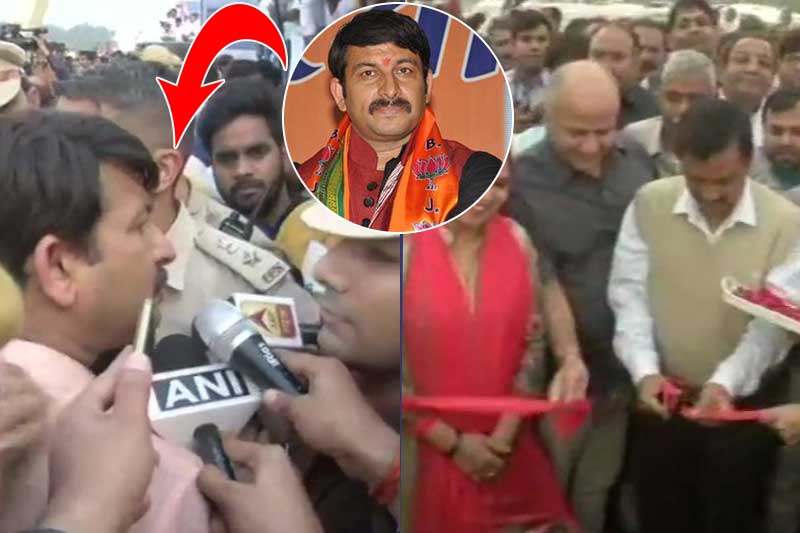 Everyone is in the mood of Diwali and Delhi is a special place. The opening of the Delhi's 'Signature Bridge'— three days before Diwali — became a wrestling arena on Sunday, with state BJP chief Manoj Tiwari seen throwing punches at the policemen for allegedly refused an entry. Tiwari even hit punches on the face of one of the cop, till he was overpowered and escorted out.
Soon after the incident, Delhi Chief Minister Arvind Kejriwal took to twitter and wrote, "Unprecedented. Chaos by BJP at Signature Bridge inauguration site. Its a Del govt prog. Police mute spectator. Can LG, being head of Del police, ensure peace and order at Signature bridge inauguration site?"
Its immaterial who @ManojTiwariMP says he tried to punch,when the video evidence clearly shows he hit a police officer. Shld be arrested & charged straight away. Hope @LtGovDelhi will ask DelhiPolice to not be intimidated by political influence & act in the matter with due haste.

— Krishan Partap Singh (@RaisinaSeries) November 4, 2018
It is to be known that the BJP state president reached at the place without an invitation, arguing that he had a right to be present at the ceremony, as the nearly 2000-crore asymmetrical cable-stayed bridge was part of his constituency.
He said, as quoted by the ANI, "In my constituency (North East Delhi.), I re-started construction of the bridge after it was stalled for many years & now Arvind Kejriwal is organising an inauguration ceremony."
Replying back to the Tiwari's comments, senior AAP leader Sanjay Singh wrote on twitter, "The BJP "did not invite the Chief Minister for the inauguration of metro rail lines to Noida, Bahadurgarh, or Faridabad. He (Mr Kejriwal) was also not invited for the Skywalk inauguration at the ITO, which was built by Delhi's Public Works Department. Now the BJP has come to stage a drama."
नॉएडा- दिल्ली, बहादुर गढ़-दिल्ली फ़रीदाबाद-दिल्ली के मेट्रो उद्घघाटन केजरीवाल को बुलाया तक नही Sky Walk दिल्ली के PWD विभाग ने बनाया CM को नही बुलाया आज मनोज तिवारी और भाजपाई ड्रामा करने पहुँच गये। https://t.co/GW8jKvOwN3

— Sanjay Singh AAP (@SanjayAzadSln) November 4, 2018
The Signature bridge was approved in 1997 after after a school bus fell off the narrow Wazirabad bridge into the Yamuna, killing 22 children. The work started in 2008 and it was opened on Sunday evening for the public.
ALSO READ: Arvind Kejriwal hits out at BJP and asks, why aren't petrol pumps shut in Mumbai?