The Detroit Lions stumble against the Green Bay Packers
The referees make questionable calls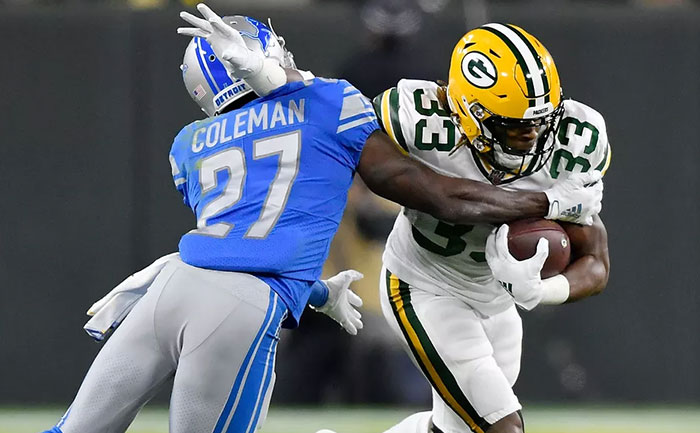 The Detroit Lions blew their chance to take over first place in the NFC North. They could've made a real statement against the Green Bay Packers but they let the game slip away from their hands.
The Detroit Lions gave away a lead while wasting scoring opportunities. They got into the red zone thrice but walked away with just one touchdown. This led to the final scorecard, 23-22.
The game was reminiscent of the one against Kansas City where the Lions had a lead but let it slip away.
Packers didn't miss the opportunity to cash in on the Lion's missteps with Aaron Rodgers leading the Packers downfield in the last minutes while getting free on runs and making clutch throws.
Dismal as the Lions display was, they didn't lose this game all by themselves. The referees made several calls that cost the Detroit Lions dearly. Trey Flowers got two penalties for illegal use of hands to the face mask. Green Bay Packers made no mistakes, converting both calls to touchdowns.
The call by the referee was a questionable one though. Flowers appeared to grab the shoulder pads rather than the face mask.
The Packers finished off in style with a 23-yard field goal as time expired.
The Detroit Lions had a great start to the game with a 10-0 lead owing to a good offense-defense balance. They couldn't maintain the early momentum though.
T.J. Hockenson slipped on a touchdown pass and the team had to settle for a field goal. Mistakes were also made on special teams. It started with Sam Martin kicking the ball out of bounds and giving Packers a short field.
The Detroit Lions wasted another opportunity in the third quarter with Dee Virgin causing a fumble on a punt.
Tyler Blevins, the Fortnite star known as Ninja, was among the many fans left disillusioned after the humiliating loss to Green Bay Packers. He tweeted out after the game ended:
Literally never going to another game again. Cancelling my tickets to the Lions game.

— Ninja (@Ninja) October 15, 2019
Also Read: Who Is The Strongest Avenger In The MCU?