How to type Indian Rupee ₹ symbol in Microsoft Word
Here are some easiest ways to type India Rupee symbol in Microsoft Word.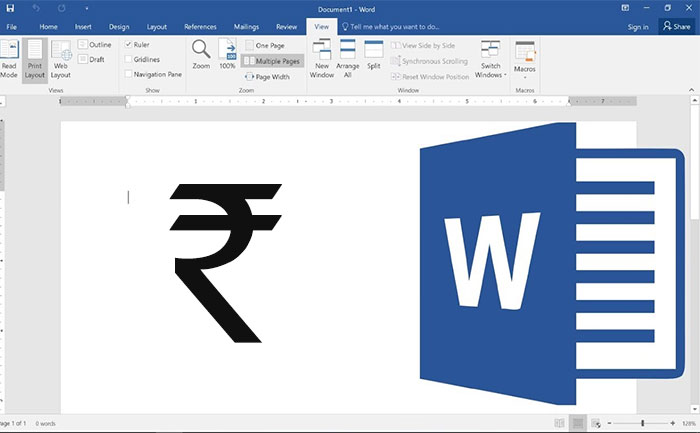 How to type Indian Rupee Symbol in MS Word? Earlier the Indian currency was written as Rs but ever since IIT Guwahati professor designed the new symbol for Indian Rupee it is now part of the official Unicode standard. The Indian Rupee symbol was first unveiled on 15th July 2010 and since then most of the keyboards come with the official symbol. In this guide, we will explain how to type or add Indian Rupee symbol in Microsoft Word.
If your keyboard does not have an INR symbol. You can still type Indian Rupee easily on MS Word using your keyboard. Notably, Indian Rs symbol is inbuilt in the new version of Microsoft Word like 2010, 2013 and Office 365. All you have to do is follow the tips and steps given below and voila you will easily type Indian Rupee Symbol in MS Word.
But to do so you will first have to download Windows OS Update:
If you are using Windows 7 or Windows Vista, you need to install an update for the new Indian Rupee symbol so that the Rupee symbol is displayed correctly in MS Word. Here is the download link to the update.
Here's How to Type Indian Rupee Symbol in Microsoft Word:
1. Set your keyboard layout to English (India).
To select the English (India) keyboard, follow these steps:
In Control Panel, click Clock, Language, and Region, and then click Change keyboards or other input methods.
On the Region and Language screen, click Change keyboard on the Keyboards and Languages tab.
On the Text Services and Input Languages screen, click Add.
On the Add, Input Language screen select English (India) and then select the India keyboard checkbox.
2. Indian Rupee Symbol by Keyboard Shortcut Key Method 1:
a) If you already have rupee symbol in your keyboard, then type,
Ctrl + Alt + ₹
You need to press Ctrl, Alt and ₹ at the same time.
b)  If you don't have Rupee symbol printed on your keyboard then type,
Press Ctrl + Alt and type 4
3. Indian Rupee Symbol by Keyboard Shortcut Method 2:
For using this method of typing INR symbol, use the following key combination.
Right Alt+₹.
4. Method 3:
For using this method, type
press Left Side Alt and type 8377.
5. Indian Rupee Symbol by Using Unicode:
Unicode for INR symbol is U+20B9.
Type 20B9 and press Alt+X.
You should use the left Alt key. While holding down Alt key press the X key.
6. Indian Rupee Symbol Character Map:
What is the Character Map?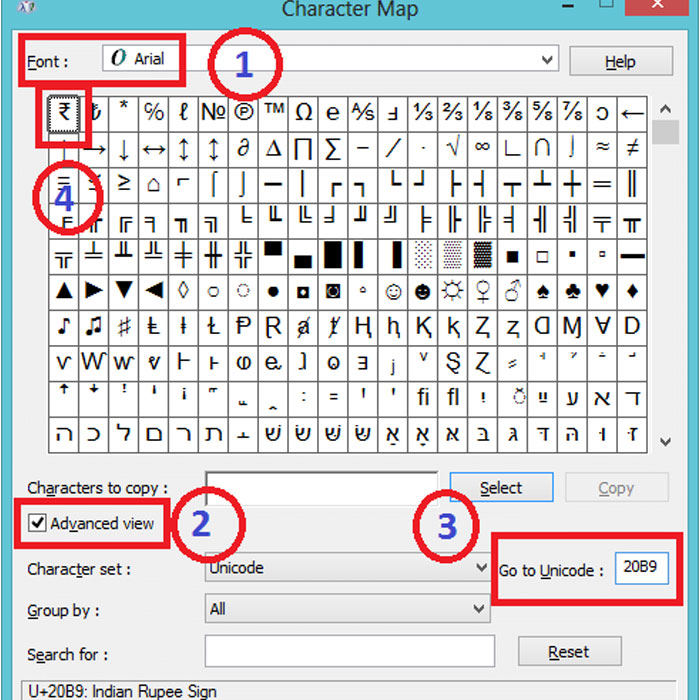 Charmap (Character Map) is a Windows utility to view the font characters installed on the system, find the Alt code to type them and copy-paste the character.
In Windows Search type Charmap to run the application.
Alternatively, type charmap in Windows Run (go to the Start menu to find it) and press enter to run it.
Select the "Font" to Arial, Times New Roman, Verdana or Tahoma.
Click on the "Advanced View" option.
In the "Go to Unicode" input box, enter 20B9 to highlight the Rupee symbol.
Select and copy (Ctrl+C) it to your clipboard.
Paste (Ctrl+V) it to your desired location.
These are some of the methods of typing Indian Rupee Symbol that works well on WordPress, Blogger etc as well.
Also Read: Stock Market: Sensex, Nifty trade lower, Indian Rupee slips by 24 paise