Devastating earthquake strikes POK, tremors felt in Delhi, UP
A strong 6.3 magnitude earthquake struck the Pakistan-India border region at about 4.31 pm,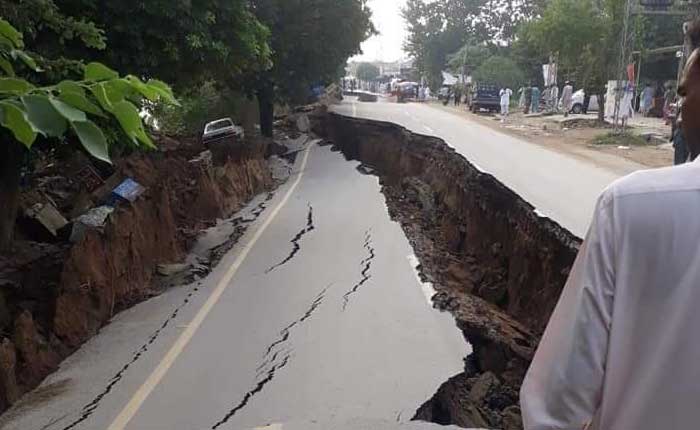 A 6.3 magnitude earthquake jolted Pakistan Occupied Kashmir today at about 4.31 pm. The tremors were felt in Punjab, Jammu and Kashmir, Delhi and as far as Uttar Pradesh. The epicentre of the earthquake was 81 km away from Rawalpindi in Pakistan. There are also reports of tremors in some cities in Pakistan including Islamabad, Peshawar, Rawalpindi and Lahore.
Earthquake of Magnitude:6.3, Occurred on:24-09-2019, 16:31:58 IST, Lat:32.9 N & Long: 73.7 E, Depth: 40 Km, Region: Pakistan – India (J & K ) Border region pic.twitter.com/tH6RDjGuxD

— India Met. Dept. (@Indiametdept) September 24, 2019
The tremors caused people to rush out of their homes and offices. According to The United States Geological Survey (USGS), the epicentre was 3 kilometres from New Mirpur city, the capital of Mirpur district and the largest city of the Pakistan-occupied Kashmir.
Azaad Kashmir Right Now#earthquake pic.twitter.com/adMCaaE0Ww

— faheem_Azaad (@DawarZaii) September 24, 2019
As reported by Geo News of Pakistan the effect of the earthquake was quite severe as 50 people were wounded due to the earthquake in Mirpur. The Roads in Mirpur were cracked due to the intensity of the earthquake, several vehicles fell into the deep cracks formed on the roads.
Several reported injured, roads damaged due to #earthquake in Mirpur district of Azad Kashmir https://t.co/KAwVwPXKxg pic.twitter.com/RHDkLPmAj2

— Dawn.com (@dawn_com) September 24, 2019
The earthquake sent people of affected areas scurrying into the streets. Many houses and buildings too were damaged.
These pictures from PoK after #earthquake are so scary!

Earthquake of Magnitude:6.3, Occurred on:24-09-2019, 16:31:58 IST, Lat:32.9 N & Long: 73.7 E, Depth: 40 Km, Region: Pakistan – India (J & K ) Border region.

Prayers for their safety..? pic.twitter.com/snuGNly5AK

— Khushboo (@KhushbooTweets) September 24, 2019
Also Read: Earthquake: Four tremors jolt Palghar killing one in house collapse