Devendra Fadnavis's wife crosses safety range at Angria, clicks 'selfie'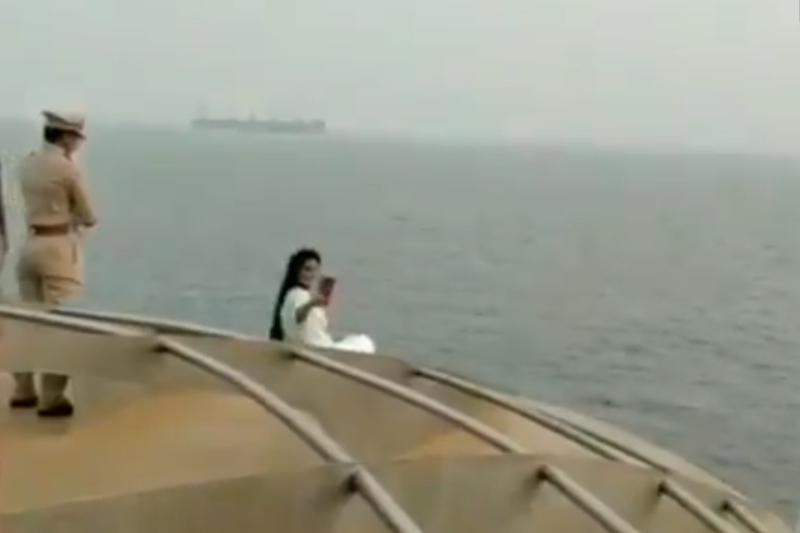 Travelling to favourite holiday destination is one of the dream for all and Goa is one of them. As the Goa-Mumbai first domestic  started operating on the sea-route, first clips of the tour is quite surprising. Maharashtra CM Devendra Fadnavis's wife can been seen cautioned by security personnel onboard as she crossed the safety range to click a 'selfie'.
Video circulating in the social media shows, Amruta Fadnavis being cautioned by the security personnel to get up from the corner of the cruise, but instead she is seen clicking a 'selfie' instead. Amruta was one of the extinguished guest at the first journey of India's first domestic cruise Angria between Mumbai-Goa sea route on Saturday.
#WATCH: Amruta Fadnavis, wife of Maharashtra CM Devendra Fadnavis, being cautioned by security personnel onboard India's first domestic cruise Angria. She had crossed the safety range of the cruise ship. pic.twitter.com/YYc47gLkHd

— ANI (@ANI) October 21, 2018

According to the details disseminated, the luxury cruise has been named after first Maratha Navy Admiral Kanhoji Angre. It has 104 rooms, 6 bars, 2 restaurants, a swimming pool, discotheque, a reading room and a spa. This cruise can accommodate 400 passengers and 70 crew members.
Adding on, this luxury rider will reach Goa from Mumbai in just 14 hours and would cost only between Rs 7,000 to Rs 12,000 per person. There will be four trips in a week between Mumbai and Goa in the initial phase, which would later increased as per demand.
Stating more on the cruise, Managing Director of Angria Captain Nitin Dhond said, as reported by India Today, "You can catch the Mumbai skyline as we leave the Mumbai coast, enjoy cool breeze at the Sea and then can gaze at zillions of stars from the open decks in the night. This is not just a journey, it's an experience."
ALSO READ: Fan breaches security, rushes to the pitch to click selfie with Virat Kohli