Digvijaya Singh- Is he struggling to get back to the Congress fold?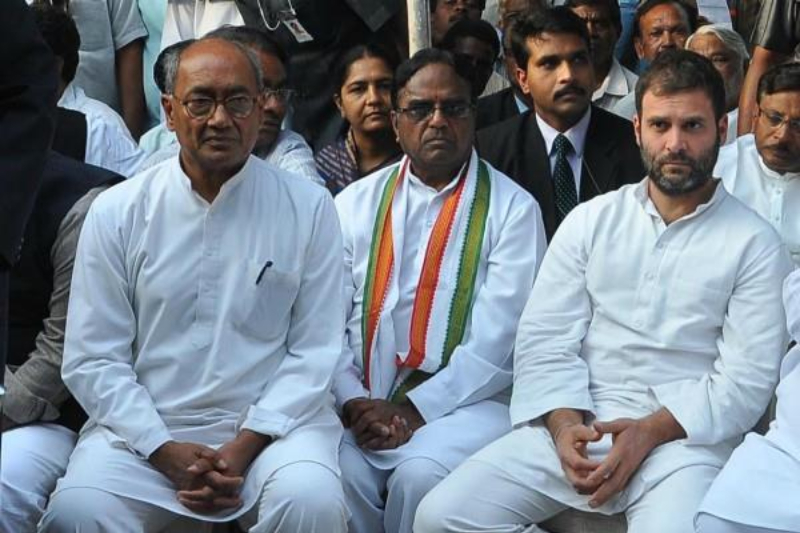 Former Madhya Pradesh Chief Minister and senior Congress leader Digvijaya Singh is at it again. This time again he has targeted the BJP's parent outfit Rashtriya Swayamsewak Sangh (RSS) for acts of terrorism. Tasked by All India Congress Committee (AICC) president Rahul Gandhi with reviving the Congress at the grassroots before Assembly polls in the state, Singh is heading the statewide Ekta Yatra as the head of the recently-constituted State Congress Coordination Committee. Singh's Narmada yatra was essentially an exercise to re-establish his credentials and reconnect with the people who had rejected him in the 2003 Assembly polls. Now that he is back, speculation is rife about his ambition to play a lead role in Madhya Pradesh politics. He was the longest-serving Congress CM in MP who managed to keep his government afloat in tumultuous times marked by changes in Congress Presidents, the exiting of his one-time mentor Arjun Singh from the Congress and challenges from the BJP. This is a far cry especially as the outspoken Congressman has always been controversy's favourite child. Either with his tweets or his comments or his marriage to a much younger news anchor Amrita Rai, providing his political opponents, chiefly the Bharatiya Janata Party, an easy opportunity to use him as a target to attack Congress. The BJP's ideological mentor, the Rashtriya Swayamsevak Sangh, has been equally harsh on the Congress leader for his periodic statements linking the organisation to the Mumbai terror attack in 2008, condemning their communal agenda and holding a pro-Muslim stance.
Digvijay Singh once considered a close aide of the Gandhi family, has been given the snub in the past few years by the Gandhi family. The Congress president Rahul Gandhi and earlier the then president Sonia Gandhi paid any attention to AICC general secretary Digvijaya Singh's six-month long Narmada Parikrama was debated earlier in several political circles. However, the BJP got a shot in its arm to attack Congress and ridicule Digvijaya when Rahul Gandhi refused to comment on the conclusion of the Parikrama too. Madhya Pradesh currently has three major groups, each headed by heavyweights: Digvijaya Singh, Kamal Nath andJyotiraditya Scindia.
Besides taking on the BJP, Singh's remarks have, on several occasions, also ended up embarrassing the Congress. For instance, the Congress found itself on the backfoot when Singh demanded a judicial inquiry into the 2008 Batla House gunfight, in which two suspected terrorists were killed, on the plea that this was a fake encounter. Again, the senior leader had to be pulled up by former party president Sonia Gandhi in 2010 when he publicly disagreed with P Chidambaram, who was finance minister at the time, and described him as "intellectually arrogant". It is expected that in his comeback, Singh will refrain from making any more controversial statements that would cause the party to drift away further from him. However, he showed that he could not help but take an occasional jibe at Prime Minister Narendra Modi when he spoke in February this year, when his yatra was about to conclude. "I have always been in politics… I am not going to fry pakodas," he said, referring to Modi's statement that selling pakodas counted as being employed.
Similarly, Singh remains staunchly critical of the BJP, never failing to mention the party's divisive agenda that, he says, is proving to be highly dangerous for the country. Talking about growing anger among Dalits, Singh said the Modi government had either misread the situation or it was a deliberate attempt to marginalise the Scheduled Castes, given the BJP's Brahminical hierarchial setup. It is perhaps in keeping with his newfound "statesman-like" approach that Singh refuses to get into a discussion about his future role in the party and whether he intends to return to active politics in his home state, which is headed for Assembly polls at the end of the year. "Rahulji will decide my future role," Singh said repeatedly, refusing to stray from this script.This statement from the ex-Chief Minister is contradictory as in 2013, Singh had expressed displeasure in Rahul Gandhi taking over the reigns of the Congress from his mother, Sonia Gandhi.
Singh is equally circumspect when prodded about the political atmosphere in Madhya Pradesh and whether it is a sound idea for the Congress to project a chief ministerial face in the polls. According to the former chief minister, rural distress and illegal sand mining have severely dented the popularity of Shivraj Singh Chouhan's BJP government and there is immense anger among the people. "It is now up to the Congress state leadership to channelise this anger in the coming elections," he said.
As for projecting a chief ministerial face, Singh admitted it was a "double-edged sword" but hastened to add that it was for Congress president Rahul Gandhi to take a final view. What Singh left unsaid was the acknowledged fact that the Madhya Pradesh Congress is a deeply divided house and announcing any one leader would intensify the infighting in the state unit. There has been growing demand from the party rank and file that the Congress declare a chief ministerial face in Madhya Pradesh to effectively challenge Chouhan. It is a toss-up between party MPs Kamal Nath and Jyotiraditya Scindia but the Congress leadership is wary of naming a candidate given the intense factional battles in the state unit. Emphasising "collective leadership", the undeclared message to all satraps is that they must first deliver in their respective areas of strength before beating the BJP and Shivraj Chouhan to claim the top job.
Digvijay Singh, who once had the privilege of being in the charmed circles of the Gandhi family was a political mentor to Rahul Gandhi. The Congress and the Gandhi family was cut half in size when Digvijay Singh gave a statement in 2014 that Rahul Gandhi is not 'Prime Minister' material. The opportunist BJP, wholeheartedly supported this statement of Singh's , however that led to Congress going to serious damage control mode. BJP's spokesperson Shahanawaz Hussain, "Digvijay Singh has said a correct thing (sic) that he (Rahul) is not Prime Minister material. He is talking about leader material. The country should know that he (Rahul) is not PM material," said BJP leader Shahnawaz Hussain.
Subsequently, he was stripped of the charge of three states – Karnataka, Goa, and Telangana – after he failed to firm up an alliance with regional parties to form a Congress government in Goa after the assembly polls. But Singh displayed no outward signs of disappointment or displeasure after his responsibilities as party general secretary were curtailed to a single state – Andhra Pradesh. In fact, he was quick to underline that he remains unwavering on two count: "I am totally committed to the Congress ideology and in my loyalty to the Nehru-Gandhi family', he tells the Scroll.
But the big question is whether Singh can be taken seriously now that the 2019 elections are just around the corner. The Congress and Gandhis after Singh's Hindu terror guffaw, have distanced themselves from him all over again. He is a wily politician, who was mentored by the late Arjun Singh, a seasoned politician. Even though he has denied that he has no ambitions to be the Chief Minister, it is being whispered in Congress circles that he is supporting Kamal Nath for the chief minister's post and that he would use his political clout to ensure Scindia does not get the job.
Currently the BJP is having Singh's neck for a snack as they are demanding his removal from the Congress. His comments on 'Hindu terror' have caused an uproar across the country. It is left to be wondered if the Congress acts on these new charges levelled against the former MP CM or if they distance themselves from this controversy.