Diwali 2020: Here Are 7 Best Sweets To Relish This Festive Season
Diwali is around the corner, here are 7 sweet dishes you can relish this festive season.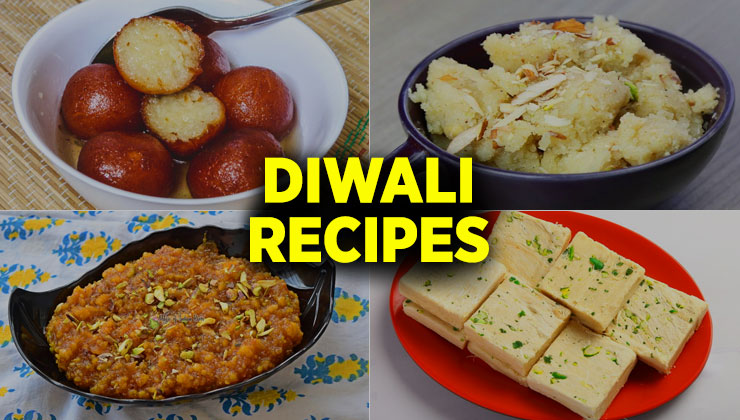 The festival of lights, Diwali is just around the corner and preparations for the same are in full swing. It is a five-day-long festival that is celebrated during the Hindu Lunisolar month Kartika. During the festival, Hindus, Jains, and Sikhs light up their homes, temples, and work spaces with diyas, candles, and lanterns
One can't celebrate Diwali without having sweet delicacies. They add much more enthusiasm to the festive spirit. This year Diwali will be celebrated on 14th November 2020. Today, we bring to a list of 7 sweet dishes you can relish this festive season at your home.
Diwali sweet dishes:
1. Shahi Tukda
Recipe:
Cut the bread slices into half, lengthwise, and deep fry in hot ghee, till crisp.
Dissolve the sugar in the milk and bring to a boil
Dip the bread in the milk and sugar solution, and arrange the pieces in a serving dish, in one layer.
Mix the rabri and spoon it over the bread slice.
Garnish with pistachios and almonds.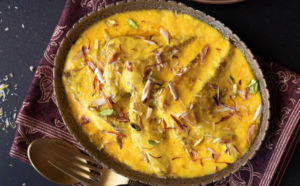 2. Kaju Katli
Recipe:
Grind the cashews
Mix paste and sugar and cook over low heat stirring till the sugar dissolves, then boil.
Continue to stir, till it becomes a dough-like paste.
Let it cool.
Once the mixture cools down, transfer the mixture to a butter paper and grease the paper with ghee.
Roll the Kaju katli dough with a rolling pin to make it even.
Roll to get a thickness of about 3 to 5 mm (about ⅛ inch).
Cut the kaju katli pieces and cut it into diamond pieces.
Serve kaju katli right away, or store them in an airtight container.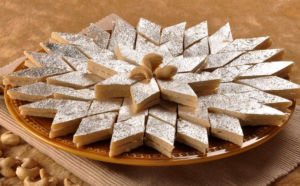 3. Mysore Paak
Recipe:
Take all the 3 ingredients- sugar, besan, and 1 cup ghee
Sieve the besan
 Grease a pan or tray with some ghee.
To make sugar solution, in a large nonstick Kadai take sugar and water, get to a boil, and stir till the sugar attains one string consistency
Add the besan, take a ladleful of ghee-oil, and pour over the besan mixture.
Keep stirring continuously so that no lumps are formed.
Stir and pour into a greased plate, allow it to cool, slice into desired shapes.
Store in an airtight container and serve as you like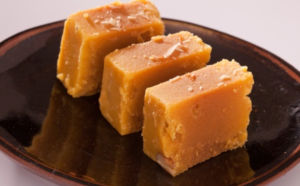 4. Besan Laddoo
Recipe:
To a heavy bottom pan, add the ghee
Roast the besan
Let the roasted besan cool down before adding sugar, add nuts if required
Make a dough
Start making the laddoos.
Garnish with nuts or edible silver leaves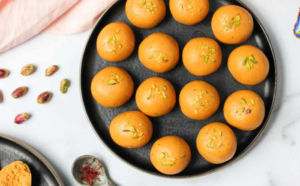 5. Nankhatai
Recipe:
In a bowl sieve together flour, besan and cardamom powder, mix till well combined.
Take the powdered sugar in a mixing bowl or pan. Add ½ cup semi-solid ghee or butter. Beat them well till the mixture becomes smooth
Make a dough
Make medium to large-sized balls from the dough.  Place them in a baking tray and keep some space between them.
Bake the nankhatai in a preheated oven at 180 degrees celsius for 20 to 25 mins till light golden or golden
Store the nankhatai in an air tight container.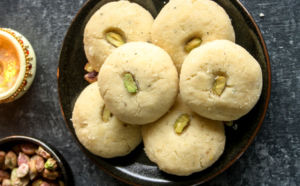 6. Gulab Jamun
Recipe:
Prepare Sugar Syrup
Make the Gulab Jamun balls, by taking the grated Khoya in a medium-size bowl
Add baking soda and maida.
Add milk to it and knead to make a smooth and soft dough
Start making small balls from the dough
Heat ghee in a pan over medium flame and add the balls to deep-fry them. Cook till it becomes golden brown.
Let them cool.
Add the gulab jamuns in the sugar syrup for at least 30 minutes.
Ready to serve.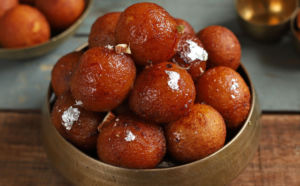 7. Gajar Ka Halwa
Recipe:
Peel and grate the carrots.
Add the grated carrots in a kadai
Pour 4 cups of milk.
Mix them well.
Cook over a gentle flame for 10-15 minutes. Keep stirring it often.
Add ghee and mix it well.
Add sugar to the mixture and continue cooking it. Add cardamom powder and mix.
Serve gajar ka halwa hot or warm.
 Garnish with some chopped dry fruits while serving.

Credits: Pinterest

ALSO READ: Diwali 2020: 7 Unique Diwali DIY Ideas To Gift Your Loved Ones