Koffee Shots With Karan: Drashti Dhami teases Karan Johar about his feud with Kangana Ranaut
Drashti Dhami teases Karan Johar with Kangana Ranaut's name, watch filmmaker's hilarious reaction.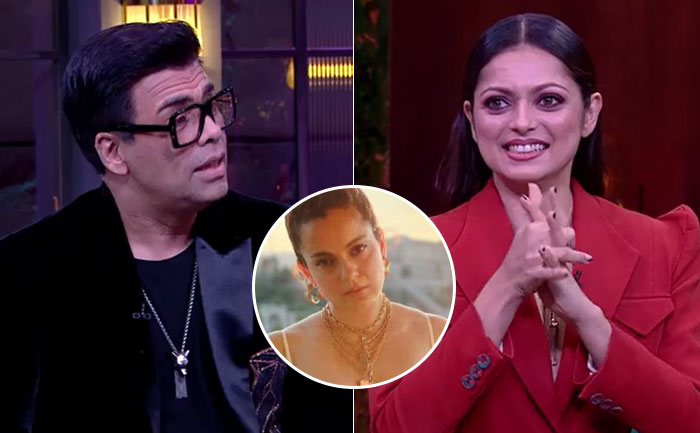 Kunal Kapoor, Dino Morea, and Drashti Dhami will be seen as special guests on the episode of Karan Johar's 'Koffee Shots with Karan' to promote their latest web show 'Empire.'
Now, in the new promo, Drashti Dhami teases Karan Johar with Kangana Ranaut's name and the filmmaker has the most hilarious reaction to it.KJo asked Drashti: "Who is the current female actor that you consider as your role model?" To which, Drashti instantly replied, "Your favourite Kang….." and she took a pause and changed her answer to Priyanka Chopra. "I am keeping a straight face," replied Karan, leaving Kunal and Dino in splits.
"There definitely might be some coffee to spill while they created this grand show! What is it? To know more please watch the special episode of Koffee Shots with Karan! @karanjohar @kunalkkapoor @thedinomorea @dhamidrashti," captioned the official Instagram handle of Disney+Hotstar.
Watch video:
View this post on Instagram
In the video, Drashti also explains how Dino and Kunal in the 'Empire' always knew their lines. "They would just know their lines and I would be with my script, wondering which line they would be saying." Further, Dino was asked about the look that he took on for the show, he said, "I followed an animal. I went with panther." When asked what he really is, he said, "I'm a puppy. everyone loves a puppy."
Stay tuned to The Live Mirror for more updates.
ALSO READ: #ThrowbackTuesday: When Deepika Padukone, Alia Bhatt Sang 'Channa Mereya'