How to make Modak: Step-by-step guide to making Chocolate to Motichoor Modak
Just a few days to kickstart the celebrations of Ganesh Chaturthi. Before welcoming Ganpathi Bappa home, check out these delicious Modak recipes. Here's a step-by-step guide on how to make Chocolate Modak, Motichoor Modak and other types of Modak at home with simple ingredients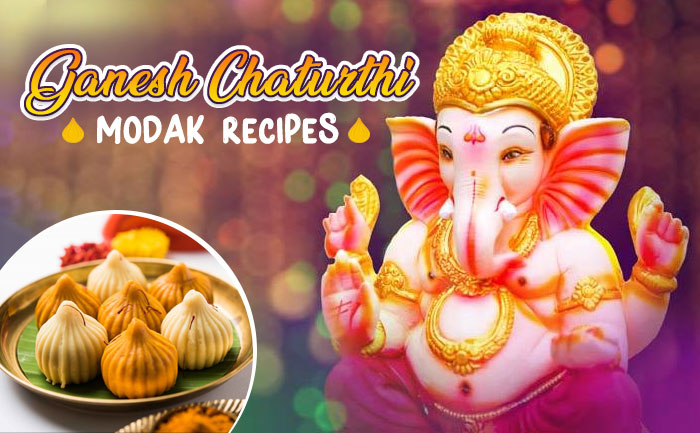 Celebrations of Ganesh Chaturthi is certainly incomplete without making or bringing home the delicious Modak. The festival of Ganesh Chaturthi is all about welcoming Bappa home and treating the lord with special food items. As per the legends Ladoo and Modak are the two dishes Ganpati Bappa loves the most. Thus people never fail to make Modak at home during this eleven days festival. This year Ganesh Chaturthi falls on September 10 and only few days are left for the preparations. Amidst this pandemic Coronavirus outspread many prefer making the sweets and delicious Modak at home having health the topmost priority. Readymade sweets are not only available for expensive price tag, there are also concerns about hygiene maintenance. Here we take you through amazing Modak recipes. From Chocolate Modak to Motichoor Modak, check out the easy step-by-step to making Modak at home.
Ganesh Chaturthi Special Modak Recipes:
Chocolate Modak Recipe
Ingredients:
1 cup evaporated Milk solids grated
⅓ cup Chocolate chips
Milk sweet or semi-sweet
2 tablespoons of Sugar
⅛ teaspoon green Cardamom powder
Oil/ Butter/ Ghee

3 to 4

 

finely chopped Pistachio 

5 to 6

R

ose petals for garnish
Procedure:
Heat the pan on the low flame. Then add grated Mawa and keep mixing it on the low flame until it starts melting
Once the Mawa is melted, add  2 tablespoons of sugar and keep mixing
While mixing the Mawa, add 1/3 cup of Chocolate chips. Keep mixing over the low flame. Once its mixed nicely add 1 pinch of Cardamom powder
Don't overcook the mixture and know if its perfectly formed the Modak dough. As soon as it becomes dense and hard remove it off the flame
Greece the moult with ghee, butter or oil
Divide the dough into small chunks, as per the size of the Modak you want
Then press each of the balls into Modak to mould them into perfect shape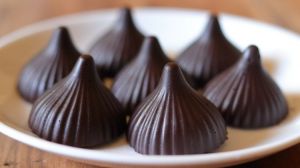 Motichoor  Modak
Ingredients:
Besan – 2 cups
Sugar – 1 cup
Water – 3 cups
Milk – 1/4 cup
Cardamom Powder – 1 tsp
Pistachios -1 tsp
Orange Colour as per need (Optional)
Baking soda
Ghee/ Oil for frying
Procedure:
Start by sieving the Besan (Gram flour) into a mixing bowl. Add very little salt, orange food color if needed, and ghee. Adding little-by-little water, start forming the batter to thick and loose consistency
Keep the oil/ghee for heating in a separate vessel
Once the oil/ghee turns heated, add a pinch of baking soda to the Besan mixture and mix it again
Start pouring little batter into the ghee/oil to form the boondi. You can use perforated spoon to form perfect round boondi. Repeat the process until you make boondi from the remaining batter
Now take another vessel and add sugar as per the taste. Keep the flame low and add water (very little amount). Once this sugar syrup is nicely heated add 1tbsp Cardamom powder. Once you fry all the boondi in the ghee/oil add them  all in the sugar syrup. Mix everything well well. Remember to make sugar syrup considering the quantity of Boondi
Now take the Modak moulds and grease them with ghee. Fill in the mould with sweet Boondi and form Modak shapes
Remember to form the Modak when the boondi's are warm, they form the perfect shapes
Once done making all the Modak, garnish them with Pistachios or silver papers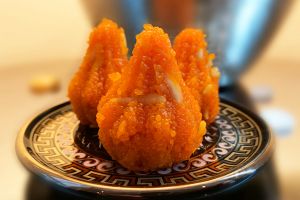 Kesar Mawa Modak
Ingredients:
A pinch of Saffron
2-3 tbsp Milk
1 cup Khoya
1 cup Sugar
Dry fruits garnishing
Procedure:
Start by mixing the crushed saffron into the warm milk. Let the saffron infuse its flavor and color in the milk until then keep it aside
Take the Khoya and sugar in a pan and put it over medium heat

Mix them well and let it cook for a few mins. As the sugar melts, the mixture will for a paste-like consistency

Once the consistency becomes thick add the saffron-milk

Now keep stirring the mixture and continue cooking till it becomes thick like a dough

Once you notice that the fat starts to ooze out dough, let it cook for 2-3 mins more before turning off the flame

Don't let the mixture cool down completely. The mixture should be little warm before you start to shape them into Modak
Take the mould and grease with ghee or oil. Make Modak with help of mould and garnish them with nuts and edible silver paper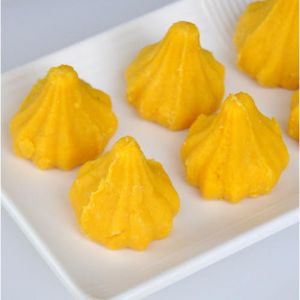 Fried Modak
Ingredients
1½ cup Maida (Plain flour)
2 tbsp Semolina (Rava)
½ tsp Salt
Ghee/ Butter/Oil
Water as per need
1 cup Coconut grated
½ cup Jaggery
2 tbsp Cashew nuts chopped
2 tbsp Almonds chopped
2 tbsp Raisins
½ tsp Cardamom powder
Procedure:
First make the dough for Modak. Take a large mixing bowl, add 1½ cup Maida, 2 tbsp Rava and ½ tsp salt and mix everything well. Pour 2 tsp hot ghee and add little water if needed. Crumble and mix well everything to make a moist and soft dough. Knead it enough to make it soft and smooth. Once done, grease the dough with little oil and keep it for rest (20 mins)
Now start preparing the stuffing for Modak. Take a large Kadai and add 1 tsp ghee over media flame. Once the ghee turns heated add 1 cup coconut, ½ cup jaggery and mix well everything

Keep mixing until the jaggery melts

completely

. Now

add cashew nut chopped, almonds chopped, raisins chopped, ½ tsp cardamom powder and mix everything. Don't let the mixture be burnt, keep mixing. Let it cook for 3-4 mins and turn the flame off. Allow the mixture to turn down cool

Now take the dough and knead it slightly and make small balls

Dust little amount of Maida and start to roll the balls using a roller

Roll it to form a medium-thick circle which is 4 –5 inch in diameter. Now take 1 tbsp of pre-made jaggery stuffing and put it in the centre of the roll. Brush the edges with ghee/oil or water and start pleating the edges to form the Modak shape. You can also use the mould to make Modak

Once done moulding all the Modak, deep fry them in hot oil or ghee. Fry them to medium brown color
Test the first few Modak in terms of its crispiness and taste. It takes around 13- 15 minutes for Modak to be completely cooked. Before serving garnish them with nuts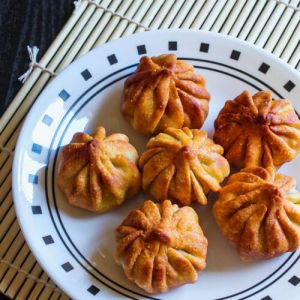 Rava Modak
Ingredients:
2 Cup Rava
2 

cups

C

oconut grated 

Jaggery as per taste
Cardamom powder
Oil/ Ghee/ Butter
Procedure:
Take a pan and mix jaggery with grated coconut. Keep the flame medium and keep mixing to avoid burning
Cook the mixture until the jaggery filling starts drying up. Allow the mixture to cook well for few mins
Take a separate vessel with water in it and put it over flame. Add little a pinch of salt and 1tbsp oil. Once water starts boiling, add the Rava to the boiling water. Mix everything well and allow it to cook for 3-4 mins more. Turn the flame off.
Once the Rava turns little cooler. Make smalls circles to add the outer layer in the mould. Use greased mould and add jaggery filling in the mould and make the Modak
Before serving garnish the Modak with ghee/butter or dry fruits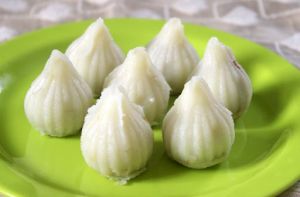 Ukadiche Modak
Ingredients:
1 Cup Coconut grated
2 Cup Rice flour
1 Cup Jaggery
1 tbsp pinch of nutmeg or Cardamom powder
Ghee/oil
Procedure:
Put a vessel over the flame and add 2-3 cups of water. Let this water keep boiling until you make the Modak mixture
Take a mixing bowl and add jaggery, grated coconut and 1tbsp Cardamom powder/ Nutmeg powder. Add a pinch of salt and 1 tbsp  ghee and mix everything well and keep it aside.
Now take the Rice flour and little-by-little add warm water in it. Stir nicely with the help of a spoon. Once the flour turns little cooler, form a smooth dough. Knead it into a soft dough.
Now make small balls out of the dough. Take each of the rice flour balls and flatten the edges with the help of roller. Then add one spoon of the filling onto the flattened balls and seal it nicely to make the Modak.
Put a steamer over boiling water. Keep all the Modak over the steamers and allow it to cook for 5-7 mins. Once you feel its ready, remove it from the steamer.
Serve it with ghee or butter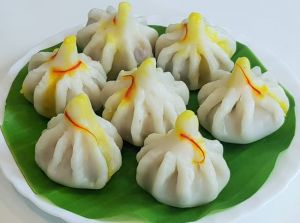 After trying these dishes don't forget to give us the feedback. For more such interesting updates, stay hooked on to The Live Mirror.
Also Read:  Ganesh Chaturthi 2020: 5 Modak Recipes Which You Can Make At Home