Dutee Chand to train abroad to make a mark at the 2020 Tokyo Olympics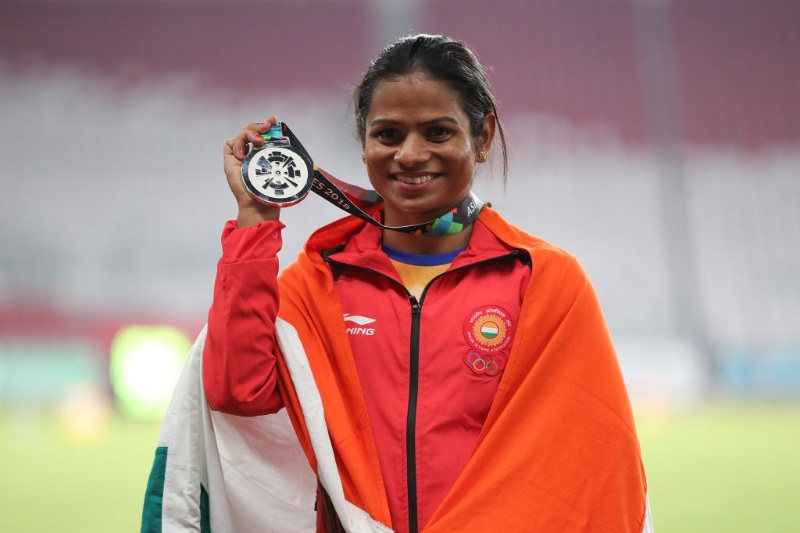 Asian Games medallist Dutee Chand wants to touch the 11-second mark at the 2020 Tokyo Olympics, but lack of competition In India has compelled her to travel out of the country.
"There are no better fighters than me in India," Chand was quoted as saying by the Hindustan Times on the sidelines of a promotional event in Mumbai on Thursday. "Moreover, there are just a handful of events that go on in the country — Senior Federation Cup, Senior Nationals and the state meet. So, working for just these three competitions, and given that there's a lack of good fighters, the timings are not coming (along)… Now with the state (Orissa) government declaring that it would help by funding preparations for the Tokyo Olympics, I will head out of the country and participate in bigger competitions to get a better timing."
Dutee, who returned to the track after winning a long battle against IAAF on hyperandrogenism, clinched silver in both the 100m and 200m race at the 2018 Jakarta Asian Games. But believes there is still a long way to go to be successful at the Olympics.
Also Read: Amit Panghal says that awards snub will motivate him
She was trim her timing to as less as possible keeping in mind that the reigning Olympic champion Elaine Thompson had clocked 10.71s in 2016. But lack of competition at home hinders her confidence.
"In 100m, if there's someone running in front, it acts as an extra motivation to go past that athlete. In India, there are athletes who're clocking around 11.6-11.7s. Hence, running with them won't help me achieve a timing around the 11s-mark," she said, reports the national daily.
"I'll head out and train for the Tokyo Olympics. Once I train with sprinters outside the country, they'll guide me on my mistakes and where I should improve. Also, I need to work on my strength training because there's not much regarding that in India."
She had come second best to Bahrain's Edidiong Odiong in both the 100m and 200m race at the Asian Games and when asked if she knew that the athlete was an outsourced athlete and was brought from Africa, she said she had never heard of her before.
My targets were Kazakhstan's Olga Safronova and Viktoriya Zyabkina because they always used to beat me. When I ran alongside her (Edidiong), I had no clue that she is an outsourced athlete. She seemed new to me since I've participated in Asian and World Championships but had never met her."