Amit Panghal says that awards snub will motivate him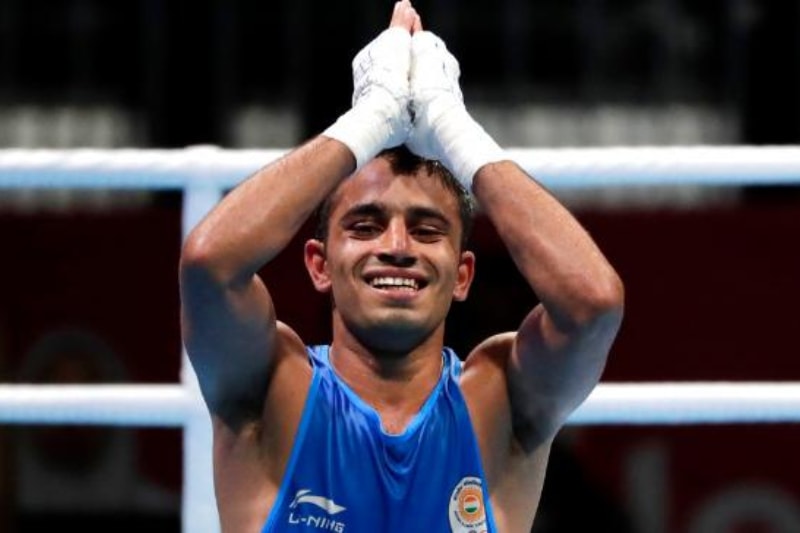 Having won India's only gold medal in boxing didn't assure the young Amit Panghal any award like what his peers received after a splendid performance in Indonesia.
In the final of the light flyweight category, Panghal defeated Olympic champion Hasanboy Dusmatov to bag the top prize but he wasn't nominated for any award with reports suggesting that his past doping record might have come into the equation.
"I was very young then and had chicken pox, so I wasn't aware of drug intake.  Now I am extra careful before any event and there is more awareness now," said Panghal, as quoted by Deccan Chronicle.
In 2012, Panghal was tested positive for an anabolic steroid before which he disappeared in 2012. He returned to the scene in 2014.
The 49kg boxer said that the award snub would motivate him to perform well and win more gold medals in the future.
"Boxing Federation told me that episode is over and you will be considered for awards. It is disappointing to miss out this time but the federation nominated my seniors so I am happy. I will try to do well and win many awards in future," he said.
Panghal would now participate in the 52kg category as the 49kg has been done away with.
Also read: Asian Games 2018: Amit Panghal bags boxing gold
"I have to become stronger and I am confident of doing well. I have already started training and I am looking forward to Asian championships, World Championships, and Olympic qualifier events," the Rohtak-born boxer added.
Set to turn 23 this month, Panghal said that he is up for challenges all the time. For instance, he was overweight before his semi-final bout in the Asian Games but he somehow fit into the weight category too and even defeated his opponent to secure a podium finish.
"My opponent in the semi-final changed his tactics and he was attacking like me.  I wasn't able to track his moments initially before I got the measure of him. After the match I was two and half kg above weight. I trained till 1.30 am, checked my weight and then slept," he said.
The young boxer nonetheless, is ready for a training stint in the United States of America.
"I haven't yet received the visa but federation is on it.  I have to make certain adjustments and I want to work on it in US," he stated.
Image credit-India Today