Eid-Al-Fitr 2020: 5 Popular Eid Recipes You Cannot Miss This Bakra Eid
Eid-al-Adha, also known as Eid Qurban or Bakr-Eid will be celebrated on August 1, 2020.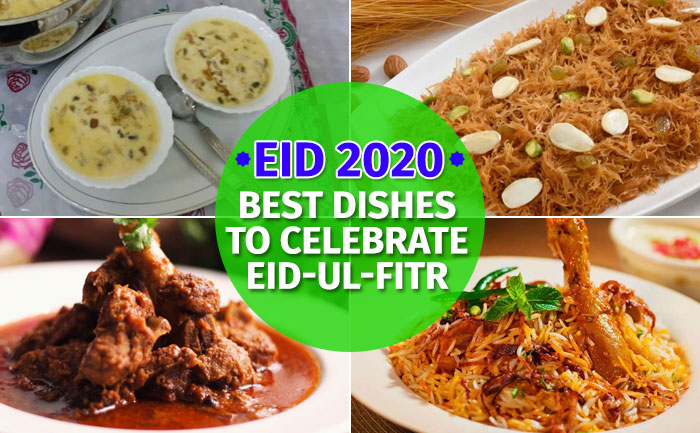 Eid al Azha 2020 is here. This year the festival of sacrifice (Bakr-Id) will be celebrated on July 31 (August 1 in India). Eid al Azha is the second most celebrated Muslim festival after Eid al Fitr. The festival reminds the Muslim community of Prophet Ibrahim's custom to sacrifice his son as an act of obedience to almighty, Allah.
Just like any other festival, Bakri Eid is also incomplete without a feast and sweet treats. On this day, a larger variety of dishes including beef or mutton serves different savory than that of Eid-ul-Fitr. To mark this occasion, here are a few recipes that you can try out at home for a grand dawat.
5 Eid Recipes You Cannot Miss This Bakra Eid:
Sheer Khurma:
Recipe:
Add cloves and dry fruits and fry till they are slightly browned.
Add vermicelli and fry till slightly browned.
Add milk and dates in the same pan and cook for 10-12 minutes.
Add the roasted vermicelli and dry fruits and cook for another 10-12 minutes until vermicelli is softened.
Add sugar, saffron and cardamom powder and cook for another minute.
And done, Sheer Khurma is ready to be served.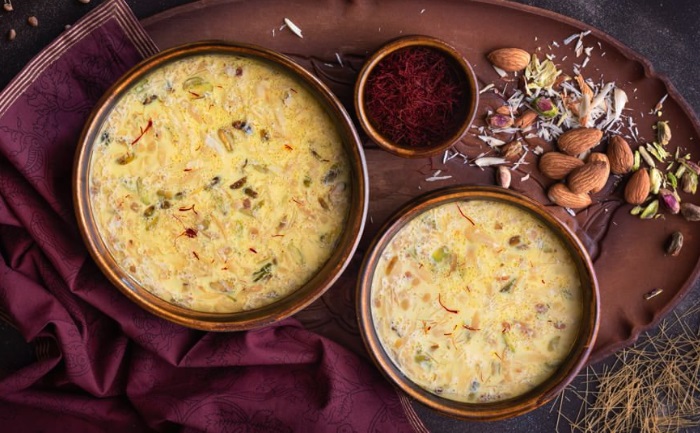 Mutton Biryani:
Recipe:
Marination: Wash the mutton thoroughly, add ginger garlic paste, turmeric, salt, chili powder, biryani masala, and lemon juice. Add curd and oil. Allow this to sit for 2 hours or overnight

Heat oil in a pressure cooker. 

Add onion and fry until onion turns golden brown.

Add the marinated mutton and fry on high heat for 4-5 minutes.

Add 1 cup of water and pressure cook until mutton is tender.

Remove the lid of the cooker and cook the mutton until most of the water is evaporated.

Add coriander and mint and mix well. Keep it aside.

Wash the rice and soak in water for 40-45 minutes.

In a piece of cloth take cardamom, cinnamon, cloves, javitri, jaiphal, black peppercorn, shahi jeera, star anise, and tie it in a bag.

Bring 750 ml water to boil, add rice, bay leaf, salt and potli, cover and cook till rice is done 1/3rd.
Drain the water & remove the whole masala potli.
Transfer the biryani to the serving plate.
Serve with raita and salad.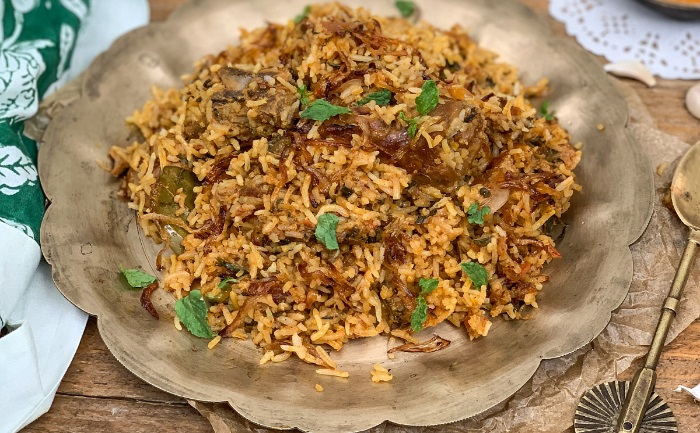 Mutton Korma:
Recipe:
 Clean the mutton

Heat the oil in a deep dish, add the finely sliced onions and lightly fry it.

Add mutton pieces and fry on high heat for 8-10 minutes.

Add the masala paste and ginger garlic paste and fry for 3-4 minutes.

Add 2 cups of water and pressure cook until mutton is cooked well.

Add saffron soaked in water and kewra essence and mix well.

Garnish with thin deep-fried onion rings and serve hot.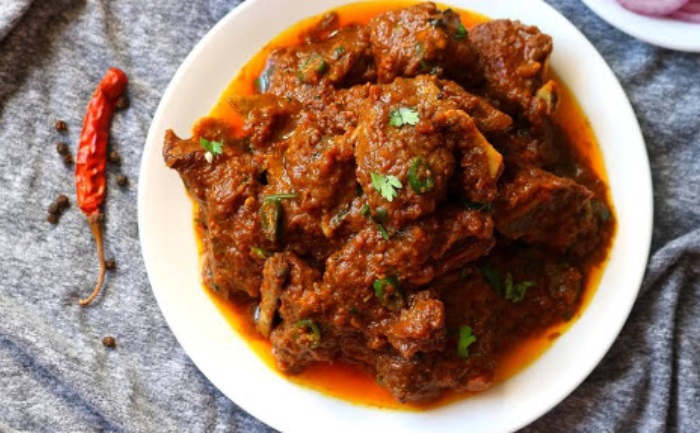 Shahi Tukda:
Recipe:
Cut the bread slices into half, lengthwise, and deep fry in hot ghee, till crisp.
Dissolve the sugar in the milk and bring to a boil
Dip the bread in the milk and sugar solution, and arrange the pieces in a serving dish, in one layer.
Mix the rabri and spoon it over the bread slice.
Garnish with pistachios and almonds.
Seekh Kebab:
Recipe:
Mix ground lamb, onions, mint, ginger paste, and chile paste. Season with cumin, coriander, paprika, cayenne, and salt. Cover, and refrigerate for 2 hours.

Add besan (chickpea flour) and egg yolk to bind. Mix well.
Preheat grill for high heat.

 Cook for 10 minutes, or until well done, turning as needed to brown evenly.

Garnish with the chaat masala, onions, lemons and serve along with green chutney.