Eid Al-Fitr 2020: Eid Mubarak Wishes, Quotes, History, Rituals and Namaz's Method
Eid Marks The End Of Fasting Months, Muslims Are Not Permitted To Fast On Shawwal 1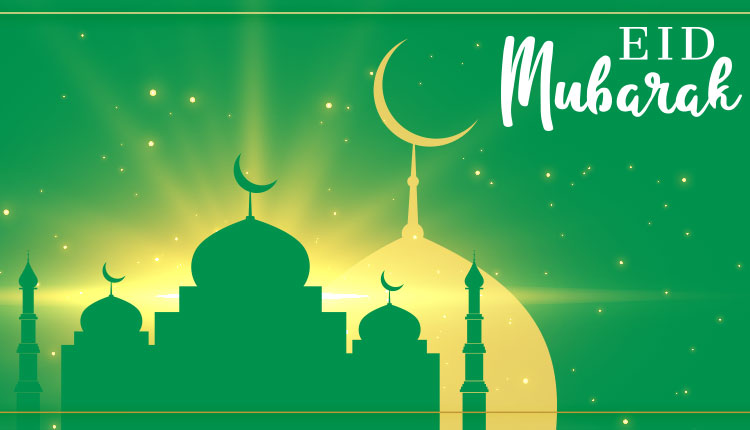 Eid al-Fitr or (Eid 2020) — The biggest festivals of the Muslim community — is most likely to be celebrated on 23rd May 2020 in India. Like we people get paid our salary at the end of the month or week, Muslims also get Eid as the gift from Almighty. Yes, the night of Eid al-Fitr is considered as the night of rewards and Almighty has said that in the holy book Quran, he will accept the prayer of those who observed fast during the fasting month, Ramadan 2020.
The day of Eid falls on the 10th Islamic month Shawwal. Notably, there are few days in Islam, when Muslims are not permitted to fast including the day of Eid. The celebration of Eid varies by locality. On the occasion of Eid, Muslims offer two rakats (units) and it is mostly performed in the open ground instead of local mosques. Happy Eid Mubarak 2020 Wishes
What Does Eid-al-Fitr Mean?
Eid al-Fitr is an Arabic word, whose meaning in English is "Festival of Breaking the Fast". The festival of Eid holds great importance in Islam and is a time for loved ones and communities to come together.
Muslims celebrate Eid to mark the conclusion of the blessed month of Ramadan, which commemorates the moment when the Holy Quran was first revealed to Prophet Mohammed (PBUH). After the month of sacrifice and reflection, Eid is a time to rejoice with family and friends and exchange gifts with loved ones. Hajj 2019: When Is Hajj? Rituals, History & More About Islamic Pilgrimage To Makkah
'The month of Ramadan is that in which was revealed the Qur'an, a guidance for the people and clear proofs of guidance and criterion. So, whoever sights the new moon of the month, let him fast it; and whoever is ill or on a journey – then an equal number of other days. Allah intends for you ease and does not intend for you hardship and wants for you to complete the period and to glorify Allah for that to which He has guided you; and perhaps you will be grateful.' – Quran 2:185
Eid al-Fitr Namaz
Unlike general Namaz, the namaz of Eid is different. It has six additional Takbirs (when Muslims raise their hands to the ears while saying, Allahu Akbar- God is the greatest). In common Namaz Muslim only raise their hands once. In Namaz-e-Eid, they raise their hands three times at the beginning of the first rakat and three times before they go to ruku and complete the rest of the steps like a common prayer.
The exact date of Eid al-Fitr depends on the moon of Shawwal, as it can not be said that Eid will be celebrated on this and this date. The celebration always varies as per the locality as the new moon is sighted at different times by local religious authorities.
The Eid al-Fitr 2020 is most likely to be celebrated on June 5 but this is tentative as it depends on when the new moon is sighted. In order to end controversy related to the moon, Pakistan has launched moon sighting website.
Muslims are prescribed to continue to their fast until the moon of Shawwal is not sighted. They are also commanded to pay Fitra (charity) before offering the Eid prayer.
History
It was originated by none other than Prophet Muhammed (PBUH). According to reports, it was started in Medina when Muhammed (PBHU) migrated from the holy city Mecca to Medina. When Prophet arrived in Medina, he found that the people celebrating two specific days in which they used to entertain themselves with recreation and merriment. The Messanger of God asked them about the nature of these festivities at which they replied that these days were occasions of fun and recreation.
Responding to their answers, the Prophet remarked that the Almighty has fixed two days [of festivity] instead of these for you which are better than this, one is Eid al-Fitr and another is Eid al-Adha.
General rituals
The day of Eid begins once the moon of Shawwal is sighted. If the moon is not seen on the 29th of Ramadan then Muslims have to complete the 30th Roza to mark the ending of the fasting month.
As an obligatory act of charity, Muslims are entitled to pay some amount of money to poor and underprivilaged people before they perform Namaz-e-Eid. While going for Namaz-e-Eid or coming back to home, Muslims praise the Almighty in loud voice saying: Allāhu Akbar, Allāhu Akbar, Allāhu Akbar. Lā ilāha illà l-Lāh wal-Lāhu akbar, Allahu akbar walil-Lāhi l-ḥamd.
After performing Namaz-e-Eid, Muslims visit relatives and give presents, money or candy to children. Cards can also be sent, often featuring the words "Eid Mubarak".
Eid Mubarak Wishes
Wishing a Happy Eid Mubarak and sending Happy Eid messages to your friends, family members and beloved one is not just a formality it also reflects the significance of this day to you. Making your work easier, we have enlisted several Eid Mubarak in English or Hindi for you.
May Allah open the doors of happiness and prosperity for you. Eid Mubarak to you and your family. Enjoy a blessed time during this Eid.
May you find a million reason to make your life more beautiful on this day. May the joy of Eid be multiplied a thousand times and stay with you forever. Eid Mubarak!
I wish you and your family a very joyful Eid. May Allah accept all your prayers and forgive all your faults. Eid Mubarak!

Before we ask for happiness and prosperity, we should ask for mercy. May Allah shower his mercy on us. Eid Mubarak!

May Allah fulfil your all dreams and hopes. May your life become a garden of heaven! Eid Mubarak to you and your lovely family!

Eid is a day to cheer and to laugh with all your heart. It's a day to be grateful to Allah for all of his heavenly blessings on us. Wishing you a happy Eid UL FITR.

As long as you keep faith in Allah, no evil can touch your heart and no sorrow can ruin your day. May your life be filled with joy and happiness on this Eid!

This blessed day is for saying thank you to the almighty for all he has given to us. May he grant all your prayers and fulfil all your desires. Eid Mubarak

Accept the blessings of Allah with all your heart and forget the sorrows that burden your soul. Enjoy the moments you share with your family. Happy Eid Day!
May you continue to grow wiser and more charming every day! May this Eid bring happiness in your heart and to your family. Eid ul Fitr Mubarak!
Feel the magic of Eid around you and know that the grace of God is always with you. You'll always be surrounded by love and care. Happy Eid UL FITR!
May the joy of Eid UL FITR be with you for the rest of your life. May all your desires be fulfilled by the grace of Allah. Happy Eid ul Fitr!
I pray to Allah that he answers all your prayer and give you the strength to fulfill your dreams. May this EID bring joy in your heart! Happy Eid UL FITR!
May the magic of this holy festival bring unlimited happiness in your life and decorate it with the colors of heaven! Eid Mubarak!
Wishing you a very happy Eid Mubarak. Cherish every moment of this beautiful festival and know that all your dreams will come true soon. Eid Mubarak!
Eid Mubarak Messages
Take a break from living in stress and this is Eid so let's celebrate! You are welcome to join us. Life is so endlessly delicious. Happy Eid Day!
Start living now and stop worrying about tomorrow. Life is too short to spend in tension. Just enjoy every moment of every day. Thinking of you on this Eid Day.
Eid Mubarak! Seize the moment and be happy. Because very little is needed to make a happy life, it's all within yourself and your way of thinking.
May this Eid brings you joys unlimited, may all your wishes come true on this holy day and may you and your family be blessed by the grace of Allah. Eid Mubarak!
Let this special occasion of Eid adorn your life with the colors of heaven. I wish a wonderful Eid day for you and your family.
Eid Mubarak Messages for Friends
You can bring a smile on face even when I am feeling sad. A friend like is a treasure to keep forever. May Allah shower his blessings on you. Eid Mubarak dear!
There is no blessing in the world greater than a true friend. I thank God every day for giving me a friend like you. Eid Mubarak to you and your family!
The most beautiful thing for me is to see you smiling. You are so close to my heart that no one can even beat you. Enjoy this Eid to the fullest. Eid Mubarak!
Your kindness and integrity make me so surprised. You, my friend, are a rare piece of gem. I am lucky to have you as my best friend. Eid Mubarak to you!
Good food, good friends, and good laughs. I'm happy no matter what happens or what changes along the way. Happy Eid Day!
Eid Mubarak Messages for Family
As the holy day is approaching, I feel like I can't wait for more to be reunited with you guys. Love you from the deep of my heart. Eid Mubarak to you all!
Dear mom and dad, I feel so lucky to have parents like you to spend the day with. You have been the reason why every Eid day seems like a day I spend in heaven. Eid Mubarak to you!
Wave goodbye to another amazing year and be ready to welcome the crescent moon, beautiful new dresses and of course all the delicious food. Eid Mubarak to my loving family! I love you all!

I am thankful to Allah because he blesses me with two wonderful days in a year to be with the people I love and care about most in my life!

Don't forget that every day you are alive is a special occasion. Your every second, every minute, every hour even every breath is a gift from Allah. Give Him thanks on this Eid day for everything!
Eid Mubarak Messages for Girlfriend/Boyfriend
I feel happy because I am getting one more Eid to love you, to care for you and to pray for you. You mean everything to me. Eid Mubarak!
God knows how grateful I am for having you as my lover. I want to live a thousand years more only to love you. Eid Mubarak, my love!
I pray to God that he gives you more happiness and reward you with a bright future. You deserve the absolute best in life. May this Eid be unforgettable for you!

All I want in life is you to stay with me forever. With you, every occasion and every festival in my life is beautiful. Eid Mubarak.

I want to make every day of your life an Eid day. I have fallen so deeply in love with you that I can no longer think of anything but you! With lots of love my dear, wishing you a happy Eid UL FITR!
Eid Al-Fitr 2020 Quotes
 Whoever desires to meet his Lord, he should do good deeds and not associate anyone in the worship of his Lord. (The Qur'an – 18:110)
O You who believe! Enter absolutely into peace [Islam]. Do not follow in the footsteps of Satan. He is an outright enemy to you. (The Qur'an: 2, 208)
I put my trust in Allah, my Lord and your Lord! There is not a moving creature, but He has a grasp of its forelock. Verily, my Lord is on the straight path [the truth]. (The Qur'an 11:55-56)
You will not attain righteousness till you spend in charity of the things you love." [The The Qur'an, Chapter 3, verse 92]
He is the One God; the Creator, the Initiator, the Designer. To Him belong the most beautiful names. Glorifying Him is everything in the heavens and the earth. He is the Almighty, most wise. (The Qur'an 59:24)
And whosoever fears Allah and keeps his duty to Him, He will make a way for him to get out (from every difficulty) [al-Talaaq 65:2]
And whosoever puts his trust in Allah, then He will suffice him" [ al-Talaaq 65:3 ]