Eid Mubarak 2020: Amitabh Bachchan & Other Bollywood Celebs Wish Eid Mubarak To Fans
Amitabh Bachchan, Abhishek Bachchan, Sara Ali Khan and other Bollywood celebs wish Eid Mubarak to fans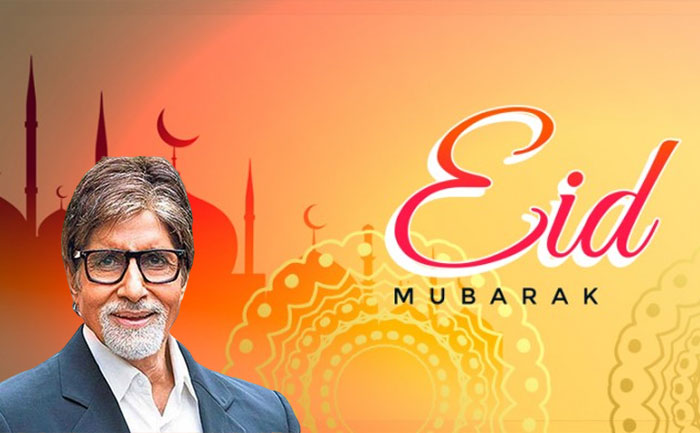 India is celebrating Eid-ul-Fitr on May 25 but this year it will be a quiet affair due to COVID-19 Pandemic. People will be staying at home and celebrating it with their family members. Many are connecting with their friends and family members via video calling apps amid the lockdown. On the festive occasion Bollywood celebrities like Amitabh Bachchan, Sara Ali Khan, and others have also taken to social media to wish their fans happy Eid-ul-Fitr.
Check out Bollywood celebrities wishing Happy Eid to their fans:
Amitabh Bachchan shared a picture of himself and wished his fans,
T 3540 –
Eid Mubarak to all and the prayers on this auspicious day for peace .. for harmony .. for good health .. for friendship and love .. for ever

.. bring us together in peace and love and in the continuity of brotherhood sisterhood and family .. be ONE .. be in ONE .. pic.twitter.com/hl7L2oJmdb

— Amitabh Bachchan (@SrBachchan) May 24, 2020
Son Abhishek Bachchan too did the same,
#eidmubaarak to all celebrating. Peace and love. 🙏🏽

— Abhishek Bachchan (@juniorbachchan) May 24, 2020
Richa Chadha too wished her fans,
Eid Mubarak to everyone! Prayers, peace and abundance to everyone! #prayathome #EidMubarak pic.twitter.com/qcEEsBW7RU

— TheRichaChadha (@RichaChadha) May 25, 2020
Shraddha Kapoor shared a video and wrote, "Eid Mubarak."
Sonam Kapoor too did the same,
https://www.instagram.com/sonamkapoor/?utm_source=ig_embed
Sara Ali Khan shared her then and now pic to extend Eid greetings,
Raveena Tandon,
Randeep Hooda,
रै सबनै ईद की राम राम 🙏🏽 .
.#EidMubarak
Hope everyone is celebrating responsibly with their families and staying safe. We will celebrate together again soon #peace #EidUlFitr pic.twitter.com/nRnJYAarjJ

— Randeep Hooda (@RandeepHooda) May 24, 2020
Eid-Al-Fitr is an Arabic term which means "festival of breaking of the fast". It is one of the most important religious festivals in Islam Calendar. Eid-Al-Fitr takes place in the month of Shawwal. After fasting for a whole month known as Ramadan, the day when this stringent fasting ritual is broken is known as Eid.
EID MUBARAK TO ALL.
Also Read: Eid Mubarak 2020 Songs: Top 10 Bollywood Songs For Eid al-Fitr Celebration