Domestic flights resume: Karnataka, Punjab, Kerala order 14-day quarantine after flight
Domestic flights resume: Thermal Checks, Flight Crew In PPE Suits, Aarogya Setu a must for travellers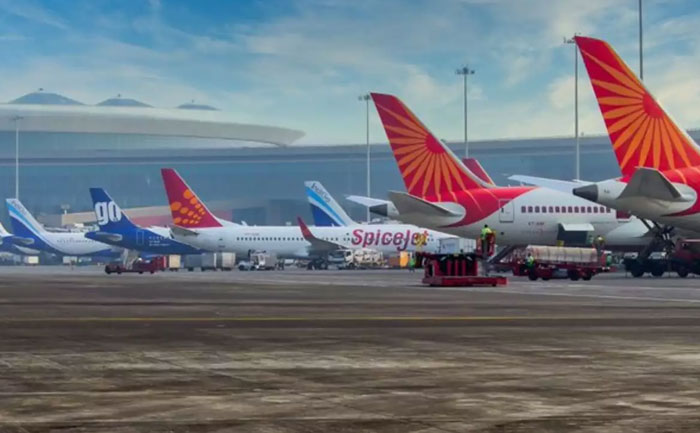 Air travel resumed across India this morning, two months after the lockdown announced by Prime Minister Narendra Modi. The aviation sector that was on a brink of collapse has heaved a sigh of relief. Hundreds of people reached airports to catch the early morning flights. They were paramilitary personnel, army men, students, and migrants on their way home. The first domestic flight took off from New Delhi for Pune at 4:45 am. While Mumbai airport's first departure was at 6.45 am to Patna.
This is the form you have to fill at the #airport

@DelhiAirport #aviation #flights #aviationnews #aviationworld pic.twitter.com/LFiC3pfjpU

— Hana Khan (@girlpilot_) May 24, 2020
The passengers have been asked to download the Arogya Setu app while traveling. Inside the flight passengers wore face shields and masks. Crew members were seen in protective gowns, masks, and face shields.
#Delhi: Passengers screened using a thermometer gun before boarding #Vistara – Delhi to #Bhubaneswar (#Odisha) flight, scheduled to depart from #IGIAirport, Terminal-3 at 6:50 am today#DelhiAirport #Flights

(ANI) pic.twitter.com/dS6W2IETEW

— Himalayan Mail (@himalayan_mail) May 25, 2020
Maharashtra and Tamil Nadu agreed to operate limited flights from Monday.  The southern state of Andhra Pradesh would allow flights from Tuesday. Mumbai airport will handle 50 domestic flights per day and Hyderabad airport will handle 30 domestic flights per day from Monday. West Bengal urged the central government to postpone the resumption of passenger flights to Kolkata. They are at present focussed on rescue work after Cyclone Amphan hit the city. Limited aviation operations in West Bengal will commence from Thursday.
Meanwhile, three states: Karnataka, Punjab, and Kerala have decided on quarantining domestic flyers. Civil aviation minister Hardeep Puri has repeatedly said such a move is not needed.
Also Read: COVID-19 Pandemic: India among top 10 worst-hit countries