England vs India: India lose three quick wickets as rain plays spoilsport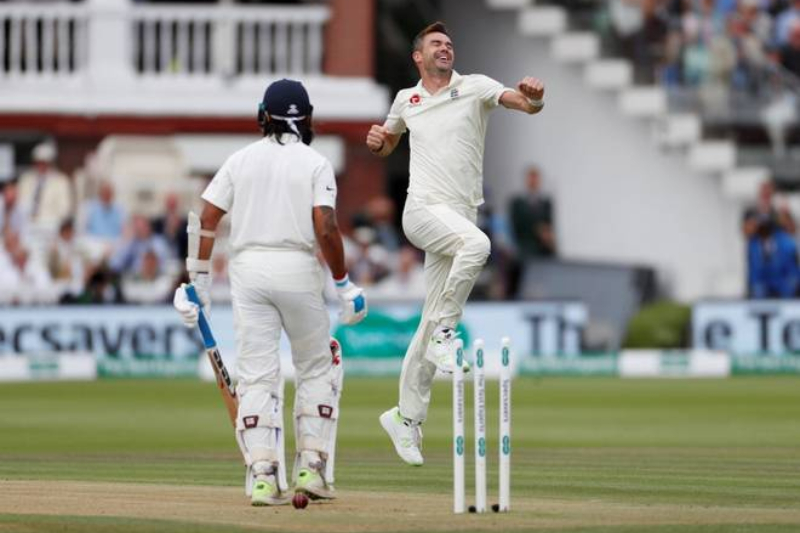 Rain once again played spoiled-sport after James Anderson had India reeling at 11/3 in eight and a half-overs in the second day of the Test match at Lord's on Friday.
After a damp-squib in the opening day in which even the toss could not take place let alone a ball being bowled, the covers were finally off on Friday. The umpires deciding that 96 overs will be played for each of the next four days, to make up for the lost time.
Then after Joe Root had won the toss and invited India to bat, Anderson sent both the openers back inside five overs – First setting-up Murali Vijay with four consecutive outswingers on the off, before uprooting his off-stump with a peach of delivery. KL Rahul was the next man to depart after poking another Anderson delivery into wicket-keeper Jonny Bairstow's hands.
Also Read: England vs India: Will 'Lady Luck' smile on India's fortunes at Lord's
Cheteshwar Pujara and Virat Kohli then steadied the ship, overlooking the fiery spell from Anderson before rain interrupted play. But on return, Pujara was run-out in a ridiculous fashion after a horrendous mix-up with Kohli.
Just into the third over after play had resumed one and a half hour behind the scheduled time, Pujara guided an Anderson ball into the gully and set off for a quick single only to be sent back by his partner. Debutant Oliver Pope had by then knocked off the bails as India went three down before another rain delay.
Promoted up the order in-place of Shikhar Dhawan – who was dropped for Cheteshwar Pujara after struggling to play the moving ball at Edgbaston – Rahul looked patient during his 14-ball stay at the crease, even hitting two boundaries that included a gorgeous drive off Stuart Broad.
Vijay, however, perished in the fifth ball of the opening over without a single run on board.
Also Read: England vs India: Rain washes out first day of Lord's Test
Earlier as assumed, India decided to play two-spinners in Ravichandran Ashwin and Kuldeep Yadav, the latter getting his first Test match in England.
Meanwhile, Lunch was taken early on day two with approximately one and a half hour of play lost to rain.
India had lost the opening Test at Edgbaston by 31 runs, with skipper Virat Kohli the only Indian batsmen to cross the 50-run mark in both the innings. The World No. 1 batsman made a majestic 149 in the first easy and followed it up with another half-century in the second innings, but couldn't inspire his side to chase down the 193-run target.