EPL: Manchester City extend unbeaten run with hard-fought win at Watford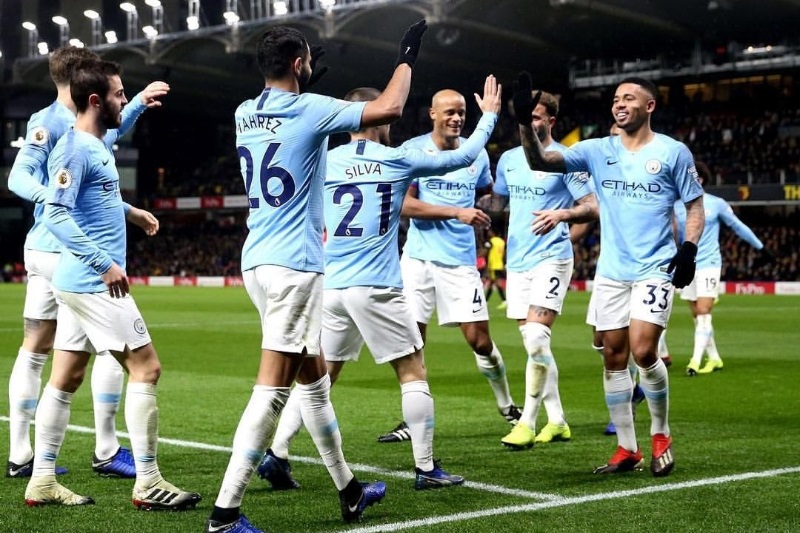 Two goals across both halves helped Manchester City extend their lead to five points at the top of the Premier League with a hard-fought 2-1 victory at Watford on Wednesday.
Watford had kept City quiet for 40 minutes until Leroy Sane stuck just five minutes before the break. Then 11 minutes after play resumed Riyad Mahrez blasted the net as City looked to keep pace with their record of scoring three goals almost every Premier League game.
But Javi Gracia's Watford wouldn't sit back and almost scored three minutes after conceding their second. But to their hard luck, Watford's first goal as a mere consolation in the 85th minute when Abdoulaye Doucoure bundled the ball inside the net following a goal-line scramble.
Also Read: Barcelona coach Ernesto Valverde unhappy with Lionel Messi's fifth-place finish in Ballon d'Or
The defeat was Watford's third consecutive defeat and they – winless since October – after two draws and a hat-trick of losses are at the 11th position with 20 points from 15 rounds of matches. Meanwhile, City, still unbeaten in the league this season and a total of 21 games from last year, are at the top of the standings with 41 points.
Algerian Mahrez was City's best player against The Hornets even as others beside him failed to put up their usual performance. It was from Mahrez's cross that Sane breezed Ben Foster's net with his chest directing a Mahrez cross from the right into his net.
Mahrez himself then scored in the second half rifling a left-footer through the middle to put the visitors 2-0 ahead.
Watford, however, could have taken the lead eight minutes before even Sane had netted City's first. But Troy Deeney's shot in the 32nd minute was brilliantly saved by City goalkeeper Ederson.
Javi Gracia's team were confident right through the 90 minutes but failed to breach City's defence.
"You can never relax in the Premier League, that's why it is nice," said City coach Pep Guardiola as quoted by Espn. "It's never over at 2-0, you need the third goal. We were much the better side, we deserved to win but you have to kill. In the last few minutes, they had chances.
"For five minutes they were better than us. It's not about breaking records, it's winning games. You can't win easily for 38 games, that's impossible."
Gracia, on the other, was optimistic with his team's performance despite the defeat.
"We will always fight, that's our mentality. We competed until the end, I am happy. It's good for us to compete with City," he said.
"We knew it was very demanding for us. We have to work hard all game and try and have options at the end. At the end you saw them wasting time, we have been close to getting a result but they are a very good team — they deserved to win."