Epson EH-TW650 3LCD Projector Review
High On Brightness, High On Features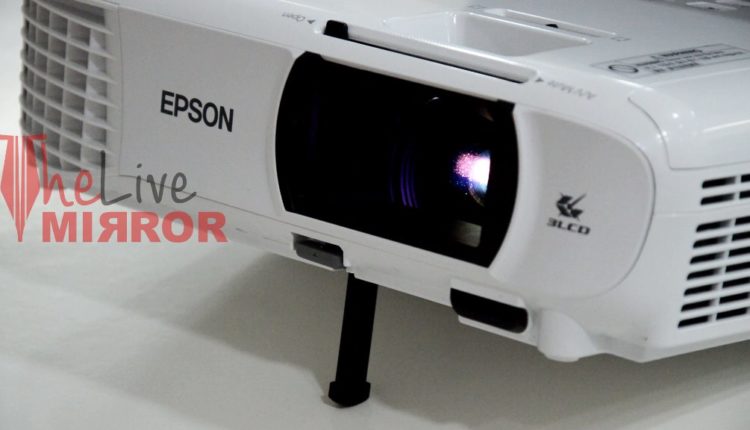 80

%
High On Brightness, High On Features
Epson EH-TW650 Projector Review
Our testing was satisfactory for Epson EH-TW650, it's a costly model compared to some cheaper competitive models in the market, but what we found good is the touch of brand quality it carries. It is a kind of good investment if you want a mix of office and entertainment side-by-side, more in terms of professional usage where you want the best screen to deliver your presentations.
Breaking the boundaries of a limited screen size especially if does not fall heavy on your pocket, a projector is an ideal product to go with. What matters is to discover something that can fit well in terms of usability, screen quality and price to make home cinema experience a reality. Plenty of projector models in the market tout for delivering the best at low cost, while brand stands at the edge of technical advancement, a well-supported warranty centers and availability of replacement parts. It not tough to define the quality vs. the quantity, that's where Epson EH-TW650 3LCD projector becomes a suitable product in our eyes. We got a chance to review Epson EH-TW650 3LCD projector, an HD Ready model with 1080p resolution, 15,000:1 contrast ratio and 3100-lumen brightness.
Without an audio jack an AV receiver can be used to compensate the audio quality, however, 3.5mm is a lot more comfortable, at Rs.58,000 approx. you can expect a quality projector with tons of features like Wi-Fi, MHL, Remote Mouse, Long Lamp Life, split-screen, etc. To know more keep reading and we will share why Epson EH-TW650 can be considered as a viable model to think about HD home cinema as well as a perfect candidate for corporate meetings.
Design:
Epson TW650 targets both home and professional atmosphere good enough to deliver cool HD video quality assembled into a compact design yet not ideal for traveling. The project features a plastic body design with dual control solution. One is dedicated remote with almost everything along with a mouse key feature, and set of buttons on the top of a projector as the backup. Glossy plastic finish body gives it a premium look, Epson charges a high price and so it delivers a handsome model.
Projector Front: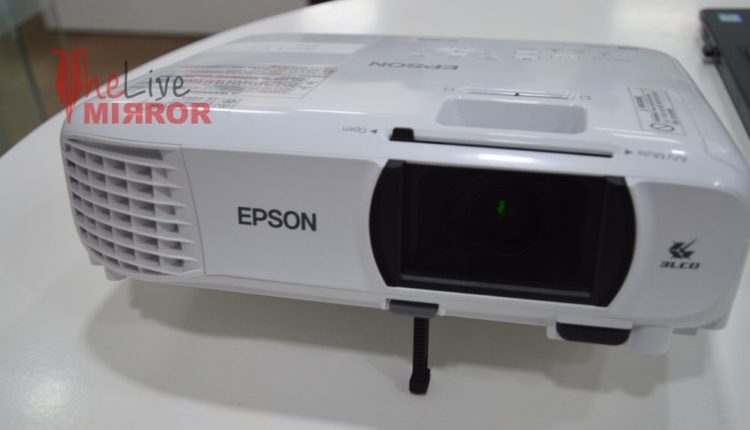 The front section has the lens and a sliding lens cover. Fan inside air exhaust grill on left throws hot air to maintain Lamp temperature, if you set up the project avoid setting near to the left side, constantly blowing hot air is annoying. A simple foot release lever in center-right releases Front Adjustable Foot to adjust height.
Projector Back: Connectivity Ports: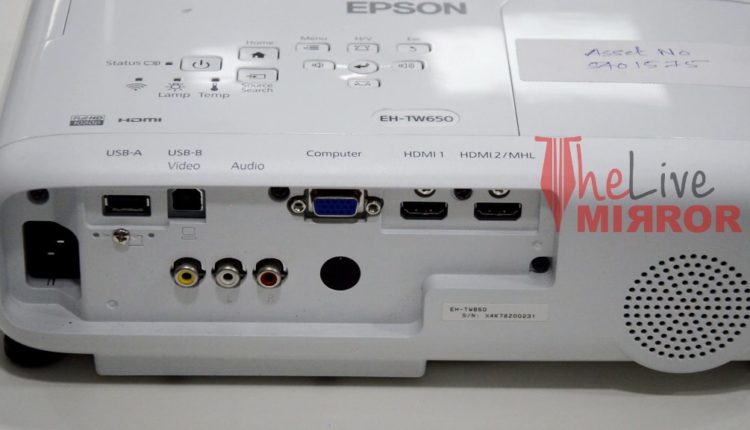 Important aspects of Epson TW650 lies on the back, after the power port, lies all important connectivity options. Below are the list of ports and details on their functions plus their compatibility with other devices.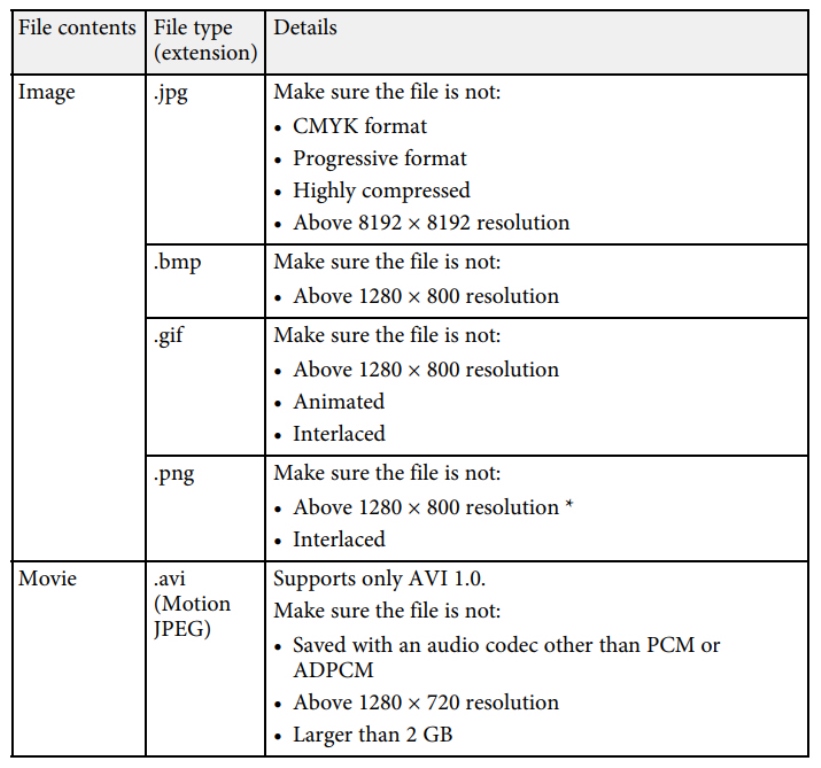 USB-A: As per the product manual the projector can read jpg, png, bmp, avi and gif files. For video, it supports avi videos above 1280×720. It is a standard usb 2.0 port and only reads FAT32 file system. For videos, it only supports gifs files, no other format, recommend it best for viewing jpg pictures. Click here to download Epson EH-TW650 Manual for more details
USB-B: The port is for PC Free Presentation. Launch a presentation on your pc and connect using USB-B cable. Use the Page up and down arrow buttons on the remote for changing slides.
RCA Connector: For set-top boxes, amplifiers, etc.
VGA: For desktop and old laptops, max resolution 1920×1080 but drop image quality due to an analog signal.
HDMI1 : HDMI Port, max resolution 1920×1080.
HDMI 2 / MHL: Secondary HDMI port with MHL Support. Using a MHL cable and compatible device mirror your phone screen on the projection display.
Speaker: Standard 2watt speaker, not good enough for movies and game.
Projector Left/Right: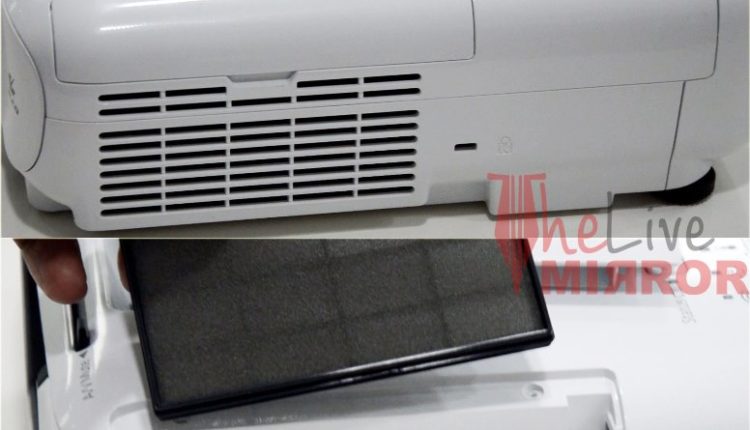 Lamp cover lock screw sits on left, this is used only when Lamp is not performing, the right has air intake vent with a panel to remove air filter for cleaning dust. Kensington security slot is near the vent.
Projector Top:
Behind the lens cover slider are two rings, a Zoom ring and second with text "W" on it is the image focus ring. Use the zoom and image focus ring to finely tune image quality according to eyesight, it will help you to add more crispiness and clarity. Once adjusted avoid moving the project from location, or else keep using them to get the best picture. Next is Horizontal Keystone slider, drag it to correct the horizontal distortion. With the slider driving left and right you can adjust the screen to get a perfectly rectangular image.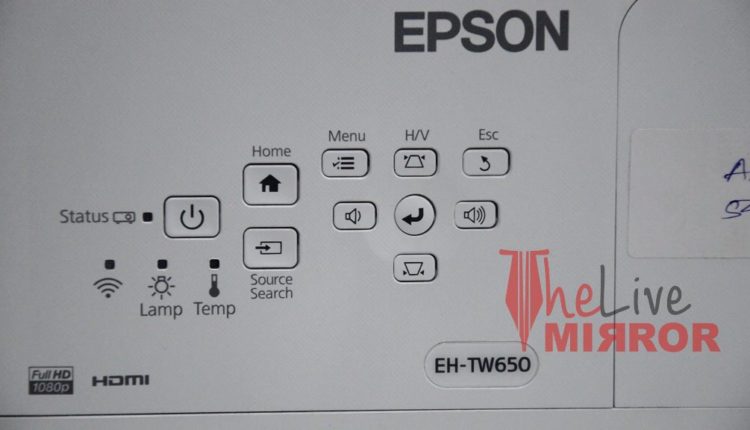 All three settings the Zoom Ring, Image Focus Ring, and Horizontal Keystone Slider are manual, and easy to get a perfect projection image size. With these you can start using Epson TW650 projector other settings associated with brightness, contrast, Wi-Fi, etc. are hidden in the main OSD menu.
Towards the bottom, center lies set of 10 keys and three blue light indicator control panel. The status indicator light will tell you whether it is on or off, second three more lights are for Wi-Fi connectivity, Lamp status, and Lamp Temperature. After long hours of usage keep an eye on Lamp led, turn off the projector instantly if it blinks. The lamp instantly cools down, use it again after a few minutes. Other keys are:
All buttons:
Power: Turn on or Off
Home: Display or close Home screen
Source: Select Input Source from HDMI, VGA, USB, etc.
Menu: Launch OSD Menu
H/V: Correct keystone distortion
Esc: Stop the current function
Volume Left/Right: Audio adjustment
Select Key: Select an option from the menu or activate a setting.
Bottom: Provision for ceiling fit is at the bottom with nothing special to look
Projector Remote: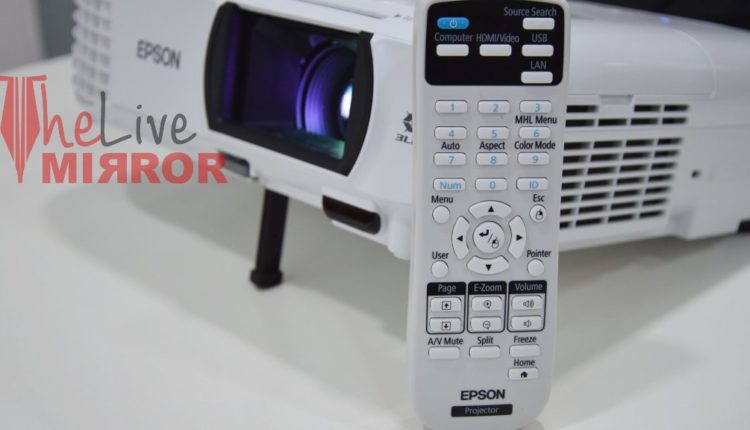 Epson EH-TW650 remote is a combination of standard projector remote + a presentation mouse. The standard keys on the top allow you to pick from the input source, following down manages the aspect ratio, color mode, etc. and then comes the navigation keys with mouse functionality like image rotation, changing slides, selection, etc. Zoom and volume sit below along with Page arrow keys to control PC Less presentation played through a USB video. Last three are mute, split and freeze. Pretty useful functions like split to divide the projector screen into two, you can view two laptops or two screens side by side for comparison, another prevailing feature for business meetings.
Picture, Video & Audio Quality: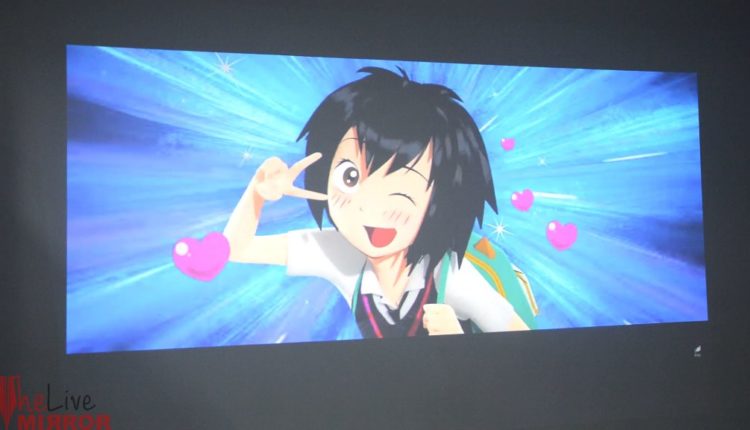 Epson EH-TW650 is more like an entry-level model with a high brightness feature. 3100 lumen of color and white brightness can deliver the quality image, however, you are not going to set the brightness at max because it hurt eyes, the availability such high settings is ideal in a different environment. In a dark room a limited brightness and contrast adjustment are needed, while in an office type place with full of led lights, the max brightness competes well with the surrounding. 15000:1 contrast ratio gifts splendid differentiation between dark and bright areas contributing a ton to the picture quality. It can produce up to 1.07 billion colors, there is no doubt Epson EH-TW650 is a good deal.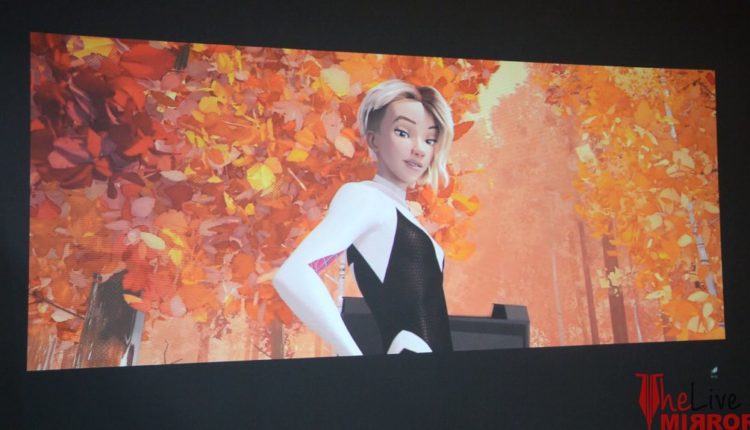 The 3LCD projector projects a standard screen size of 154.4 cm (1.35 to 1.64m screen size) and maximum size up to 300inches. But 80inch is perfect, it is important to setup the right screen alignment to get a clear view of the projection image, a standard distance of around 4 to 5 feet or higher is necessary to bigger and brighter display. After getting the right place to setup, go to the Menu and configure brightness and contrast level, or just hit the Color Mode from remote to select the best between Game, Cinema, Bright Cinema and Dynamic.
The result is remarkable when you run HD video that does rely on default native resolution. If you are using a laptop, fiddle with secondary display settings to max-out benefits of HDMI streaming, it is a high definition interface & by default, the projector pushes to work on native that is what the source offer. Crash the display settings of your system either running Windows OS or Mac and configure it as a secondary screen to let the projector pull max quality. That is when you see the real difference.
Lamp Life & Replacement: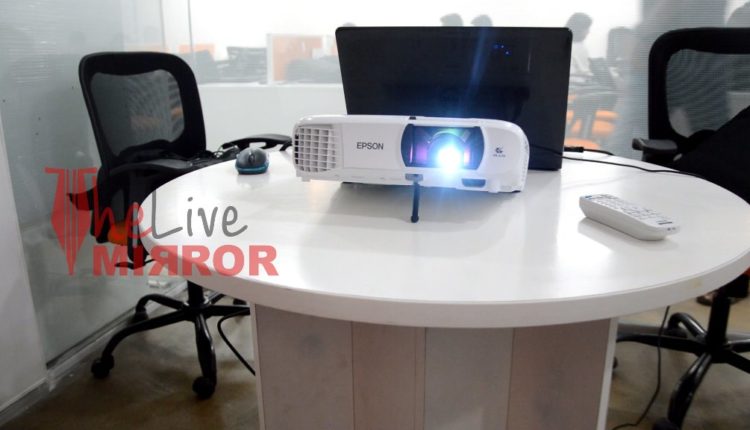 Epson promises 7500 hours of lamp life on Eco Power and 4,500 hours on Normal Power Consumption mode and a 24 month of carry in warranty. Do check with retailer and product docs to find the exact warranty on the basis of your region. Epson touted the projector model features 11 years of lamp life depending on approx. 1hr 45mins of daily usage on Eco Mode. Considering the amount of lamp life we get this model is a reasonable deal compared to a widescreen LCD TV which is limited due to size and display features. In a projector, you have a choice to adjust the screen size and mobility. MRP cost as per the official site for Lamp Replacement is Rs.4899.
Features:
Epson EH-TW650 promises a lot of features what matter is to comprehend what can be useful for an end-user and what will be left alone for years. For example, if someone only wants to have fun with a big screen to have a home cinema feeling, PC Less Projection just turns a less valuable advantage. The below list is about noteworthy features and what they do.
MHL Direct Projector: With an MHL Cable and compatible device you can mirror your phone screen on big projection. A fun way of sharing your phone content with friends and family.
Wi-Fi: It is not for your home router, it just for connecting the projector with a smartphone. Using iProjection

app you can connect with Epson EH-TW650 instantly with a simple QR scan and start using your phone as a remote, or sharing nostalgic galleries. The app also allows you to view web pages and share mobile phone camera on the big screen.

Split Screen: With two HDMI ports connect two systems or utilize one VGA, hit the Split button from remote and enjoy dual screen projection side by side. A necessary feature for meetings where on one side run a video call and on the other a presentation.
Shortcomings: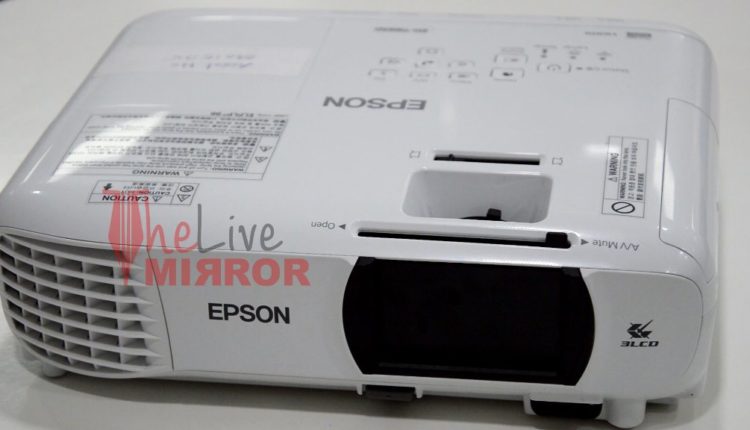 If you are considering EP EH-TW650 for Home Theatre then try to get it with an AV receiver. The projector lacks a 3.5mm standard audio jack so there is no direct way to connect a 2.1 desktop speaker. Epson EH-TW650 uses 2watt speaker enough for meetings but not great for movies. Another way to have some good audio support is using HDMI Audio Extractor, available on various e-commerce sites it acts as a bridge between source and projector, giving two additional RCA L/R ports for 5.1 Audio channels. The cost lies between Rs.500 to Rs.1000.
Conclusion:
Our testing was satisfactory for Epson EH-TW650, it's a costly model compared to some cheaper competitive models in the market, but what we found good is the touch of brand quality it carries. Epson is an age-old leader into electronics, especially into printers.
Epson has a range of different models from low end to high and EH-TW650 is the starting one. It delivers an HD screen, good color as its promises, various connectivity options, long lamp life, and warranty. I want to add more points to its professional usage instead of instinctively pitching it for home cinema. There are high-end models featuring Laser, 3D tech, wireless display, etc the price also bumps three times more than Epson EH-TW650.
The projector is available on Epson Shop for approx Rs.58,999, the package does not come with an HDMI cable, it has the remote with batteries, power cable, and warranty card. The remote does not have backlit functions, so it becomes hard to operate in dark.
Overall Epson EH-TW650 is a kind of good investment if you want a mix of office and entertainment side-by-side, more in terms of professional usage where you want the best screen to deliver your presentations. I want to cut down some points due to the speaker quality for sole entertainment purpose, otherwise, it is loud enough for listening to educational videos and speeches.
Epson EH-TW650 Full Specification:
Technology:
Projection System: 3LCD Technology, RGB liquid crystal shutter
LCD Panel: 0.61 inch with MLA (D10)
Image:
Colour Light Output: 3,100 Lumen- 1,925 Lumen (economy) in accordance with IDMS15.4
White Light Output: 3,100 Lumen – 1,925 Lumen (economy) in accordance with ISO 21118:2012
Resolution: Full HD 1080p, 1920 x 1080, 16:9
High Definition: Full HD
Aspect Ratio: 16:9
Contrast Ratio: 15,000 : 1
Light source: Lamp
Lamp: UHE, 210 W, 4,500 h durability, 7,500 h durability (economy mode)
Keystone Correction: Auto vertical: ± 30 °, Manual horizontal ± 30 °
Colour Processing: 10 Bits
2D Vertical Refresh Rate: 192 Hz – 240 Hz
Colour Reproduction: upto 1.07 billion colours
Optical:
Projection Ratio: 1.02 – 1.23:1
Zoom: Manual, Factor: 1.2
Lens: Optical
Image Size: 30 inches – 300 inches
Projection Distance Wide/Tele: 1.35 m – 1.64 m ( 60 inch screen)
Projection Lens F Number: 1.58 – 1.7
Focal Distance: 18.2 mm – 29.2 mm
Focus: Manual
Offset: 13.9:1
Connectivity:
USB Display Function: 2 in 1: Image / Mouse
Interfaces: USB 2.0 Type A, USB 2.0 Type B, Wireless LAN IEEE 802.11b/g/n (Wi-Fi 4), VGA in, HDMI in (2x), Composite in, MHL, Cinch audio in.
Epson iProjection App: Ad-Hoc / Infrastructure
Advanced Features:
Security: Kensington lock, Security cable hole, Password protection
3D: No
2D Colour Modes: Dynamic, Cinema, Bright Cinema
Features: AV mute slide, Automatic keystone correction, Built-in speaker, Horizontal and vertical keystone
correction, MHL audio/video interface, Quick Corner, Split-Screen-Function.
Video Colour Modes: Cinema, Dynamic, Game, Bright Cinema
General:
Energy Use: 298 Watt, 219 Watt (economy), 0.2 Watt (standby), On mode power consumption as defined in JBMS-84 264 Watt
Supply Voltage: AC 100 V – 240 V, 50 Hz – 60 Hz
Product dimensions: 302‎ x 252 x 92 mm (Width x Depth x Height)
Product weight: 2.7kg
Noise Level: Normal: 37 dB (A) – Economy: 28 dB (A)
Temperature: Operation 5° C – 35° C, Storage -10° C – 60° C
Humidity: Operation 20% – 80%, Storage 10% – 90%
Options: Air filter, Soft carry case
Loudspeaker: 2 Watt
Colour: White