Eternals: Angelina Jolie, Richard Madden's FIRST Look Will Leave You Curious
Marvel's Eternals has released first-look footage featuring Richard Madden, Gemma Chan and Angelina Jolie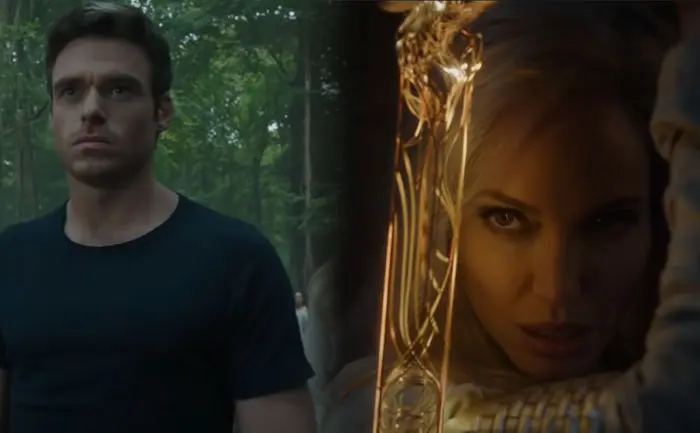 Marvel Studios has finally announced release dates and titles of its Phase Four films. Marvel Studios released a video titled Marvel Studios Celebrates The Movies. The video not only features the iconic moment when the Avengers assembled in Avengers: Endgame. But also a sneak peek at the Black Widow movie. Finally, we get to see a clip giving the first look at the Eternals.
MCU's Eternals features Angelina Jolie, Richard Madden, Kumail Nanjiani, Lauren Ridloff, Brian Tyree Henry, Salma Hayek, Lia McHugh, Don Lee, and Kit Harington in pivotal roles.
Marvel's The Eternals, directed by Oscar-winner Chloe Zhao give fans a glimpse of Angelina Jolie's superhero avatar. She is seen sporting blonde locks and was even seen wielding a blade. The Eternals' sneak peek also features Hayek on a horseback wearing a cowgirl outfit.
Eternals is set to post the Avengers: Endgame and will revolve around an alien race living on Earth for over 7,000 years. This clan will be teaming up to protect humanity from their evil opponents, the Deviants.
The video also reveals the release months of upcoming movies, including Black Widow (July 2021), Shang-Chi and the Legend of the Ten Rings (September 2021), Spider-Man: No Way Home (December 2021), Doctor Strange in the Multiverse of Madness (March 2022), Thor: Love and Thunder (May 2022), Black Panther: Wakanda Forever (July 2022), The Marvels (November 2022), Ant-Man and the Wasp: Quantumania (February 2023) and Guardians of the Galaxy Vol 3 (May 2023).
Also Read: The Eternals: Angelina Jolie, Richard Madden & others FIRST LOOK out