Watch: Exam invigilators checking Medical students' ear for Bluetooth devices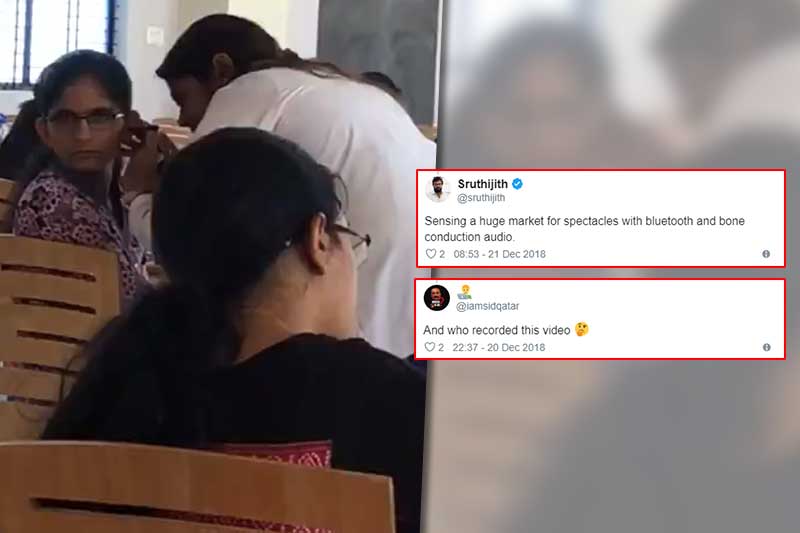 Cracking medical entrance exams in India is undoubtedly one of the difficult tasks for students and for that, they make all possible efforts to crack the examination. Those who are prone to cheat on examinations come up with unique ideas such as undetectable devices to get the answer from people stationed remotely for this very purpose like Bollywood movie Munna Bhai MBBS. 
No matter how clever you are in cheating, the exam invigilators do not fail to come up with ingenious ideas to catch the cheater red-handed.  A video of exam invigilators checking student's ear for undetectable Bluetooth devices has gone viral on Social Media.
In India, where the annual medical entrance exam is a huge hurdle for tens of thousands, see how monitors walk around checking ears of students for hidden, small bluetooth ear-buds that might be used to relay exam answers from outsiders. #jugaad pic.twitter.com/hBFyc0L6fK

— Raju Narisetti (@raju) December 20, 2018
Do you remember a scene in Munna Bhai MBBS wherein Sanjay Dutt's wrote the entire exam by using earphones?
One such incident took place at a recent medical entrance exam in India where the examiners checked the ears of students appearing for the exam to make sure there were no hidden Bluetooth devices and headphones.
In the viral video, the exam invigilators are seen using an Otoscope to check small ear-buds like Bluetooth devices that can be used to get answers from the people stationed outside the premises. We are wondering, who from the exam hall recorded the video.
Exam invigilators checking students' ears in the exam hall has gone viral, this is how people react:
In India, where the annual medical entrance exam is a huge hurdle for tens of thousands, see how monitors walk around checking ears of students for hidden, small bluetooth ear-buds that might be used to relay exam answers from outsiders. #jugaad pic.twitter.com/hBFyc0L6fK

— Raju Narisetti (@raju) December 20, 2018
Last 10 years even stupids have passed mbbs exams.
Very relevant

— Ob (@Mnt79908583) December 20, 2018
This is nuts.

— Sriram Krishnan (@sriramk) December 20, 2018
Sensing a huge market for spectacles with bluetooth and bone conduction audio.

— Sruthijith (@sruthijith) December 21, 2018
Impact of #munnabhaimbbs

— charitra raj (@raaziam) December 20, 2018
Also read: Watch: These Nigerians sing SRK's 'Kal Ho Naa Ho' song flawlessly