Powerful Explosions Rocks Lebanon's Capital Beirut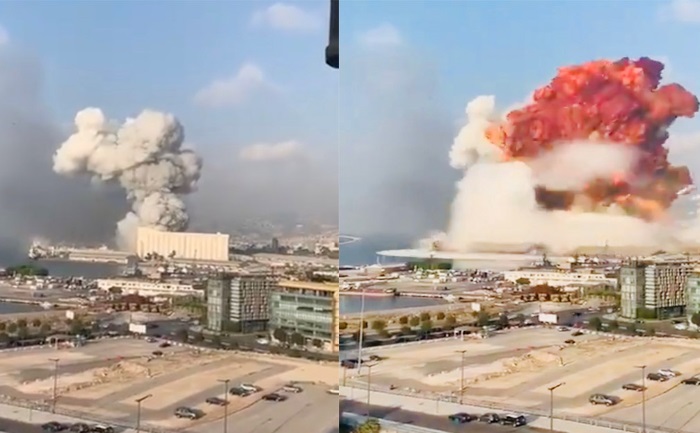 Powerful explosions rocked Lebanon's capital Beirut Tuesday. The explosion caused a huge shockwave that damaged houses, shattered windows and sent huge plumes of smoke rising into the sky. Many have been injured and also trapped under the debris.
A mother video showing #Beirut blast. Footage suggests explosion caused huge shockwave! pic.twitter.com/SugOmO4FgE

— Habib Abdolhossein (@HAbdolhossein) August 4, 2020
The first explosion was at the port, while the second was closer to downtown. It threw the life in the capital city topsy turvy. The twin explosions took part within a span of 15 minutes.
BREAKING: Massive explosion in Beirut. Footage from the daily star office now in Lebanon pic.twitter.com/2uBsKP5wCH

— Ghada Alsharif (@GhadaaSharif) August 4, 2020
Lebanese media carried images of people trapped under rubble, some bloodied, after the massive explosion, the cause of which was not immediately known. Preliminary reports by local Lebanese media said the blast may have been the result of an incident at Beirut port.
BREAKING NEWS:- Explosion in Lebanon. The speed of the shock wave, the size of the damage, pulverisation of a building. We are Pray for everyone safety. 🙏 #Beirut pic.twitter.com/LyMtzdZAgc

— Pushpendra Kulshreshtha (@iArmySupporter) August 4, 2020
An AFP correspondent said every shop in the Hamra commercial district had sustained damage. The shopfronts were destroyed, windows shattered and many cars wrecked. The port zone was cordoned off by the security forces.
Injured people were walking in the street, many were admitted to the Clemenceau Medical Centre. The explosions came at a time when Lebanon is suffering its worst economic crisis. Also as Lebanon awaits the verdict on the murder of former Lebanese premier Rafic Hariri.