Fans call Sonu Sood next Amitabh Bachchan, his reply wins the internet
Man says Sonu Sood is the next Amitabh Bachchan, his humble response will win you over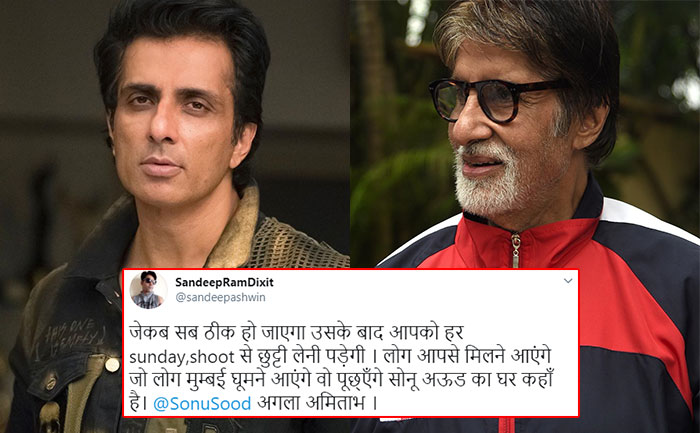 Bollywood actor Sonu Sood has won hearts all thanks to his efforts of helping migrant workers reach their homes. The actor has been arranging transportation for thousands of migrants who are stranded due to COVID-19 lockdown. Sood has been trending on Twitter for his kind act. After giving Sonu Sood tags like 'Twitter Hero', 'India's Real Hero', 'Home Minister', Twitter has called the actor 'the next Amitabh Bachchan'.
Recently a fan compared Sonu Sood to megastar Amitabh Bachchan, but his humble reply won the internet once again.
A wrote, "Jab sab theek ho jayega, uske baad appko har Sunday shoot se chutti leni padegi. Log apse milne aenge. Jo log ghumne ayenge wo puchenge ki Sonu Sood ka ghar kahan hain. Sonu Sood agla Amitabh (Bachchan)." The fan was referring to the large crowd that gathers outside Big B's house Jalsa every Sunday to get a glimpse of the superstar.
To this Sonu Sood replied, "Wo kyu mere ghar ayenge dost, mai un sab ke ghar jaunga. Bahut sare aloo paranthe, paan aur chai udhar hai mere doston pe."
Check out the viral tweet here:
वो क्यों मेरे घर आएँगे दोस्त। मैं उन सब के घर जाऊँगा। बहुत सारे आलू के पराँठे, पान और चाय उधार है मेरे भाइयों पर। ❣️ https://t.co/4PFSn68E13

— sonu sood (@SonuSood) May 27, 2020
The 46-year-old actor has also launched a toll-free number to facilitate the migrants to reach their home.
Sonu was moved by the plight of migrant workers walking several miles without food and water to reach their home. He has since transported workers to Karnataka, Bihar, Jharkhand, and UP.
Also Read: Sonu Sood's Epic Reply Will Make You Go ROFL As A Man Asks Him To Drop Him To The 'Theka'