Kisan Kranti Padyatra: Farmers end protest after reaching Kisan Ghat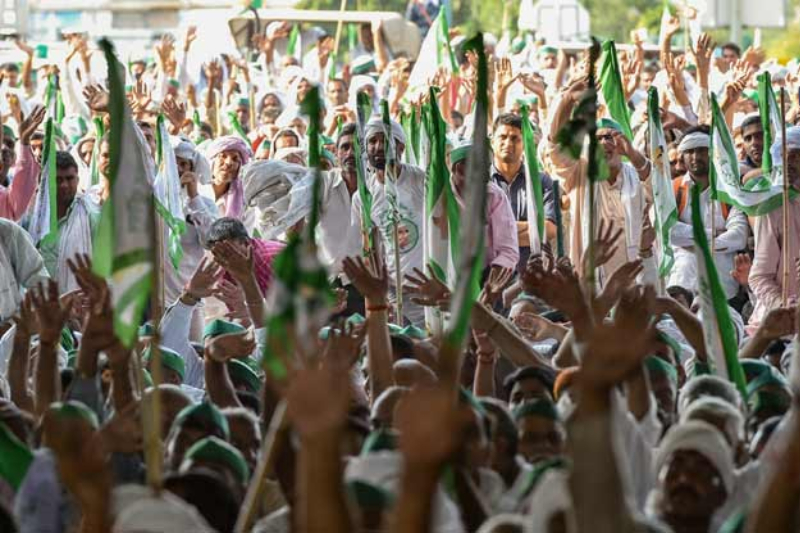 After protesting the entire day on Gandhi Jayanti, in the wee hours of Wednesday Bharatiya Kisan Union (BKU) has called off their protest after reaching Kisan Ghat. According to the report, farmers were allowed to enter the capital in midnight after police opened the Uttar Pradesh and Delhi border.
Kisan Kranti Padyatra was not allowed to enter Delhi on October 2, and Police had used tear gas shell and water cannon to disperse the protesting farmers. They only wanted to finish their protest at Kisan Ghat, the memorial of Chaudhary Chauhan, a renowned farmer leader.
'Kisan Kranti Padyatra' ends at Delhi's Kisan Ghat

Read @ANI Story | https://t.co/GEheNuSBVh pic.twitter.com/RnT8cOklSZ

— ANI Digital (@ani_digital) October 2, 2018
"The farmers remained unfazed despite all the hardships. We have been marching for 12 days now, farmers are tired as well. We will continue to demand our rights to the government but for now, we are ending the march," Bharatiya Kisan Union (BKU) chief Naresh Tikait was quoted by news agency IANS as saying.
The farmers who had come all the way to Delhi demanding loan waivers, clearance of pending sugarcane payments and implementation of the Swaminathan Committee Report. They have started returning to their hometown since early morning today.
According to the report, Traffic restriction put across Delhi has also been lifted after the protest was called. However, schools will remain closed in Ghaziabad, which was ordered yesterday due to the farmer's protest.
The Kisan Kranti Padyatra was started from Tikait Ghat in Haridwar on September 23 and farmers from places as far as Gonda, Basti and Gorakhpur in eastern Uttar Pradesh and the sugarcane belt of western UP joined the agitation.
If the report is believed, at least 30,000 farmers travelled in tractors to Delhi as a part of their almost 10 days march. When police stopped them entering the capital, they had broken barrier and raised slogans which forced Delhi Police to use tear gas and water batons to disperse them. Several protesters and policemen were injured in the clash.
Also read: Kolkata Medical College: a Massive fire breaks out