Justice Ranjan Gogoi sworn-in as 46th CJI of India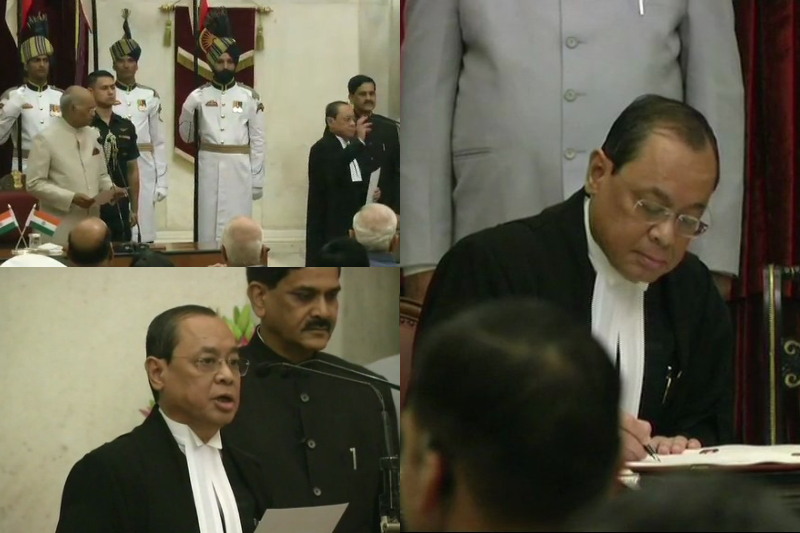 Justice Ranjan Gogoi was sworn-in as Chief Justice of India today. President Ram Nath Kovind administered him the oath of office at a function in Rashtrapati Bhawan. With Justice Gogoi's appointment, for the first time in the history of Indian judiciary, the Supreme Court is led by a Chief Justice from the Northeast.
Notably, Justice Ranjan Gogoi has succeeded Justice Dipak Misra who retired from the post on Monday. Justice Gogoi is the 46th Chief Justice of India. He will have tenure of a little over 13 months and will retire on November 17, 2019.
Justice Ranjan Gogoi was born on November 18, 1954. His father Keshab Chandra Gogoi was a Chief Minister of Assam under the Congress regime. Gogoi did his schooling in Dibrugarh's Don Bosco School. He completed his graduation in history from Delhi University's St Stephen's College.
He was enrolled at the Bar in 1978 at the Gauhati High Court. He was appointed as a permanent judge of the Gauhati high court on February 28, 2001. On September 9 in the year 2010, he was transferred to the Punjab and Haryana High Court and became its Chief Justice on 12 February 2011. He was appointed as judge of the Supreme Court on April 23, 2012.
He was one of the four judges who came out in public to express their dismay over various issues including assigning of cases in the apex court. Other judges who were also present at the unprecedented press conference were Justices Kurian Joseph, J. Chelameswar and Madan Lokur.
Also Read: Supreme Court dismisses plea challenging appointment of Ranjan Gogoi as next CJI