Farmers Protest: Agitating Farmers Flag Off Tractor Rally
Farmers' Protest: Agitating farmers hold tractor rally at Delhi border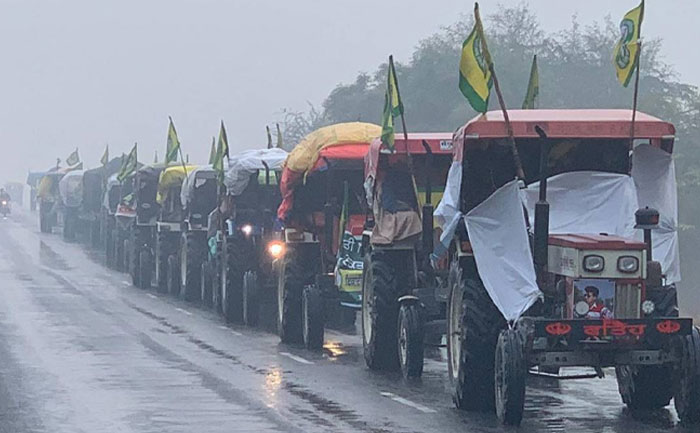 Thousands of farmers have been protesting against the three farm laws near Delhi borders. On the 43rd day of their protest, a tractor rally has been called by some 40 farmer unions. It will run on the Western Peripheral Expressway that starts at Ghaziabad and ends in Palwal. The farmers were to protest on January 6 but postponed the rally to Jan 7 due to bad weather.
The rally comes a day before the union government and the farmers union are scheduled to hold their next round of talks. The tractor march is being touted as a rehearsal by the protestors for the bigger march being planned for Republic Day.
Its an advisory to Govt that don't worry this is only a trailer, you'll get to watch whole movie on #26January.#FarmersProtest #TractorMarchDelhi pic.twitter.com/EyrbZOqbKq

— Jagraj Singh Otal (@otal_jagraj) January 7, 2021
The tractor march started from four different points — Singhuto Tikri Border, Tikri to Kundli, Ghazipurto Palwal and Rewasan to Palwal. Women too joined the long ranks of tractors.
The participation of large number of women's in the #FarmersProtest has ensured that now this movement is not limited only to the farmers, people of every section are taking part in it, the government has to accept the demand of farmers!#TractorMarchDelhi pic.twitter.com/xhiAu5HBPr

— Deepak Khatri (@Deepakkhatri812) January 7, 2021
Farmers have been protesting against the three farm laws for many days. Camping on the highways at the Haryana-Delhi border for over 40 days, they have been braving severe cold and rain. Bearing temperature down to 1.1 degree Celsius, the lowest in 15 years in January. They are aiming for the complete withdrawal of the three farm laws.
But in the last meeting between farmers and ministers Agriculture Minister Narendra Tomar told them the centre doesn't intend to withdraw the laws.
Also Read: Supreme Court On Farmers Protest: We Are Sympathetic To The Cause