Farmers Protest: Home Minister Amit Shah Invites Farmers For Talks
Amid Bharat Bandh, Amit Shah Calls Protesting Farmers For Talks at 7 PM Today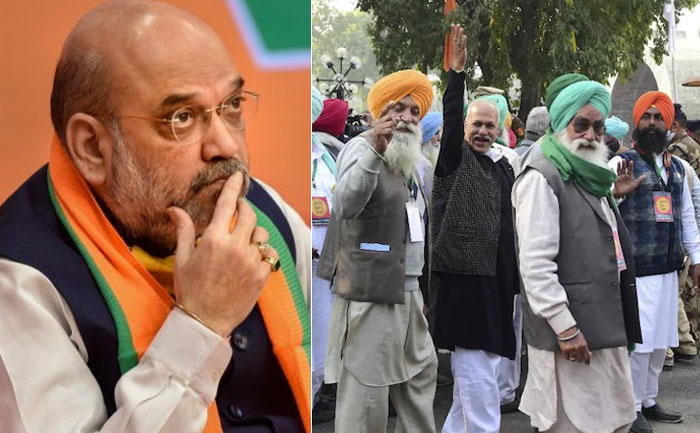 The Indian farmers are protesting against a series of agricultural laws in India. Farmers from Punjab, Haryana have camped out on the outskirts of Delhi asking the government to revoke the laws. They have braved water cannons, tear gas, barricades along with COVID-19 pandemic and the harsh winters to put forward their demand. Today the agitating farmers staged a day-long Bharat Bandh protesting against the Centre's new farm laws. Finally, Union Home Minister Amit Shah has called them for talks at 7 PM today.
Union Home Minister Amit Shah will meet the Bhartiya Kisan Union representatives to resolve the deadlock regarding the farm laws. He is holding talks with the protesters ahead of the sixth round of dialogue with the Centre.
Farmer leader Rakesh Tikait said, "I received a phone call. Amit Shah has called a meeting. We have been called at 7 pm."
Mr Tikait said various representatives of farmer groups protesting on the highways near Delhi would attend the meeting.
The protest demanding the revoke of the three farm laws has entered the thirteenth day today. The farmers have received support from the opposition parties including the Congress, NCP, Aam Aadmi Party, DMK and TRS. Many trade Unions too have come forward in support.
Thousands of farmers are camping on highways near Delhi, blocking most entry points into the national capital, to protest against the laws. Farmers from Punjab, Haryana have camped out on the outskirts of Delhi in the biggest protest by farmers in years.
Also Read: Farmers Protest: Canadian PM Justin Trudeau Backs Indian Farmers