Exit Poll 2018: BJP to lose in Rajasthan, Chhattisgarh, close fight in MP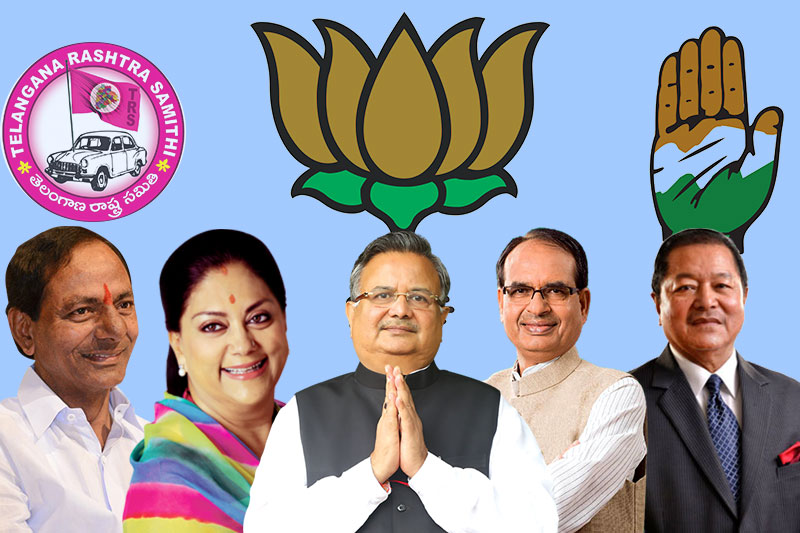 As the electoral exercise of the Assembly elections in the five states — Rajasthan, Madhya Pradesh, Chhattisgarh, Telangana and Mizoram — have concluded on Friday, television channels are busy producing Exit Polls 2018 and predicting the political fortunes of the leaders who are in the fray.
Here is a breakdown of the Exit Polls of India Today-Axis My India and NDTV.
Madhya Pradesh:
According to India Today Axis My India exit poll, the election was really tight in Madhya Pradesh with Congress projected to secure 104-122 seats as compared to its rival BJP 102-120. The BSP would get 1-3 seats while the other parties would get between 3-8 seats in the state.
The halfway mark in Madhya Pradesh is 115.
Rajasthan:
As per India Today-Axis My India exit poll for Rajasthan, the saffron party is likely to secure between 55-72 seats while the Congress looks to register victories by winning 119-141 seats out of 199 seats. The other parties in Rajasthan are set to get 4-11 seats.
The halfway mark in Rajasthan is 100.
Telangana:
India Today-Axis My India exit poll, the ruling Telangana Rashtra Samithi (TRS) is set to secure 91 out of the 119 seats and retain power in the state. The 'mahakutami', or grand alliance between the Telugu Desam Party (TDP), Congress and two other parties are projected to get just 21-33 seats. The All India Majlis-e-Ittehadul Muslimeen (AIMIM) is set to get between 4-7 seats and BJP 1-3 as per the exit poll.
The halfway mark in Telangana is 60.
Chhatisgarh:
After Rajasthan, in Chhattisgarh too Congress has been projected to win in another BJP-governed state. As per the India Today-Axis My India poll predicts that the Congress would secure between 55 to 65 seats in the Chhattisgarh assembly, which has 90 seats in all.
Raman Singh, the Chief Minister of Chhattisgarh, is projected to get 21 to 31 seats. The Janata Congress Chhattisgarh (J) and the Bahujan Samaj Party (BSP), who fought election after an alliance, will get just 4 to 8 seats if the predictions are anything to go by.
The halfway mark in Chhattisgarh Assembly Elections is 45.
Mizoram:
It is to be noted that Mizoram is one of the four states across the country where Congress is still in power. The party is projected to get around 14-18 seats as per the NDTV exit polls. The aggregate of two exit polls shows that the Congress is getting only 16 seats in the 40-member assembly. The MNF, it predicts, would secure 18 seats.
As per the Exit poll, the saffron party will have to wait longer to open its account in the state and rule the entire northeast.
The halfway mark in the state is 21.
Also read: Rajasthan Assembly elections 2018 LIVE UPDATES: 72.7% voter turnout recorded till 5 PM; Voting ends