FlexPai: World's first flexible smartphone launched in China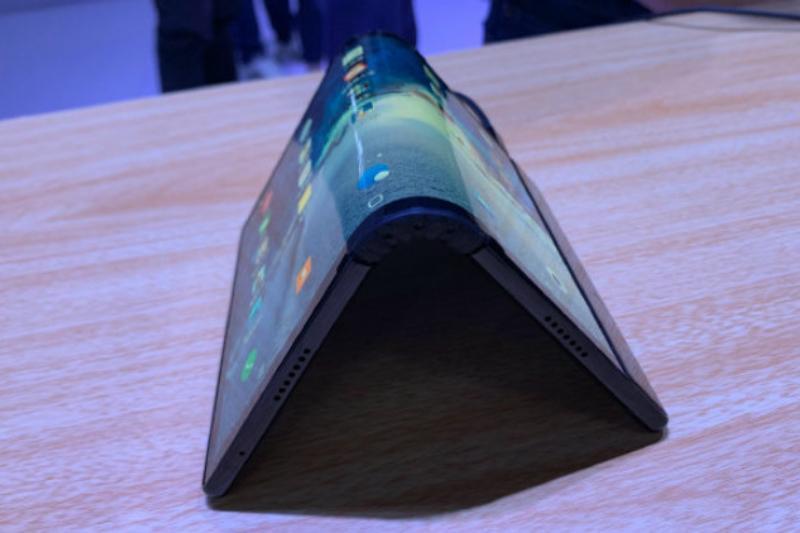 FlexPai — World's first flexible smartphone is launched by the Rouyu technology. It has overtaken bigger brand, Samsung, who has been sharing this concept from quite some time. A display company Rouyu, having speciality in making flexible displays has finally launched first flexible smartphone.
The first flexible smartphone — FlexPai — has a starting price of CNY 9,000 (approximately Rs 95,300). According to Twitter tipster OneLeaks the device was supposed to be available for consumer from November 1.
The device looks a bit unpolished and has a big display, it seems difficult to carry with us. We might have to wait a little bit for companies like Samsung and other big companies to come up with a more polished version of the same which people can easily fit inside their pockets.
This is the "world's first foldable screen phone" released by Rouyu Technology, which will use the Snapdragon 8150 processor, but its design is very rough, just to seize the "first", this is a futures product. pic.twitter.com/M0v9o2z0Bw

— Ice universe (@UniverseIce) October 31, 2018
In a tweet, the leaker going by the handle IceUniverse stated that this will be the world's first device to having powered by the yet to be launched Qualcomm Snapdragon 8150 processor which is also being called Qualcomm Snapdragon 855.
During the launch presentation the company said that FlexPai will have a Snapdragon processor based on the 7nm process with a new AI platform and 5G support.
Yeah, foldable screens smartphones sounds like future… I definitely can't wait burning my money to get sucha freakingly useless thing!… 😂 #DeadOnArrival pic.twitter.com/5YvWCjyzlR

— Steve H. (@OnLeaks) September 27, 2018
FlexPai sports a 7.8-inch AMOLED display with an aspect ratio of 4:3, which turns to a 4-inch display when folded. The device runs Water OS, which might be a forked version of Android or a custom operating system. It is available in 6GB/8GB RAM with 128GB/256GB/512GB of internal storage.
The device is equipped with one dual camera setup, which can be used to take both normal images and selfies. The dual camera module consists of a 16MP primary wide-angle sensor paired with a 20MP secondary telephoto sensor.
Also read: Noida: Man orders phone on Amazon gets soaps on delivery