Fortnite 8.20 Update Adds Floor Is Lava Limited Time Mode & Fixes – Read Full Patch Notes
Don't step on the floor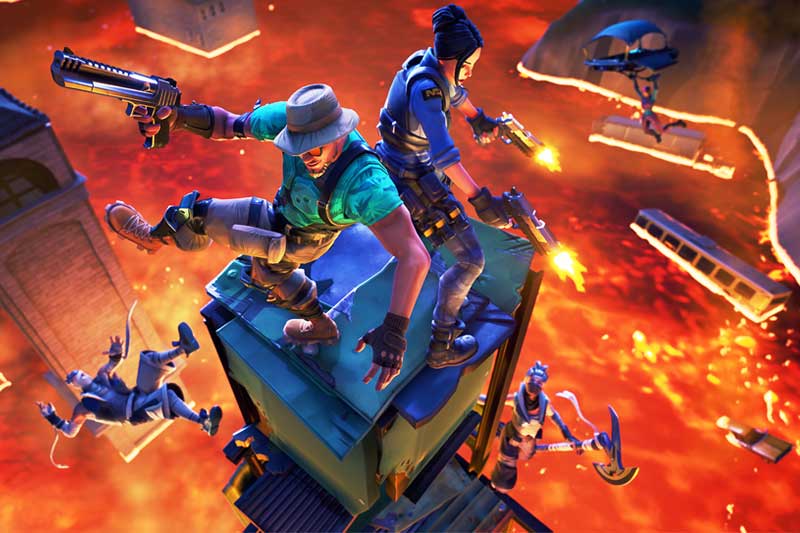 Fortnite Patch 8.20 is out and it brings some fresh updates for the game. For the first time, players will enjoy a limited time Floor is Lava mode in this popular Battle Royale Game. As a new trap, the patch will add Poison Dart Trap to catch your opponents off guard. There are three new health items, now you can refill your strength by eating a banana, coconut or pepper.
Bananas will grant 5 health and found in Tropical Biome. Palm Trees will grant 5 health point for a short time and can also replenish shield to the max. It can be found in the tropical region and in desert biomes. Similar to the other items Peppers also grants 5 health, with some additional benefits. It adds +20% speed for 10 seconds to the player's movement and it can be found in a desert biome.
Talking about the biggest update Floor Is Lava, players will see Lava on the lowest regions of the map. It is a limited time event where players can earn loot and gather items before the Lava consumes everything. Touching the Lava will damage health and throw you in the air, players can save themselves by building on it and to complete they have to find high grounds.
The patch also resolves bugs and improves game performance. We pulled out the top new features provided by the update for detailed info on Update 8.20 click the source link at the end of this article.
Floor is Lava – Limited Time Mode
Poison Dart Trap
New Foraged Items – Banana, Pepper & Coconut.
Events: Arena Game Mode (Solo & Duos)
Events: New Tournament: Luxe Cup (March 30th & 31st) [$100,000 in Cash Prizes!]
Creative: Creature Spawner, create some serious PvE challenges.
Creative: Shooting Range, Target practice available in Creative Mode.
Islands: Access to Battle Royale Island through portals in Creative Hub.
Weapons: Infinity Blade, melee weapon available in the Weapons Tab in Creative Inventory.
Save The World: Yarrr! Questline and Beta Storm: Resupply.
Heroes: Event Store, New Hero – Hybrid, a Legendary Ninja. Will available through Yarr quest line.
Heroes: 4 New Pirate Heroes, Crossbones Barret, Buccaneer Jonesy, Swashbuckler Keelhaul & Privateer
Hype.
Source: Fortnite 8.20 Patch Logs