Fortnite Chapter 2, Week 7: 'Trick Shot' Challenge List
Fortnite Season 1 has extended till February 2020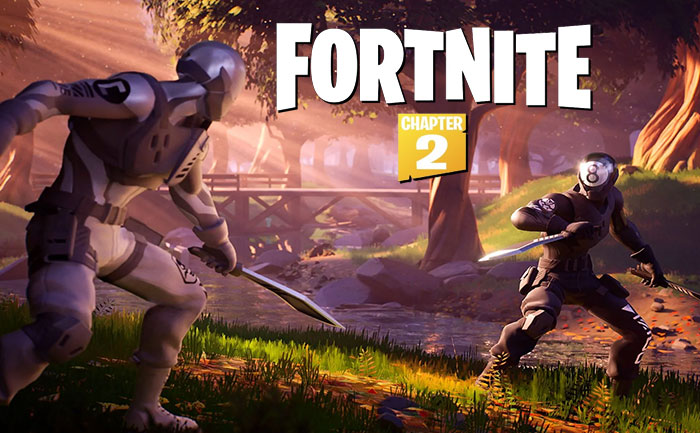 Fortnite is in its 7th week of Chapter 2 Season 1. With the Holiday Season coming through and the Epic Games announcement that Season 1 will be going well into the next year, the rush to complete the challenges has relaxed somewhat.
However, for those still looking to finish their Alter Ego challenges in a hurry, here is a list of all the Week 7 Challenges.
This week is relatively easy looking at the challenges.
FORTNITE WEEK 7 CHALLENGES
Eliminations while at 50 Health or less (0/2)
Consume Foraged Apples at The Orchard (0/3)
Eliminations at Weeping Woods or a Landmark (0/3)
Dance at the Pipeman, the Hayman, and the Timber Tent
Gain Health with a Small Fry, a Flopper and a Slurp Fish
Eliminations with Pistols (0/3)
Visit Named Locations in a single match (0/3)
Damage with Shotguns (0/500)
Save yourself from fall damage by landing in a hideout
Heal yourself within 10 seconds after taking damage from an opponent
Search the hidden "T" in the Trick Shot Loading Screen.
Most of these challenges are easy and pretty much self-explanatory. The 'Eliminations while at 50 health or less' challenge can be completed by dropping your health and trying to get one-shots with snipers. Alternatively, players can just play in the Team Rumble and it is bound to happen eventually.
Fortnite Battle Royale releases a new mission on Thursday every week. For this week, 11 different challenges need to be completed to finish the Mission. If players manage to complete eight of these, they will still unlock the loading screen.
Like each week, there is a hidden letter in the Loading screen. This week the letter is T. Players who find all the letters of FORTNITE will unlock a mystery skin for the season.
ALSO READ: How To Disable Cross-Play On Fortnite Chapter 2 For Console