Fortnite Season 10 Event time, date, how to watch & server downtime?
Fortnite Season 10 Event is scheduled to to take begin at 2pm EST on Sunday, October 13 (11am PST, 7pm BST).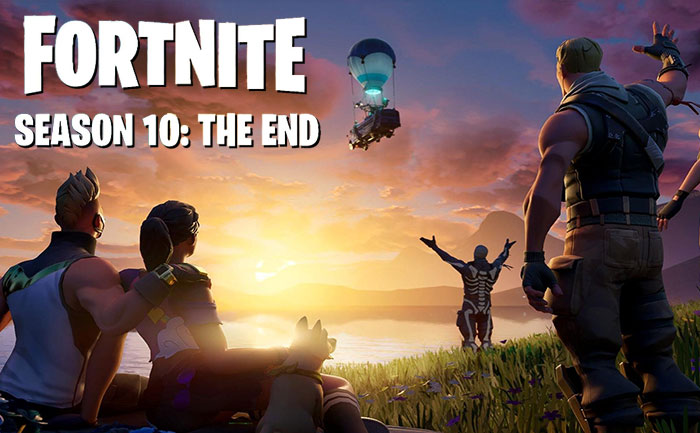 Fortnite Season 10 is one of the most anticipated games in Fortnite franchise as it likely to come up with a brand new map. There have been several leaks surfaced on the internet showing us what Fortnite Season 10 has in store for gamers. It is likely that fans of Fortnite will witness the end of season 10, followed by a new event and server downtime.
When is The End event?
The Fortnite Season 10 event is scheduled to to begin at 2pm EST on Sunday, October 13 (11am PST, 7pm BST).  Epic Games confirmed this time thanks to the countdown in the sky above Dusty Depot, which appeared about a week before the event is scheduled to take place. There are several changes likely to take place in today's event.
Fans are also expecting to see whether the traditional map removed or replaced by something new from Epic Games.
How to Watch Fortnite Season 10 event live
Similar to Fortnite previous event, it is likely that there will be a new playlist for players to enter, which will hopefully be protected from enemies. So, you can watch Fortnite Season 10 event peacefully. The playlist must be made available for players minutes before the event begins, so make sure to be ready to jump in at around 2pm EST (11am PST / 7pm BST).
If you could not make it to the events, you can watch Fortnite Season 10 live streaming on YouTube as there are dozens of channels will be livestreaming the event. You can visit these channel to watch Fortnite Season 10 live event on channels like Ninja, NickEh30, and Ali-A on Mixer, Twitch, and YouTube respectively.
New Map for Chapter 2?
In addition to the iOS store leak, which showed 'Chapter 2', the main we have for a new map claims to reveal a host of named locations or 'POIs'. It is yet to be confirmed whether the current island is completely removed or replaced.
There are rumours suggesting that the same map will be significantly changed so that fans would not be able to recognise as it is the old one or new one.
Fortnite Server Downtime
If Epic Game has made its mind to launch their new map today, it means that they either will come with the new content locked away or will release a new update. Looking at the past seasonal changeovers, it seem a big new patch and server downtime will be required.
It indicated that Epic Games will shut down the servers straight after the Fortnite Season 10 event. Notably, Fornite server downtime might last for hours.
Epic Games has not ever done anything like the way they are currently doing this time which left all the fans quite excited. There's also the chance that Epic will look to shut down servers but release Fortnite Chapter 2 on Monday, October 14.
There's a lot of things about Fortnite Season 10 ending we still do not know, but it looks like we will have it all revealed to us by today evening.
What all we can do now is to wait and watch.