France beat Croatia 4-2 to win World Cup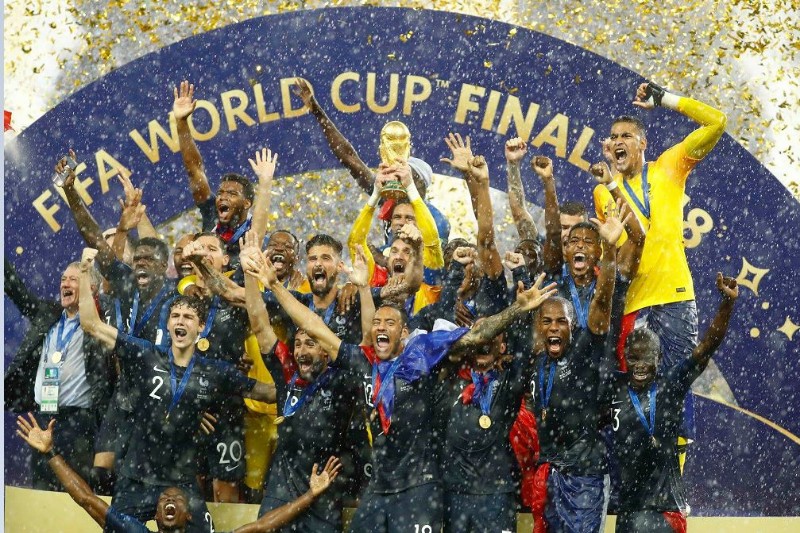 It rained heavy in Moscow as France lifted the World Cup. That was a no surprise, for it had well rained goals as 'Les Bleus' trumped Croatia 4-2 – making this the highest scoring final since 1966.
What was surprising is how VAR as decisive as it had been for the entire month in Russia once again appeared as dominant and decided the game. Until its impact in the 38th minute, France had taken the lead and conceded it and Croatia superior in every stat of the game had scored twice – one for France and the other to level the scores.
But Argentine referee Nestor Pitana pulled up play for an alleged handball and checked, rechecked and checked again, before taking a decision that will forever polarise opinion. France had a penalty. Antoine Griezmann scored from their first shot on target and that was the decisive factor that decided the most important game of Russia 2018 World Cup.
It really shouldn't actually be surprising for that is what VAR was introduced for – to make decisive decisions that could decide fates, lives and a World Cup winner.
The game wasn't over there though and as Croatia coach Zlatko Dalic had promised, his boys refused to wave the white flag of surrender, picking themselves up for one final push after Mario Mandzukic had punished Hugo Lloris' blunder of a pass.
It wasn't however to be because by then Paul Pogba and Kylian Mbappe had scored punchers, within four minutes of each other, to open a three goal difference and although Croatia made it 2-4, they couldn't stop France from lifting the World Cup for a second time.
Didier Deschamps joined the company of two greats Mario Zagallo and Franz Beckenbauer in lifting 'it' both as a player and a manager. Mbappe became a world champion at 19 and Lloris avoided an embarrassment after letting one slip through. What France could not avoid however was winning it as the second best team.
Also Read: France beat Croatia 4-2 to win their second World Cup
Croatia began like they were out to prove a point – they cretainly were – and created chaos at the vulnerable French back-line flooding crosses into their box. By the 10th minute they had two shots to France's none and if you had watched the entire tournament, you would just have been right to think how did 'Les Bleus' get into the final with such a defence.
They certainly did even if it meant by hook or by crook and in this case an additional factor – luck. Croatia so badly saw luck go against them in the key moments and whenever it derided them, France were the beneficiary.
It started in the 18th minute, when Marcelo Brozovic was penalised for an alleged foul on Griezmann in the build up to the first goal. Mandzukic, the man who put Croaita into the final once again scored – only this time it was into his own net.
That goal was the 12th own-goal this World Cup and 53rd in its history but none were as unlucky as this one. The Juventus striker standing between Raphael Varane and Pogba leaped to help his side clear the ball away, but instead headed it into their own net.
Yet, this wasn't the only time Croatia were unlucky. Moments after Ivan Perisic has scored a screamer, he was declared by VAR to have handled the ball inside his own box and France were awarded a penalty.
The decision was strange for neither was Blaise Matuidi's header on target or to a teammate nor was Perisic's hands in an unnatural position.
Here he was the villain but Minutes before he was the hero. Scoring from a first-time volley after Modric's free-kick to Vrsaljko was flicked into his path by Vida.
The decision was decisive for it was last time Croatia really looked like they believed that they could possible what now seemed was inevitable.
Instead, France pushed closer to immortality and when first Pogba, then Mbappe scored, the World Cup final finally had goals that matched the occasion.
France lifted the trophy and etched themselves into footballing immortality.