Friends Reunion: Jennifer Aniston, David Schwimmer admit having crush on each other
Jennifer Aniston and David Schwimmer aka Rachel, Ross revealed they had a 'major crush' on each other while filming 'Friends.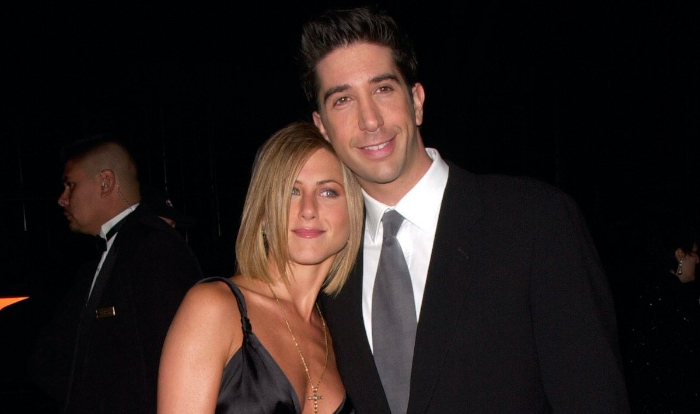 After a long wait, 'Friends The Reunion' aired and it was a roller coaster of emotions. After 17 years,  the original cast Jennifer Aniston, Courteney Cox, Lisa Kudrow, Matt LeBlanc, Matthew Perry and David Schwimmer, reunited. The six members were seen reading their popular scenes, reenacting some scenes, and watching the bloopers.
During the unscripted interview with James Corden, Jennifer Aniston and David Schwimmer aka Ross and Rachel confessed having major crush on each other while filming the show. Yes, you read that right!
Corden asked the cast: "To ask what I would consider it to be a cheeky question. It's impossible not to realize and see the new all-young, hot, good looking successful actors. it's inconceivable to me that there weren't perhaps of screen romances."
To which, Schwimmer admitted crushing on Aniston: "I mean, the first season, I had a major crush on Jen. At some point, we were crushing hard on each other." He also revealed why it never worked out for them, "But it was like two ships passing because one of us was always in a relationship and we never crossed that boundary. We respected that."
To which Matt LeBlanc said: "Bullshit!," leaving everyone into laughter. However, he said that he was joking.
Jennifer also recalled a conversation she had with David about their first on-screen kiss. "Honestly, I remember saying one time to David, 'It's going to be such a bummer if the first time you and I actually kiss is going to be on national television,'" she said. "Sure enough, first time we kissed was in that coffee shop."
Later, the cast returned to Monica Geller's apartment and Jen-David enacted the Ross and Rachel's iconic 'first kiss'
ALSO READ: Say What! Jennifer Aniston & David Schwimmer Dated Off-Screen?