Friends Reunion: Here's why Paul Rudd & Cole Sprouse were not in the special episode
'Friends' director Ben Winston reveals why Paul Rudd and Cole Sprouse were not a part of the reunion special.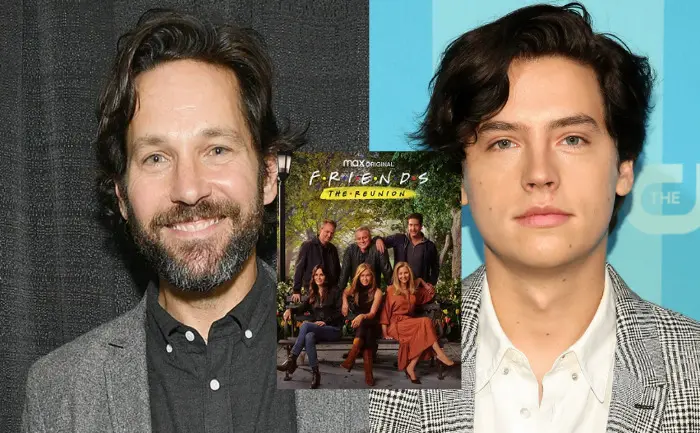 On May 27, 'Friends The Reunion' telecasted all over the world and it was a roller coaster of emotions. After 17 years,  the original cast Jennifer Aniston, Courteney Cox, Lisa Kudrow, Matt LeBlanc, Matthew Perry, and David Schwimmer, reunited. However, fans noticed that Paul Rudd aka Phoebe Buffay's husband Mike Hannigan and Cole Sprouse aka Ross' son Ben Geller were missing from the reunion special and they expressed their disappointment.
Now the director Ben Winston of the reunion special spilt the beans on why they were not included. Speaking to The Wrap, he shared that they couldn't have everybody on as it was only an hour and 45 minutes.
He said the main central point of the reunion special episode was about the six cast members of the popular sitcom, 'Friends.' Ben revealed that there were hundreds of amazing people who were a part of 'Friends' over the years. However, they couldn't get everybody in.
Winston also added that they invited other cast members but due to the COVID-19 restrictions, some of them couldn't make it. "You know, we did invite some people who weren't able to make it. It's a complicated time to be making television now because, you know, some people couldn't fly internationally, some people were on other TV or film shoots, some people are in bubbles on stuff."
The Friends reunion episode also had many celebrities including Elliot Gould and Christina Pickles, the Geller parents. Janice (Maggie Wheeler), Gunther (James Michael Tyler), Richard (Tom Selleck), Jill (Reese Witherspoon). David Beckham, Kit Harrington, Mindy Kaling, BTS and others also revealed their favorite moments from the show.
ALSO READ: Friends The Reunion: Lady Gaga And Lisa Kudrow Perform On Smelly Cat